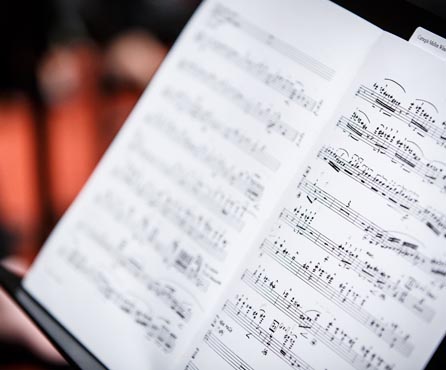 October 17, 2012
SCHOOL OF MUSIC'S FALL PRODUCTION - STEPHEN SONDHEIM'S INTO THE WOODS
What happens when you combine several of your favorite childhood stories into one adventure and let all the characters run amok? Stephen Sondheim gives one answer in his delightfully fractured fairy tale, Into the Woods.  In Sondheim's scenario, four well-loved characters from different stories compete and eventually combine forces in a quest to break a witch's curse.  
At the beginning of the story, the Baker and his wife are cursed with childlessness, and in order to end their plight, they must acquire four magic objects: a cow as white as milk, a cape as red as blood, hair as yellow as corn, and slippers as pure as gold.  Enter Jack (of Beanstalk fame) with his white cow, Little Red Ridinghood with her red cape, Rapunzel with her silken hair, and Cinderella with her golden slippers.  Each of the characters possesses something that the others need, and initially, it is every man for himself.  However, when a (female) giant appears to wreak havoc on them all, the characters realize that they can only outsmart their foe by working together.  
In between the moments of comic mayhem are some of Sondheim's greatest songs, including Little Red Ridinghood's I Know Things Now, an ironic and bittersweet commentary on wisdom and coming-of-age; the male-female duet Agony, a hilarious vignette of boy-meets-girl (or prince-meets-Rapunzel) gone wrong; and Last Midnight, a star turn for the Witch, who realizes that she is no longer running the show...
This production of Into the Woods is directed by Dominic Missimi with Robert Page as Music Director. Assisting Dr. Page with conducting duties on the Friday and Sunday performances will be Corey Wachala.
Into the Woods will run from Wednesday, October 25th untilSunday, October 28th, with performances at 8 pm Wednesday through Saturday and 2 pm Sunday.  Performances take place in Chosky Theatre at the Purnell Center for the Arts.  Tickets are $10 general admission, $5 seniors, and students free with ID.  Advance tickets are available at music.cmu.edu or by calling the School of Drama box office at 412-268-2407.