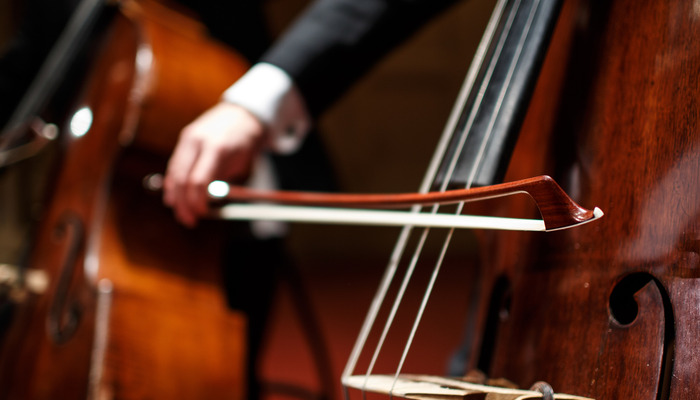 January 11, 2012
CARNEGIE MELLON PHILHARMONIC TO PREMIERE ORIGINAL WORK SEPT. 16
PITTSBURGH—Carnegie Mellon University's School of Music kicks off its 2012-2013 season at 7:30 p.m., Sunday, Sept. 16, at Carnegie Music Hall with the Carnegie Mellon Philharmonic's world premiere of "Centennial Suite," a new work in honor of the school's 100th anniversary. Commissioned by the Carnegie Mellon School of Music, this piece was composed by Leonardo Balada, Nancy Galbraith, Marilyn Taft Thomas and Reza Vali — all members of the Carnegie Mellon composition faculty. Maestro Ronald Zollman will be conducting. 
Each faculty composer wrote one movement of "Centennial Suite," showcasing each person's unique compositional style. 
"On the occasion of its centennial it's certainly appropriate to look back over the rich history of the CMU School of Music, but so is a look forward," said Denis Colwell, head of the Music School. "I thought one way of celebrating where we have arrived and, more important, where we are going, is to cause new music to be created." 
"I approached CMU composition faculty members Balada, Galbraith, Vali and Thomas and asked them to collaborate on a suite that the CMU Philharmonic would premiere as part of our continuing birthday celebration. I gave them very little guidance in terms of what or how to write, only that I hoped they would keep the school in mind as they conceived of their portion. They graciously agreed, and the result will be heard for the first time on the Sept. 16 concert," Colwell said. 
Thomas wrote the first movement of the suite, titled "Celebration." Thomas has been a member of the composition faculty since 1981, and the Associated Press has cited her innovative teaching methods. She has won prizes from the National Federation of Music, the National Harvey Gaul Competition and has received nine awards in composition from ASCAP. Thomas describes "Celebration" as light-hearted, infused with jazz-like rhythms and laced with solo lines for the talented members of the orchestra.
"Memories No.1, Barcelona 1938" is the second movement of the suite, written by Balada, a longtime faculty member who joined CMU in 1970. His successful compositions have been commissioned by the likes of the San Diego Opera and the National Orchestra of Spain. Born in Barcelona in 1933, his Centennial Suite composition stems from childhood memories of the war-torn city, including folk songs that were sung by the many international volunteers. This first movement is a very personal exploration of Balada's early life, combining elements of hope and despair.
Galbraith's music has been praised for its rich harmonic texture, rhythmic vitality, emotional and spiritual depth, and wide range of expression. Her works have been performed by the Pittsburgh Symphony, including two premieres under the baton of Gennady Rozhdetsvensky and Mariss Jansons. Her intention when writing "Euphonic Blues" for Centennial Suite was to compose a predominantly melodic work using polychords and lush diatonic harmonies — both reflecting a somewhat bluesy and nostalgic sound.
Vali, an Iranian composer, wrote the final movement of the suite, "The Darkness of Fury." A contemplation of the brutality of war, the piece is particularly inspired by the many wars that have occurred in the Middle East since 1948. Vali, a member of the CMU composition faculty since 1988, has had an extensive composition career with commissions from the Pittsburgh Symphony Orchestra, the Boston Modern Orchestra Project, the Pittsburgh New Music Ensemble and Kronos Quartet, among others.  
General admission tickets are $5 for the concert. For more information, go to www.music.cmu.edu.
About Carnegie Mellon University's School of Music:Founded in 1912, Carnegie Mellon's School of Music educates outstanding, intellectually gifted musicians through excellence in performance, creativity, scholarship and pedagogy. The School of Music offers undergraduate degrees in instrumental and vocal performance, composition and keyboard performance. Graduate degrees are offered in performance, composition, conducting and music education. The school also offers a variety of highly acclaimed non-degree programs, such as the Performance Residency Program, the Artist Diploma Program, Dalcroze Eurhythmics, Piano Pedagogy, Advanced Flute Studies, Orff Schulwerk and Music Education programs. Since its founding, the School of Music has graduated more than 3,200 students who can be found performing, composing, conducting, teaching and contributing to the music field worldwide. Today, many alumni regularly appear in symphony orchestras, on Broadway, and in opera houses around the world. Additionally, the School of Music presents more than 250 events annually, many of which are free and open to the public.
About Carnegie Mellon University: Carnegie Mellon is a private, internationally ranked research university with programs in areas ranging from science, technology and business, to public policy, the humanities and the arts. More than 11,000 students in the university's seven schools and colleges benefit from a small student-to-faculty ratio and an education characterized by its focus on creating and implementing solutions for real problems, interdisciplinary collaboration and innovation. A global university, Carnegie Mellon's main campus in the United States is in Pittsburgh, Pa. It has campuses in California's Silicon Valley and Qatar, and programs in Africa, Asia, Australia, Europe and Mexico. The university is in the midst of "Inspire Innovation: The Campaign for Carnegie Mellon University," which aims to build its endowment, support faculty, students and innovative research, and enhance the physical campus with equipment and facility improvements.