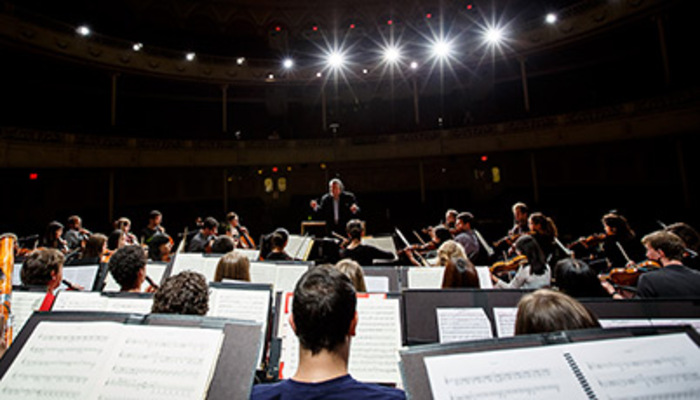 November 19, 2012
PHILHARMONIC PRESENTS ALL-RUSSIAN PROGRAM ON DEC 2ND
On Sunday, December 2nd, Maestro Ronald Zollman will lead the Carnegie Mellon Philharmonic in an all-Russian program featuring music of Mikhail Glinka, Sergei Rachmaninoff, and Dmitri Shostakovich.     
The Philharmonic will open their program with Mikhail Glinka's charming Valse-Fantaisie, written in 1856.  Glinka's take on the waltz pays homage to its roots in the grand ballrooms of the Continent, but it is tinged with a uniquely Russian flair.  The Valse-Fantaisie was so popular in its day that it earned the praise of Glinka's contemporary, french composer Hector Berlioz.  Glinka's waltz is a darkly romantic stand-alone dance movement which, along with its characteristically lush string melodies, features an unexpected trombone solo and is punctuated with ironic interjections from the solo flute and strings.  More importantly, its icily mordant wit became an inspiration for later composers, for example Dmitri Shostakovich, whose Symphony No. 10 forms the centerpiece of the Philharmonic's program.  
Shostakovich is undeniably one of the most enigmatic and compelling musical figures of the 20th century.  He led his brilliant career in the shadow of Soviet persecution, and was always forced to create music within the painfully narrow strictures of state censorship.  As an artist and as a human, he was charged with the task of reconciling his own formidable creative powers with the banal and sometimes terrifying realities of life in the Soviet dictatorship.  In his Tenth Symphony, Shostakovich addressed with particular urgency the question of his own identity, both public and private, within Stalin's Russia.    
There were of course many Russian musicians who escaped such scrutiny altogether by leading peripatetic lives in exile.  Pianist and composer Sergei Rachmaninoff is one of the most famous cases; and although leaving Russia launched him on a fabulously successful career as a soloist, the rest of his life was irrevocably tinged with the longing to return. Rachmaninoff always yearned both for Russia as a place and Russia as a memory.  His works for piano and orchestra are a perfect synthesis of pyrotechnical virtuosity and nostalgic lyricism, a case in point being the Rhapsody on a Theme of Paganini.  It was one of Rachmaninoff's last compositions--it is not only a brilliant showpiece for the piano soloist, but a richly compelling symphony.  This performance will feature pianist Mengyi Yang - School of Music 2011 Concerto Competition winner.  
The concert will take place at 7:30 pm on Sunday, December 2nd at Carnegie Music Hall in Oakland.  Tickets are $5 general admission, students free with valid ID. Tickets can be purchased 
online
 or by calling 1-888-71-TICKETS