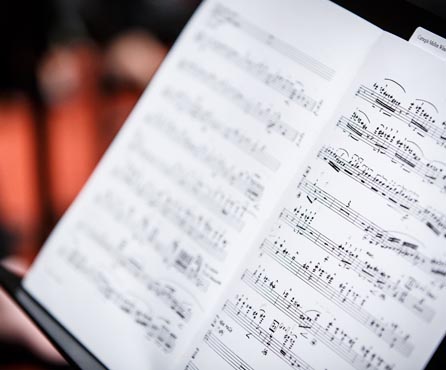 May 09, 2012
CARNEGIE MELLON ALUMNI AWARDED CONDUCTING PRIZES
PITTSBURGH—Two alumni of Carnegie Mellon University's School of Music, Maria Sensi-Sellner and Chris Fecteau, have received the American Prize in Conducting for their work on opera productions in Pittsburgh and New York. The American Prize, a nonprofit award recognizing excellence in conducting, is presented in several divisions, celebrating the achievements of professional, university and youth orchestras.
Sellner, who took top prize in the university/college division for her work with the Carnegie Mellon Opera in its 2011 production of Puccini's "Suor Angelica," earned several degrees at CMU in mechanical engineering and music. She received her bachelor's degree in music in 2002, her master's in music composition in 2007 and her master's in conducting in 2009, studying under faculty members Nancy Galbraith and Robert Page.
Hailed as a rising star in the conducting world, Sellner has conducted productions for the Boston Opera Collaborative and Hubbard Hall Opera Theater in New York, among others. She also was the assistant conductor for Opera Carolina in 2010, and conducted in the Oregon Bach Festival Masterclass with Helmuth Rilling in 2008 and 2009. She made her conducting debut with the Akron Symphony in February 2012 and is currently director of the Akron Symphony Chorus and assistant conductor of the Mendelssohn Choir of Pittsburgh. She was music director of Carnegie Mellon's All University Orchestra for 10 years.
Fecteau, an opera director and vocal coach, was awarded an American Prize in the community division for his work as the artistic director of the dell'Arte Opera Ensemble, a company he founded in 2000. Based in Manhattan, the dell'Arte connects aspiring young singers with modern audiences in simple, highly focused operatic performances. 
In addition, Fecteau, who earned his bachelor's degree at CMU in 1990, is active as a vocal coach, pianist, conductor and arranger in New York City. As a vocal coach, he has prepared singers for engagements at The Metropolitan Opera, New York City Opera, Boston Lyric Opera and Florida Grand Opera. Fecteau has performed with the great baritone Sherrill Milnes and was a featured recitalist on the New York Philharmonic's "Salon Series." He is particularly interested in exploring the intersections between opera, orchestral song and chamber music.
About Carnegie Mellon University's School of Music:Founded in 1912, Carnegie Mellon's School of Music educates outstanding, intellectually gifted musicians through excellence in performance, creativity, scholarship and pedagogy. The School of Music offers undergraduate degrees in instrumental and vocal performance, composition and keyboard performance. Graduate degrees are offered in performance, composition, conducting and music education. The school also offers a variety of highly acclaimed non-degree programs, such as the Performance Residency Program, the Artist Diploma Program, Dalcroze Eurhythmics, Piano Pedagogy, Advanced Flute Studies, Orff Schulwerk and Music Education programs. Since its founding, the School of Music has graduated more than 3,200 students who can be found performing, composing, conducting, teaching and contributing to the music field worldwide. Today, many alumni regularly appear in symphony orchestras, on Broadway, and in opera houses around the world. Additionally, the School of Music presents more than 250 events annually, many of which are free and open to the public.
About Carnegie Mellon University: Carnegie Mellon is a private, internationally ranked research university with programs in areas ranging from science, technology and business, to public policy, the humanities and the arts. More than 11,000 students in the university's seven schools and colleges benefit from a small student-to-faculty ratio and an education characterized by its focus on creating and implementing solutions for real problems, interdisciplinary collaboration and innovation. A global university, Carnegie Mellon's main campus in the United States is in Pittsburgh, Pa. It has campuses in California's Silicon Valley and Qatar, and programs in Africa, Asia, Australia, Europe and Mexico. The university is in the midst of "Inspire Innovation: The Campaign for Carnegie Mellon University," which aims to build its endowment, support faculty, students and innovative research, and enhance the physical campus with equipment and facility improvements.