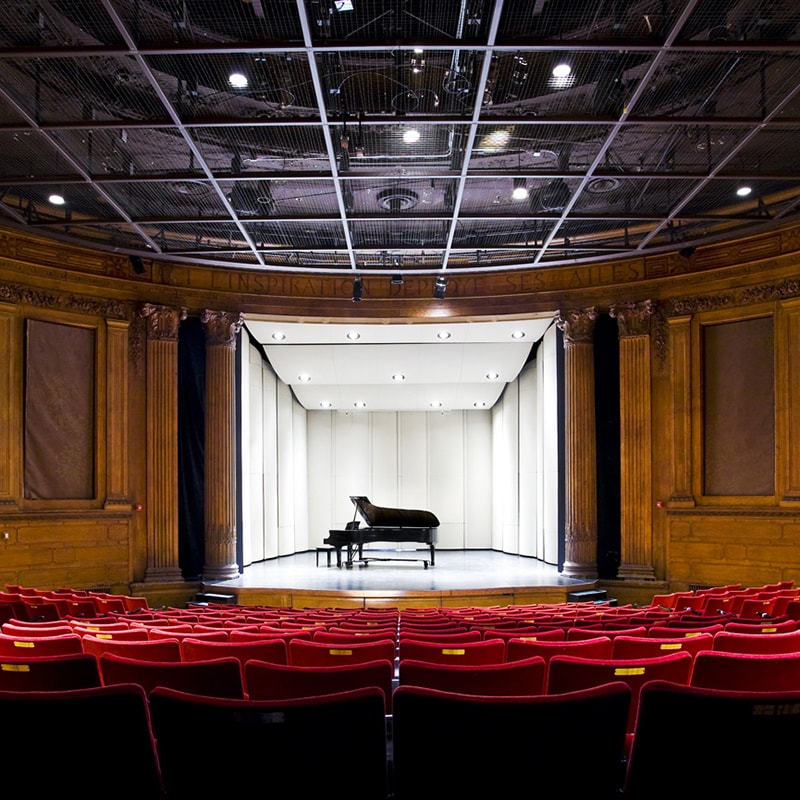 October 09, 2010
SOM CELEBRATES LIFE OF PIANIST, ALUMNUS EARL WILD, SATURDAY, OCT. 9
Carnegie Mellon University's School of Music celebrates the life of alumnus Earl Wild (1915-2010), a legendary concert pianist, composer and educator, in an afternoon of performances by current faculty members, students and alumni. This "Celebration of Life" event, which is free and open to the public, will be held at 3 p.m., Saturday, Oct. 9 in the College of Fine Arts' Kresge Theatre. A reception will be held immediately following the program in the Alumni Concert Hall.
The program will feature performances by Artist Lecturer Enrique Graf, alumni Mark Carver and Ciro Fodore, and guest pianists David Korevaar, Slade Trammell and Anne Taffel, who will showcase pieces beloved by the famous pianist and perform some of Wild's original compositions.
Several former colleagues and students, as well as Wild's partner Michael Rolland Davis, will share their memories of Wild and his extensive performance career. Two videos, including a montage from the 2008 Grammy Awards ceremony and Wild's final performance at age 92 in Los Angeles' Disney Concert Hall, also will be shown during the event.
CMU's School of Music will announce the formation of a fellowship in piano studies in honor of Wild. Noel Zahler, head of CMU's School of Music, looks forward to honoring Wild's contributions to classical music.
"Earl Wild left an indelible legacy as a virtuosic performer, talented composer and dedicated teacher," Zahler said. "It is a privilege to be able to count him among our school's alumni, and an honor for us to establish a fellowship in his name at Carnegie Mellon."
A Pittsburgh native, Wild began his piano studies early in life with teachers such as Selmar Jansen, Simon Barere and Egon Petri. By the time he enrolled at CMU, which was then called Carnegie Tech, he was already an accomplished concert pianist. Upon graduating in 1937, he became the staff pianist for NBC's Radio Orchestra, and would later serve as ABC's staff pianist, composer and conductor. He also made many soloist appearances with renowned orchestras and dozens of professional recordings.
A pioneering musician, Wild was the first pianist to give a recital broadcast live on U.S. television in 1939, as well as the first to give a performance streamed over the Internet in 1997. In addition to his illustrious performing career, Wild traveled the world giving master classes and held teaching posts at prestigious universities and conservatories, including his alma mater.
In 1986, he was awarded the Liszt Medal by the Hungarian government in recognition of his long association with the composer's music. At his last concert performance on Feb. 5, 2008, in Los Angeles' Walt Disney Concert Hall, Wild was awarded the President's Merit Award by the National Academy of Recording Arts and Sciences. He died peacefully at age 94 on Jan. 23, 2010, in Palm Springs, Calif.