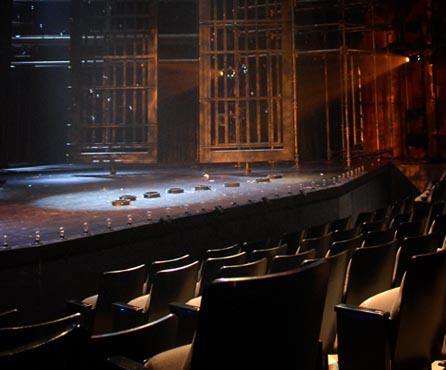 September 07, 2010
CARNEGIE MELLON'S SCHOOL OF MUSIC STAGES MOZART SCENES
Carnegie Mellon University's School of Music presents its fall opera, "Mozart Scenes: The Trials of Love," at 8 p.m., Thursday, Oct. 21 through Saturday, Oct. 23 in the Purnell Center for the Arts' Philip Chosky Theater on CMU's Pittsburgh campus. A matinee performance will be presented at 2 p.m., Sunday, Oct. 24.
Andres Cladera will be the guest musical director and Linda Brovsky will serve as guest stage director for "The Trials of Love," which will include famous scenes from three of Wolfgang Amadeus Mozart's most popular operas — "Cosi fan tutte," (Thus Do They All), "Le Nozze di Figaro" (The Marriage of Figaro) and "Die Zauberflöte" (The Magic Flute).
Tickets are $15 for general admission, $12 for senior citizens and $10 for students, and are available by calling 412-268-2407.
"For approximately 200 years 'Le Nozze di Figaro,' 'Die Zauberflöte' and 'Cosi fan tutte' have continued to entice audiences with their exquisite melodies, thrilling action, clever scripts and unique characters," Cladera said. "This program compiles some of the most memorable tunes in the operatic repertoire. They serve to showcase the talented young voices of Carnegie Mellon University's School of Music while keeping the audience engaged with stories full of humanity and drama."
Whether the plot involves jilted lovers, unfaithful spouses, unrequited love or betrothed sweethearts, Mozart's operas feature dazzling music, dramatic love stories, satire and high drama that have entertained audiences for centuries.
Carnegie Mellon's School of Music educates outstanding, intellectually gifted musicians through excellence in performance, creativity, scholarship and pedagogy. The School of Music offers undergraduate degrees in music composition, music and technology, and instrumental, vocal and keyboard performance. Graduate degrees are offered in composition, conducting, performance, music and technology, and music education. The school also offers a variety of highly acclaimed non-degree programs, such as the Artist Diploma Program and the Dalcroze Eurhythmics, Piano Pedagogy, Collaborative Piano, Advanced Instrumental Studies, Advanced Vocal Studies, Orff Schulwerk and Music Education certificate programs.