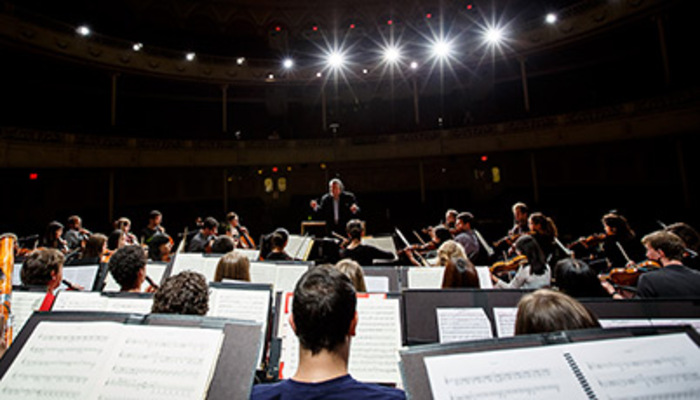 August 04, 2010
CARNEGIE MELLON'S PHILHARMONIC HITS THE ROAD FOR NYC
Enough already about the robots, actors and people walking up a pole. Carnegie Mellon University has a School of Music that doesn't need to play second fiddle. Tonight it will step into a special spotlight when its main ensemble, the Carnegie Mellon Philharmonic, performs a concert in another famous Andrew Carnegie creation — New York City's Carnegie Hall.
Built in 1891, it predates CMU by nine years and Carnegie Music Hall in Oakland by four. The latter is where the Philharmonic plays its concerts in Pittsburgh, and where it gave a preview of the New York program to a modest audience Tuesday evening under the direction of Ronald Zollman.
The School of Music admits a high level of student these days, recruiting from Europe to China and across the United States. It has a smaller enrollment than some of the bigger schools and conservatories, something that school head Noel Zahler sees as one of its biggest assets. Another is having the Pittsburgh Symphony Orchestra in town; CMU's faculty has been bolstered by teachers from the PSO ranks for years. At the preview concert I bumped into several supporting their students.
Unlike some conservatories, there is still a welcome college ambience about the CMU Philharmonic: Frisbee-throwing outside the backstage door, students arriving on skateboards and shenanigans and smiles on stage. It's good to see the students enjoying themselves: Some won't go on to a music career and might as well have fun, and those who will in some form or another should learn to enjoy the experience, too, if they are going to perform music their entire life.
But some of the credit for the Philharmonic's makeup must go to Mr. Zollman. While he has been at the post only for a few months, he has already put his stamp on the orchestra through his programming and personality.
His programs, thus far, have been a mix of classics and contemporary music, with the common element of being difficult and of showcasing individual sections. Witness the program for the Carnegie halls: Stravinky's "Petrouchka," Mahler's "Songs of a Wayfarer" and Druckman's "Demos," the latter a collection of European folk songs celebrating the European Union.
During a recent rehearsal, I was impressed by his demeanor and interaction with the students. He is interested in getting them to learn how to create musicality, not just hitting the right notes. He also understands they are students and not professionals. "Relax," he told the French horns who were getting tight working on a tough passage. Earlier, he told me that he relishes the emotion and intensity students can bring to music. Even if they lack the precision of a major orchestra, they can capture the essence of the music because it is so new to them.
Tuesday night this approach played out on stage. There were some ensemble issues within sections, especially in difficult areas you'd expect. But the ensemble between sections was good and the tutti intonation was spot on, signs Mr. Zollman has the members listening well to each other. And if the tuning in lighter textures and solos suffered at times, it was in the service of making artistic statements. There were some standouts in "Petrouchka," such as the trumpet section (particularly Daniel Nesbitt), flutist Jessica Gist, English horn player Jeffrey Marshak and concertmaster Eunice Keem.
As exciting as performing at Carnegie Hall will be tonight, it does little good for the potential careers of these students to be coddled with easy pieces. Mr. Zollman and Mr. Zahler are interested in pushing them out of their comfort zone to the place in which learning becomes exponential.
Speaking of potential, rarely does it come so polished than in the artistry of baritone Liam Bonner, a CMU alumnus. At 28, the Coraopolis native and Pittsburgh Central Catholic graduate already has begun his career, debuting at the Metropolitan Opera in February. Singing the Mahler, it seems clear his light voice, with a spinto core, is going to grow in the coming years. But it is already gorgeously hued. Combined with his expert command of the meaning of Mahler's dramatic text of a spurned lover, Mr. Bonner is a star in the making. And the perfect person to place in front of the audience in New York to show off the CMUprogram.
By Andrew Druckenbrod
To view the original article, Click Here.