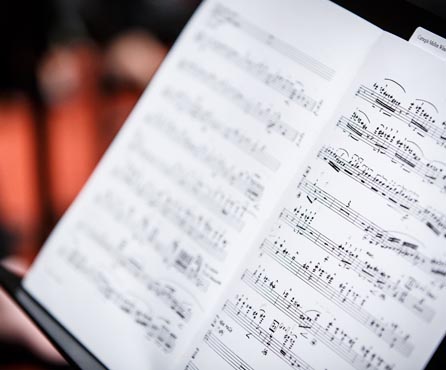 January 25, 2010
CARNEGIE MELLON SCHOOL OF MUSIC WILL PERFORM SIX DIFFERENT GENRES OF MUSIC IN THE DYNAMIC COLLAGE CONCERT, FEB. 12
PITTSBURGH—Hundreds of performers from Carnegie Mellon University's School of Music will present its second annual Collage Concert, a dramatic event combining theatrical lighting, music and performance spanning six genres, at 8 p.m., Feb. 12 in Soldiers and Sailors Memorial Hall.
The 90-minute nonstop concert will include all of the school's ensembles, including baroque, classical, contemporary, vocal, jazz and musical theater show tunes. Featuring world-class stage direction by Drama Professor Gregory Lehane, musicians will appear and disappear from various positions around the hall, moving seamlessly through the balcony, stage and aisles. Carnegie Mellon President Jared Cohon will be among the performers in a percussion ensemble piece by Steve Reich that requires no instruments — just clapping. The closing piece, "Climb Ev'ry Mountain" from The Sound of Music, will feature vocalists converging on stage in a visually spectacular finale.
Noel Zahler, head of the School of Music, is excited to present the event to the city. "Collage is an opportunity for everyone to see and hear what this School of Music does; we make music and we make music brilliantly," Zahler said. "It is a demonstration of why our students are sought after by every major orchestra and opera house in the world."
Selected School of Music faculty members will serve as soloists, including Cyrus Forough, professor of violin; Enrique Graf, artist lecturer in piano; and Laura Knoop Very, assistant professor of voice.