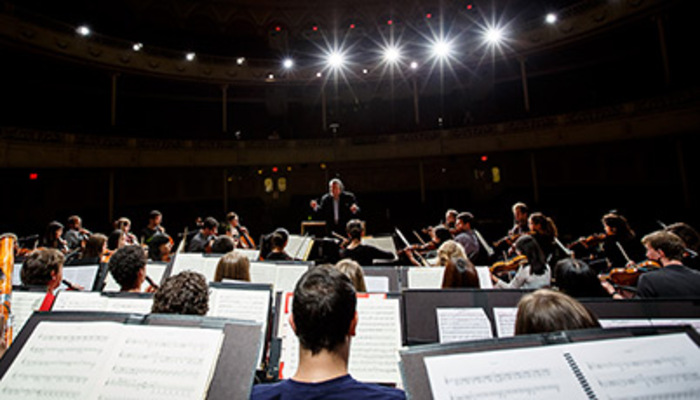 September 03, 2009
PITTSBURGH SYMPHONY ORCHESTRA PRESENTS REDISCOVERING RACHMANINOFF
Festival Partners Include Carnegie Mellon School of Music, University of Pittsburgh, Duquesne University, Mendelssohn Choir of Pittsburgh and Pittsburgh Filmmakers
April 1 – 19, 2009
Curated by Joseph Horowitz, Festival Artistic Advisor
Festival Sponsor: Serge Rachmaninoff Foundation
PITTSBURGH – The Pittsburgh Symphony Orchestra (PSO) presents Rediscovering Rachmaninoff, a three-week festival, created and curated by Joseph Horowitz, examining many of the composer's less-familiar orchestral works, as well as solo piano and chamber music recitals.
Ancillary activities include films, a conference, exhibits, recitals, masterclasses, pre- and post-concert activities, and a performance of Russian Vespers. Rediscovering Rachmaninoff is a collaboration between the PSO, the University of Pittsburgh, Duquesne University, Carnegie Mellon School of Music, the Mendelssohn Choir of Pittsburgh and Pittsburgh Filmmakers, in cooperation with the Serge Rachmaninoff Foundation. Four pianists from the Toradze Piano Studio – Vakhtang Kodanashvili, Alexander Mogilevsky, Maxim Mogilevsky, Edisher Savitski and Svetlana Smolina – are guest artists during the course of the festival, as well, leading masterclasses and giving recitals and performance pre-and post-concert.
The Rediscovering Rachmaninoff festivities kick off on April 1 with Mogilevsky leading a masterclass with local pianists at Duquesne University at 3 p.m. Pittsburgh Filmmakers hosts a double feature on April 2 at the Harris Theater downtown at 7:30 p.m. The two films, Brief Encounter and La Soufrière, each feature the extensive use of music from Rachmaninoff's Second Piano Concerto in its scores. Commentary by Joseph Horowitz and Anna Nisnevich.
On April 3, 4, and 5, Italian conductor Gianandrea Noseda leads the PSO in an all-Rachmaninoff program at Heinz Hall that features pianist Simon Trpčeski, in his PSO debut, as soloist in Rhapsody on a Theme of Paganini. Also on the program are the rarely-performed Spring Cantata, with baritone Vasily Ladyuk – also in his PSO debut – and Symphony No. 1. Pre-concert prelude with Noseda and Horowitz begins one hour prior to the performance and open to all ticketholders. Post-concert Artist Chat is a Festival introduction with Horowitz, Noseda, and pianist Vakhtang Kodanashvili, from the Toradze Studio, performing selected Études Tableaux.
On April 4 and 5, the University of Pittsburgh hosts a two-day conference entitled Music, Memory and Nostalgia. Conference events, which are free and open to the public, take place at Heinz Hall (April 4 from 2 – 5 p.m.) and at the University of Pittsburgh (April 5 from 10 a.m. – 12:30 p.m.). Pittsburgh Filmmakers reprises the double feature on April 5 at the University of Pittsburgh, as well.
Vakhtang Kodanashvili, Alexander Mogilevsky, Maxim Mogilevsky, Edisher Savitski and Svetlana Smolina of the Toradze Piano Studio perform in three all-Rachmaninoff piano recitals during Rediscovering Rachmaninoff, the first of which is on April 5 at the University of Pittsburgh; the second is on April 7 at Duquesne University; and the third on April 15 at Carnegie Mellon School of Music. Then, Mogilevsky leads another masterclass, this one at Carnegie Mellon, on April 13 at 2 p.m., to round out the week's activities.
The PSO concludes Rediscovering Rachmaninoff on April 17, 18 and 19 with young Russian pianist Denis Matsuev making hisPSO debut with Leonard Slatkin leading his third and final subscription program of the season. Matsuev performs the famed Piano Concerto No. 3. Also featured on the program are the Vocalise (transcribed for orchestra) and Rachmaninoff's final orchestral work, the Symphonic Dances. Pre-concert activities one hour prior to the concert are schedule, with Maxim Mogilevsky. On Sunday, April 19, a festival wrap-up takes place post-concert with Slatkin, Matsuev, and the Toradze Studio pianists.
Throughout the festival, scores and other Rachmaninoff memorabilia will be on display at Heinz Hall for patrons to explore.
Tickets for all Rediscovering Rachmaninoff events can be purchased by calling the Heinz Hall box office at 412.392.4900, or by visiting the PSO online at www.pittsburghsymphony.org. PSO at Heinz Hall: $17.50 – $79. Piano recitals: $10; $5 for University students, faculty and staff (ID required). Films: $5 and $7. Masterclasses: free.
The PSO would like to recognize and thank BNY Mellon for their 2008-2009 title sponsorship of BNY Mellon Grand Classics. Bobby Rahal Automotive Group is the Official Automotive Group of the PSO for the 2008-2009 Season. 
JOSEPH HOROWITZ's eight books include Classical Music in America: A History and Artists in Exile: How Refugees from the Twentieth Century War and Revolution Transformed the American Performing Arts. A recipient of a Guggenheim Fellowship and two NEA Fellowships, he has long been a pioneer in curating thematic festivals and developing new concert formats.
Baritone VASILY LADYUK hails from Prague, Czech Republic, and made his Metropolitan Opera debut on 2007 as Prince Andrei in War and Peace. He returns to this venerable stage this season as Silvio in Pagliacci. Other career highlights include performing the title role of Eugene Onegin at Paris Opera Bastille, Figaro in Barbiere di Siviglia, Robert in Iolanta, Valentin in Faust and Malatesta in Don Pasquale at the Novaya Opera in Moscow, Silvio in Pagliacci at Genoa's Teatro Carlo Felice, Schelkalov in Boris Godunov at Brussels's La Monnaie and Madrid's Teatro Real, and Yamadori in Madama Butterfly at Barcelona's Liceu.
Ladyuk is schedule to make his debut at the Houston Grand Opera in 2010 as Prince Yeletsky in Pique Dame. He received first prize in Barcelona's Viñas International Vocal Competition, Plácido Domingo's Operalia Competition, and at Japan's Shizuoka Competition. This performance marks his PSO debut.
DENIS MATSUEV has become a fast-rising star on the international concert stage since his triumphant victory at the 11th International Tchaikovsky Competition in Moscow in 1998. He has appeared in hundreds of recitals at prestigious concert halls throughout the world, and performed with some of the best orchestras such as the Chicago Symphony Orchestra, Houston Symphony Orchestra, Baltimore Symphony Orchestra, Cincinnati Symphony Orchestra, Symphonieorchester Bayerischen Rundfunks, Royal Scottish National Orchestra, Filharmonica della Scala, Leipzig Gewandhaus, Orchestre National de France, Orchestre Philharmonique de Radio France, and others. Matsuev is also continually engaged with many of the great Russian orchestras of his homeland, such as Saint-Petersburg Philharmonic Orchestra, Mariinsky Theatre Orchestra, Russian National Orchestra, Tchaikovsky Symphony Orchestra, National Philharmonic Orchestra of Russia, State Academic Symphony Orchestra of Russia, and Moscow Philharmonic Orchestra among others.
Over the past three years, Denis Matsuev has been in collaboration with the Serge Rachmaninoff Foundation and its President Alexander Rachmaninoff, the grandson of the composer. Matsuev was chosen by the Foundation to perform and record unknown pieces of Rachmaninoff on the composer's own piano at the Rachmaninoff house "Villa Senar" in Switzerland. He is also Artistic Director of two famous classical music festivals in Russia: "Stars on Baikal" in Irkutsk and famous "Crescendo" which is being held all over the world: Moscow, Saint Petersburg, Yekaterinburg, Tel-Aviv, Kaliningrad, Paris and Rome. All Matsuev's albums are internationally released by RCA RED SEAL. 
ANNA NISNEVICH received her PhD from the University of California, Berkeley, and is now Assistant Professor of Music at the University of Pittsburgh. She has performed extensive research on Russian composers of and around the turn of the 20th century. Ms. Nisnevich will direct the festival conference, "Music, Memory and Nostalgia," discussing the thematic elements of Rachmaninoff's music.
GIANANDREA NOSEDA has been the Music Director of Teatro Regio in Turin since September 2007 after a successful collaboration which started in 2004. Chief Conductor of the BBC Philharmonic in Manchester after four years as Principal Conductor, Noseda started his international journey in 1997, when he became the first foreign Principal Guest Conductor at the Mariinsky Theatre in St. Petersburg. There, he also established the Mariinsky Young Philharmonic Orchestra and served as its Principal Conductor. Since 1998 he has served as the Principal Conductor of the Orquesta de Cadaqués; prior to that, he was Principal Guest Conductor of the Rotterdam Philharmonic from 1999 to 2003, and of the Orchestra Sinfonica Nazionale dellaRAI, Turin from 2003-2006. In addition, since 2000 he has held the post of Artistic Director of the Stresa Festival in Italy. 
Internationally renowned American conductor LEONARD SLATKIN began his appointment as the 12th Music Director of the Detroit Symphony Orchestra with the 2008-2009 season, and also serves as Principal Guest Conductor of the Pittsburgh Symphony Orchestra, another new association. He completed his 12th and final season as Music Director of the National Symphony Orchestra in 2007-2008. Slatkin continues as Principal Guest Conductor of the Royal Philharmonic Orchestra and Music Advisor to the Nashville Symphony Orchestra. His performances throughout North America, Europe and the Far East have been distinguished by imaginative programming and highly praised interpretations of both the standard and contemporary symphonic repertoire. Additionally, he is well-known for his arts advocacy work on behalf of music education.
He will also conduct several world premieres with the Detroit Symphony Orchestra. Following a successful tenure as Music Director of the Saint Louis Symphony from 1979 until 1996, Mr. Slatkin was named Conductor Laureate. He has served as Festival Director of the Cleveland Orchestra's Blossom Festival (1990-99), Principal Guest Conductor of the Philharmonia Orchestra (1997-2000), Chief Conductor of the BBC Symphony Orchestra (2000-2004), and Principal Guest Conductor of the Los Angeles Philharmonic at the Hollywood Bowl (2004-2007). In addition to his conducting appearances, Mr. Slatkin is a frequent host of musical broadcasts, which include the BBC, lending his broad knowledge and expertise.
The TORADZE PIANO STUDIO is a unique phenomenon in today's musical world—an assembly of highly passionate, masterful piano virtuosos of several generations, all students and associates of Alexander Toradze. The Studio presents thematic programs consisting of the piano and chamber works of a selected composer, performed chronologically, accompanied by commentary and discussion. The Studio made its initial international appearance at the White Nights Festival in St. Petersburg, Russia at the invitation of Valery Gergiev, music director of the Mariinsky Theater, performing Stravinsky's complete music for solo and multiple pianos and Prokofiev's sonata cycle. Since then the Studio has appeared throughout the world to rave reviews in Edinburgh, Stresa, Italy, Rotterdam and Finland, as well as the Hollywood Bowl, the Ravinia Festival, the Gilmore Festival and New Jersey. The Studio was established in 1991 at Indiana University South Bend with the appointment of Alexander Toradze as Martin Endowed Professor of Piano. Soon it began touring as a piano ensemble – the first of its kind in the United States.
SIMON TRPČESKI, though still in his mid-twenties, has established himself as one of the most remarkable young musicians to have emerged in recent years, playing with many of the world's great orchestras and delighting audiences world-wide. His recent sell-out recital at the Wigmore Hall, London prompted the Telegraph's critic to describe Simon Trpčeski as "one of the great musicians of our day."
Trpčeski has performed extensively in the UK, including concerts with the London Symphony Orchestra, the Philharmonia Orchestra, the London Philharmonic Orchestra, the Hallé Orchestra, as well as the City of Birmingham Symphony, Royal Liverpool Philharmonic and Bournemouth Symphony Orchestras. This season, his international highlights include a return visit to the New York Philharmonic Orchestra and performances with the Philadelphia Orchestra, Los Angeles Philharmonic Orchestra, Rotterdam Philharmonic Orchestra, Strasbourg Philharmonic Orchestra, and Danish National Symphony Orchestra / DR. He will also return to the Sydney and Melbourne Symphony Orchestras and has a debut tour with the New Zealand Symphony Orchestra. Born in the Republic of Macedonia in 1979, Simon Trpčeski has won prizes in international piano competitions in the UK (London International Piano Competition 2000), Czech Republic and Italy.
THE MENDELSSOHN CHOIR OF PITTSBURGH, a largely volunteer choir of 115 voices including a 20-voice professional core, is renowned for its versatility, singing oratorio, opera, Broadway, folk, and symphonic repertoire. Founded in 1908, and having earned the distinction of being Pittsburgh's oldest continuing performing arts organization, the Choir is presently beginning its 100th season, the third under the direction of Music Director Betsy Burleigh. The Mendelssohn Choir's Centennial Celebration began with a performance of Felix Mendelssohn's epic oratorio Elijah in April 2008, conducted by Grammy Award-winning Robert Page, the Choir's Music Director Emeritus.
The PITTSBURGH SYMPHONY ORCHESTRA has been a vital part of the City of Pittsburgh's heritage for more than 100 years. With its noble history of the finest conductors and musicians and its strong commitment to artistic quality and excellence, audiences around the world have claimed the PSO as their orchestra of choice. Beginning in the early 1900s with frequent performances in Canada, the PSO confirmed its ranking as a world-class orchestra, earning critical acclaim for each tour abroad. Its 29 international tours include 15 European tours, seven trips to the Far East and two to South America. In January 2004, the PSObecame the first American orchestra to perform for Pope John Paul II at the Vatican, as part of the Pontiff's Silver Jubilee celebration. September 2008 marks the arrival of the PSO's ninth music director, Austrian conductor Manfred Honeck.