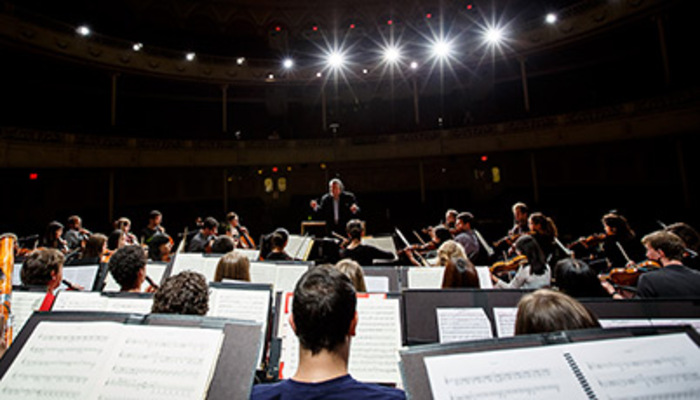 November 29, 2009
PHILHARMONIC FEATURED IN CONCERT FOR LIGHT/THE HOLOCAUST & HUMANITY PROJECT
Maestro Ronald Zollman leads the Carnegie Mellon Philharmonic in a performance of works by prominent European-Jewish composers whose music was banned during the Nazi regime at 8 p.m., Monday, Nov. 9 in Oakland's historic Carnegie Music Hall. The performance is part of the Pittsburgh Ballet Theatre's Light/The Holocaust & Humanity Project.
In close partnership with The Holocaust Center of Pittsburgh, the Pittsburgh Ballet Theatre is presenting Light/The Holocaust & Humanity Project, a month-long collaborative effort with a broad spectrum of Pittsburgh organizations to create educational programming and inspire a community-wide dialogue about the Holocaust.
Noel Zahler, head of Carnegie Mellon's School of Music, believes that the concert emphasizes the role of musical compositions as historical legacies. "As a member of this great university and the community of Pittsburgh, I believe it is imperative that we commemorate events that should never be forgotten," Zahler said. "Bringing the music together for this concert is just one more way to reaffirm the important role music plays in the lives of individuals, regions and the global community. Many people who had been victims of genocide still performed and composed music, and those who witnessed the atrocities from afar also reacted musically. Bringing these works to life for a new generation is our obligation."
The Nazi propaganda that exposed and banned "degenerate" artists and composers was a precursor to the state-sponsored pogrom of Kristallnacht on Nov. 8 and 9, 1938. Held exactly 71 years later, this commemorative performance sheds light on those composers and their music.
The program features Martinu's Lidiče, Schulhoff's Symphony No. 1, Barber's Adagio for Strings, Schoenberg's A Survivor of Warsaw and Mahler's Todtenfeier. Special guests Sandy and Edgar Snyder and Kristallnacht survivor Ruth Drescher will address the audience prior to the performance.
The Carnegie Mellon Philharmonic is comprised of student musicians from across the United States and 19 foreign countries. Philharmonic performances have been received enthusiastically by audiences and critics at such prestigious institutions as New York City's Carnegie Hall, the Kennedy Center in Washington, D.C., Boston's Symphony Hall and Severance Hall in Cleveland. Its recordings appear on the Mode Records, New World Records, New Albion and Carnegie Mellon record labels. The orchestra claims alumni in the New York Philharmonic, the Chicago Symphony Orchestra, the Metropolitan Opera Orchestra, the Pittsburgh Symphony Orchestra and the Seattle Symphony, among many others.