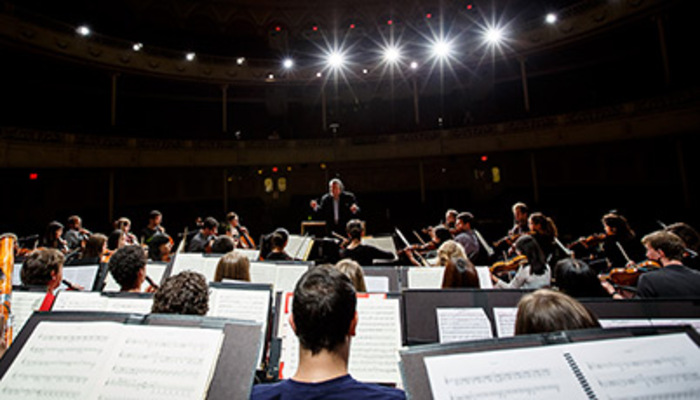 October 09, 2009
NEW DIRECTOR OF ORCHESTRAL STUDIES LEADS PHILHARMONIC IN CONCERT
The Carnegie Mellon Philharmonic will perform under the direction of newly appointed Director of Orchestral Studies Ronald Zollman, former music director of the National Orchestra of Belgium, at 8 p.m., Sept. 16 in Oakland's Carnegie Music Hall. Tickets can be purchased beginning at 7 p.m. on the evening of the performance at Carnegie Music Hall or online at http://music.cmu.edu. Tickets are $5 for general admission, $4 for senior citizens and free for all college students with ID.
The Philharmonic will begin the 2009-2010 season with a program structured to showcase the ensemble's talent as well as Zollman's conducting abilities. The performance opens with Hindemith's energetic "Symphonic Metamorphosis of Themes by Carl Maria von Weber" followed by Shostakovich's emotive "Symphony No. 4 in C Minor, op. 43."
Noel Zahler, head of the School of Music, is enthusiastic about the ensemble's new music director, who is the first permanent conductor since former director Juan Pablo Izquierdo retired in 2008. "We're very excited to welcome Maestro Zollman to the podium," Zahler said. "This opening concert will demonstrate the professional direction of our philharmonic under his leadership."
Zollman has appeared as guest conductor with major symphonies on all continents, including the BBC Symphony Orchestra, the Sydney Symphony Orchestra, the Shanghai Symphony Orchestra, and the San Diego Symphony. In addition to his orchestral conducting, Zollman has lead many operas to much critical acclaim with such companies as the Belgian National Opera, the English National Opera and the Scottish Opera. He recently received a Golden Record for his recording of the soundtrack for Le Maitre de Musique (The Master of Music), a film nominated for Best Foreign Picture at the Academy Awards.
The Carnegie Mellon Philharmonic is comprised of student musicians from across the United States and 19 foreign countries. Philharmonic performances have been received enthusiastically by audiences and critics at such prestigious institutions as New York City's Carnegie Hall, the Kennedy Center in Washington, D.C., Boston's Symphony Hall and Cleveland's Severance Hall. Its recordings appear on the Mode Records, New World Records, New Albion and Carnegie Mellon record labels. The orchestra claims alumni in the New York Philharmonic, and the Chicago and Pittsburgh symphony orchestras, among many others.