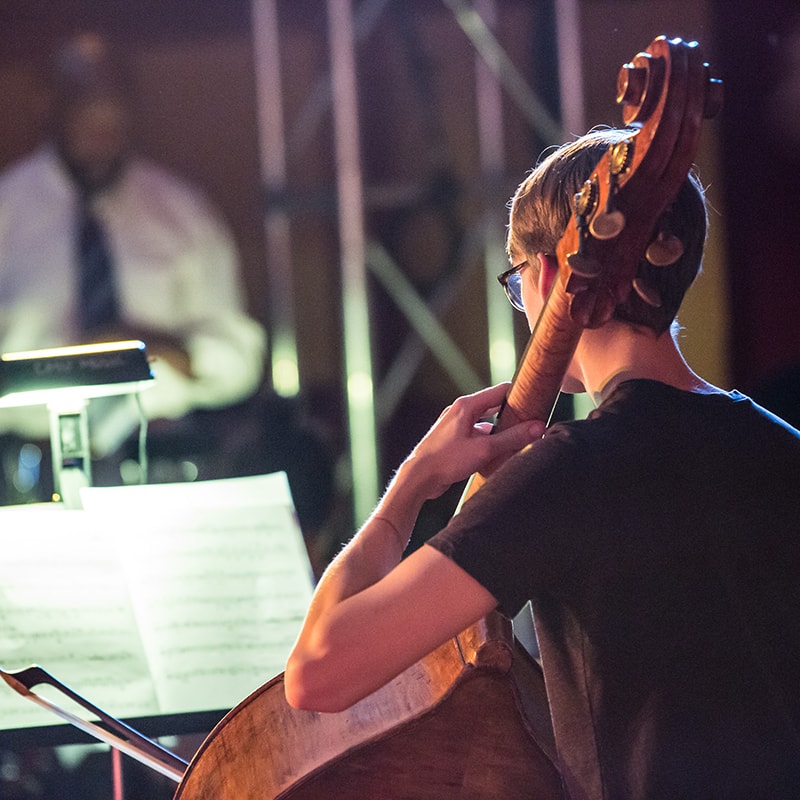 April 16, 2009
JAZZ CONCERT MERGES INTERACTIVE TECHNOLOGY WITH TRADITIONAL SOUND
PITTSBURGH—Carnegie Mellon University's Jazz Ensemble will take the stage at 3 p.m. on Sunday, April 19 in the Carnegie Library of Homestead's Music Hall in what will be a first for the School of Music.
The Jazz Ensemble, led by David Pellow, director of Jazz Studies, will perform a newly arranged work by faculty member John Wilson for jazz band, soloists and digital string orchestra. The "orchestra" is comprised of five Carnegie Mellon music students who have recorded 20 digital tracks that will be time-stretched to synchronize with the live band. A member of the Jazz Ensemble will tap a custom-made foot pedal, which will allow the computer to sense the tempo and other cues in different parts of the music. This computer accompaniment stems from a project by School of Computer Science Professor Roger Dannenberg. His research on this subject has been sponsored by Microsoft through the Computational Thinking Center.
There will be additional "digital jazz" with electronic performances by Tomas Henriques on a digital valve instrument controller and Lyle Chamberlain on a digital electronic wind instrument controller. They will be joined by Dannenberg and Pellow on computer processed trumpet and bass, respectively. Herniques is a visiting scientist in the School of Computer Science, and Chamberlain is a graduate student in robotics as well as a regular member of the Jazz Ensemble. This event, which is sponsored by WDUQ-FM 90.5, is free and open to the public.
Carnegie Mellon's School of Music educates outstanding, intellectually gifted musicians through excellence in performance, creativity, scholarship and pedagogy. The School of Music offers undergraduate degrees in music composition, music and technology, and instrumental, vocal and keyboard performance. Graduate degrees are offered in composition, conducting and performance, music and technology and music education. The school also offers a variety of highly acclaimed non-degree programs, such as the Performance Residency Program, the Artist Diploma Program and the Dalcroze Eurhythmics, Piano Pedagogy, Advanced Flute Studies, Orff Schulwerk and Music Education certificate programs.