Provost Priorities 
The university's strategic plan is the foundation for the provost's priorities, which were derived, reinforced and prioritized through ongoing listening sessions with the Carnegie Mellon community.  These seven areas of focus aim to strengthen the pillars of our institution. From student success and experience to diversity, equity and inclusion, our goal is to create a more holistically supportive and welcoming environment for the campus community.
Access and Affordability
In order to increase the socioeconomic diversity of Carnegie Mellon, we must endeavor to make Carnegie Mellon more accessible and affordable.  As such, our goal is to continue efforts to meet the full financial needs of our student body. We will make undergraduate student aid and graduate fellowships a primary focus in the capital campaign. And, through our partnership with the Graduate Student Assembly, we will continue to explore ways to help our graduate students afford to attend CMU, such as providing partial support for healthcare, legal services, and conference funding. 
Diversity, Equity and Inclusion
Being a diverse, equitable and inclusive community is critical to our excellence as an educational, research and entrepreneurial university.  The provost has charged the academic units with the task of creating a five-year university-wide strategic plan for diversity, equity and inclusion. In tandem, the administrative units of the university have been tasked with the same charge. Together our goal is to center our values for diversity, equity and inclusion in our institution's mission, language and climate.
Student Success and Experience
We strive to cultivate an environment that fosters student success and a high quality and supportive experience that provides opportunities for our students to grow and reflect as learners, communicators and scholars while on our campuses and beyond.  All students should find success in their academic studies, graduate in a timely fashion and embark on a career pathway. In addition to academic development and enrichment programs, we also will seek to provide professional development resources for faculty and staff to excel as academic advisors and mentors. 
Realizing CMU Education 2025
The university's Strategic Plan 2025 sets a vision for the type of education we seek to deliver to meet the needs of our students of the future. This vision builds upon the educational strengths of CMU that were outlined in the Carnegie Plan when the university was founded. To realize this vision, we are conducting and assessing a variety of pilots along five major dimensions: innovative curriculum, new pedagogy and technology enhanced learning, new competency-based modules, student success, new forms of interaction with external organizations and leadership education.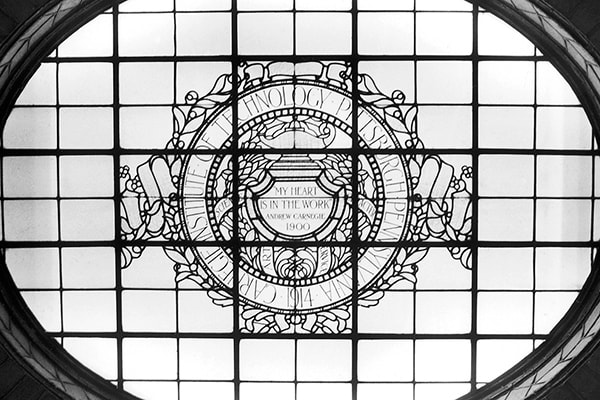 Faculty Experience and Success
Faculty experience and success requires adequate professional and leadership development, increased opportunities for underrepresented faculty, and access to resources for an enriching university experience. From new faculty orientation to development workshops, our priority is to provide each faculty member with the instruments they need for a fulfilling and rewarding career. 
Inaugural Thomas and Lydia Moran Career Development Professorships in Learning Science ceremony, 2019
Global Education Strategy
Developing a global education strategy for Carnegie Mellon must explore what new international partnerships we should seek, new international educational programs we might offer, and review the existing campuses and degree programs outside of the United States.  We must also examine how we can best leverage the tremendous international diversity we have across our programs, locations and campuses. Our distinctive approach to education must be evident in every program we offer, no matter where we are in the world.  
MSIT classmates, CMU Africa
Sustainability, Efficiency and Effectiveness
Sustainability reaches far beyond making "green decisions" for our campus community. Our sustainability initiative is based on the global sustainable development goals which range from peace, justice and strong institutions to good health and well-being for our campus community. Our operational and fiscal efficiency must support not only these goals, but all of our priorities and initiatives while we work to continuously improve on these fronts.
Kraus Campo, Posner Center