Tartan Community Day
October 25, 2019
This day is designed to bring together students, faculty, staff and alumni to take a break from business as usual and to connect, reflect, restore and have fun.
The entire campus community is invited to take part in a variety of not-to-be missed activities, including a fireside chat with one of our famous alumni, a presentation about lessons learned from Life@CMU and opportunities to join discussions about the CMU experience. There also will be a community picnic lunch and plenty of other fun events and activities. For questions, email CMU Experience.
Schedule of Events
A Conversation with Renée Elise Goldsberry
Simmons Auditorium, Tepper Building
10 – 11:30 a.m. 
Tartan Community Day kicks off with a student-focused event, featuring a light breakfast and discussion with Tony and Grammy Award-winning alumna Renée Elise Goldsberry, moderated by CMU School of Music's director of choral activities and director of opera studies Thomas W. Douglas. A star of stage and screen, Goldsberry originated the role of Angelica Schuyler in the Broadway cast of "Hamilton," for which she won the 2016 Tony Award for Best Featured Actress in a Musical.
Students, check your email for the reservation link. Faculty, staff and alumni are welcome to view the event at a watch party in the PNC Foundation Event Spaces on the second floor or on a big screen located in the Welcome Center on the first floor of the Tepper Quad where the event will be simulcasted.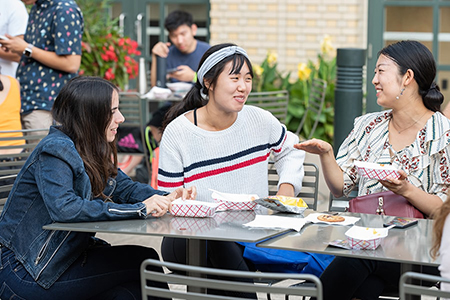 Tartan Showcase and Community Lunch 
Cohon University Center
11:30 a.m. – 1:30 p.m.
Grab your complimentary lunch and head to Rangos to see some of CMU's world-class talent featuring student performers and organizations. Pop-up attractions and roving artists can be found throughout the CUC.
Choose Your Own Tartan Adventure
This is your day to use how you need it most, so choose your own adventure! Whether you're a thrill seeker, yogi or artist, there will be something for everyone.

11 a.m. - 3 p.m. Rock Climbing Wall and Zip Line on The Mall (Rain location: Wiegand Gym)
Take a quick ride on the zip line across The Cut or climb the wall! The CUC cut area will have two opportunities to show off your adventurous side. 

11 a.m. - 3 p.m. Big Head Videos in Wiegand Gym in CUC
Always wanted to be in a music video? Here is your chance to sing and dance with friends. Stop by the CUC Wean commons and make a quick video and have some fun while doing it.

noon - 3 p.m. Meet & Greet with the Beep-Boop at The Fence
The audible crosswalk annunciator that protected our community at Forbes and Morewood is back! First-years: Meet the campus legend. Veteran Boopers: Rekindle your love with a beep-boop selfie. Hear the tone and feel a missing part of you return once more. Attend the ribbon cutting and first re-boop at noon.
---
Group X Samplers in CUC Exercise Studios
Check out shortened 30-minute samplers of Group X classes: yoga, pilates, zumba and indoor cycling. Athletics staff will be on site to answer any fitness or recreation questions. 
1:00 p.m. Yoga & Relax with Jill in Keeler
1:00 p.m. Tai Chi with Lish in Studio A. Kenner
1:30 p.m. Center Barre & Stretch with Tammy in Studio A. Kenner
1:30 p.m. Zumba with Arushi in Keeler
2:00 p.m. Yoga with Nate in Keeler
2:00 p.m. Beginning Jazz with Bekah in Studio A. Kenner
2:30 p.m. Restorative Yoga with Lish in Keeler
2:30 p.m. 305 Fitness with Jasmine in Studio A. Kenner
3:00 p.m. Fitness Fusion with Nate in Studio A. Kenner
3:00 p.m. Yoga with Phoebe in Keeler
---
1 - 3 p.m. Service Project in Connan Room in CUC
Light of Life Rescue Mission offers a wide range of services to the hungry and homeless in the Northside of Pittsburgh, providing food, shelter and hope to their clients. Help make and package hundreds of meals for the Bagged Lunch Project for men utilizing the emergency overnight shelter.

1 - 3 p.m. Outdoor Games in The Cut
Come out and play! Friendly and competitive games will be set up in The Cut. Perfect for engaging with friends and hanging with the athletics staff while playing cornhole, can jam, spike ball and volleyball with athletic staff.

1 - 3 p.m Hot Beverage Bar and Popcorn Sample in CUC Kirr Commons
Stop by and grab a quick snack and hot drink while you enjoy the rest of the Tartan Community Day!

1 - 3:30 p.m. Button for a Buddy in Hunt Library Lobby
Celebrate National I Care About You Day: visit our button-making station and make a button for a friend, family member or loved one. Button-makers and pre-made designs provided. Staff will be on hand to help. 

1:30 - 3 p.m. Chair Massage in Mindfulness Room
Chair massages offered by Lotus Inspired, LLC

1:30 - 2 p.m. Yoga with Live Music in CFA Great Hall
Breathe, stretch and flow as live music resonates through the majestic arches of CFA's Great Hall, or simply relax on your mat and enjoy the music. Mats provided or bring your own.

1:30 - 3 p.m. Kindness Rocks Project in Reflection Garden and Legacy Plaza (accessible location)
Based on the concept that one kind message at the right moment can change someone's day, this rock painting project has become an international grassroots movement! Watch a short video on the project's inspiration.

1:30 - 3 p.m. The Peace Project in Center for Student Diversity and Inclusion in CUC lower level
A student led initiative, the Peace Project is an interactive, open session where participants will define what peace means to them as we construct a campus-wide tapestry showcasing both our unique and shared ideas surrounding peace. 

2:30 - 3 p.m. Yoga with Live Music in CFA Great Hall
Breathe, stretch and flow as live music resonates through the majestic arches of CFA's Great Hall, or simply relax on your mat and enjoy the music. Mats provided or bring your own.
Changing the Narrative about Life@CMU
Rangos, Cohon University Center
3:30 – 5 p.m.
The Life@CMU Project took the first steps to examine student behavior and how factors like stress and sleep affect and predict overall wellbeing. Now, principal investigator David Creswell, associate professor of psychology, asks how we change the story about our campus life and find better ways of supporting one another. Join the conversation and grab a complimentary Leona's ice cream sandwich and personal wellness kit! Come early: President Jahanian will introduce the session and the first 50 attendees will receive a CMU blanket!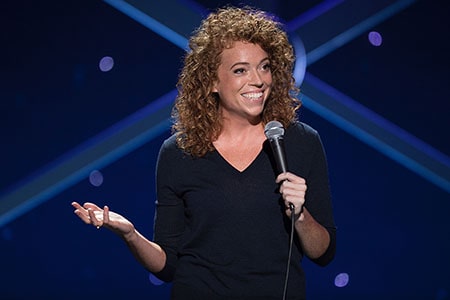 Tartan Turn Up Presents: Michelle Wolf
Rangos, Cohon University Center
7:30 p.m.
As the day turns into evening, start Homecoming Weekend right at Tartan Turn Up with guest comedian Michelle Wolf. Wolf has quickly become one of the most influential voices in the comedy landscape as headliner of the 2018 White House Correspondents Dinner and her critically acclaimed variety sketch series "The Break with Michelle Wolf" on Netflix.