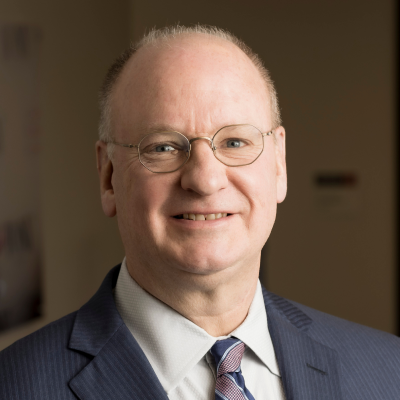 Daryl Weinert
Vice President for Operations and Interim Vice President for Research
As Vice President for Operations, Daryl oversees five units in the Division of Operations: Campus Design and Facility Development, Enterprise Risk Management, Facilities Management and Campus Services, University Police and Business Support Services. Since the outset of the pandemic, he has also been serving as the university's COVID Coordinator.
Serving as Interim Vice President for Research, Daryl oversees the Center for Technology Transfer and Enterprise Creation, Research Operations (which includes the Office of Research Integrity and Compliance, the Office of Research Systems and Operations, and the Office of Sponsored Programs), and Government Relations.  Weinert also participates in the oversight of the Center for Business Engagement and the Swartz Center for Entrepreneurship.
Weinert arrived at Carnegie Mellon in 2018, initially serving as Chief of Staff and Vice President for Strategic Initiatives.  In these roles he was an advisor to the President, helping to implement the university's priorities and goals in close collaboration with senior university leadership and external stakeholders. He facilitated, coordinated, and when appropriate, provided leadership for a broad set of university-wide initiatives, with a focus on those cutting across multiple administrative and academic units.
Prior to joining CMU, Daryl served as associate vice president at the University of Michigan's office of research where he oversaw budget and finance, human resources, shared services and communications. Additionally, he provided leadership for research administration co-chairing the Research Administration Advisory Council and providing strategic oversight of the Office of Research and Sponsored Programs.  
Previously Weinert founded and served as the first executive director of Michigan's Business Engagement Center, the focal point for corporate interactions at the University of Michigan.  
He joined Michigan in 1999 as director of corporate relations for the College of Engineering. In 2006, he was promoted to senior director of corporate and government relations. Before joining the university he served as the director of procurement strategy for Aon Corporation at their worldwide headquarters in Chicago. Prior to his work at Aon he was vice president of commercial banking with JP Morgan Chase & Co.
In 1992, Daryl volunteered for a year of service abroad with the National Service League, coordinating the Joint Energy Efficiency Project. This project brought together resources from the U.S. Department of Energy; the City of Pécs, Hungary; and the Pollack Mihály Müszaki Föiskola (Mihály Pollack Technical College) to promote energy efficiency within Hungary and East Central Europe. Daryl also served as a U.S. Peace Corps volunteer in Nepal from 1987 to 1989, working on the Appropriate Technology program of the Agricultural Development Bank.
He received a B.S. in industrial and operations engineering and a B.A. in economics from the University of Michigan in 1986.