Senior Class Gift
Your Senior Class Gift is more than a donation — it's your chance to leave a legacy at Carnegie Mellon and help future Tartans for years to come. Your gift is an expression of appreciation for the experiences that made your time at CMU so incredible.  
Give to what you love
You can support the area of CMU the means the most to you — a college, department, club, organization or program that has made a difference in your life. Any gift of $5 or greater will be counted toward the Senior Class Gift. 
It is important for us to support the next generation of students so they can have the same

wonderful experience we currently have."
Olivia Xu
, Class of 20
23
Student Giving Committee
The Student Giving Committee (SGC) is a group of students that promotes philanthropy on campus by encouraging their peers to give back.  

Earlier this year, members of the student giving committee had the opportunity to meet with President Jahanian and discuss the importance and impact of student giving.

Meet the 2020 Committee
The committee is made up of students from all four classes, representing a broad range of colleges, fraternities and sororities, student organizations, athletics and more.
If you have questions about your giving, please reach out to any of the students below.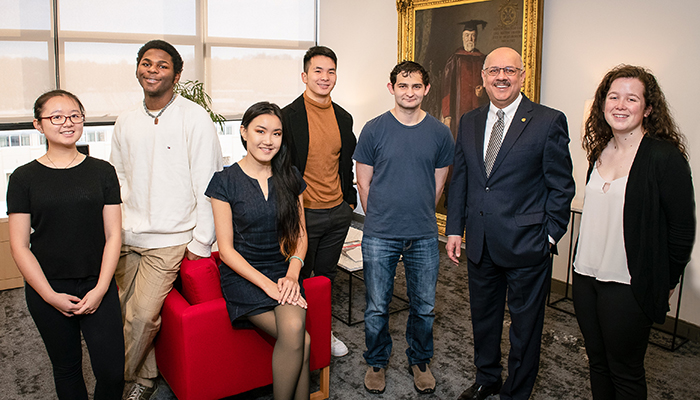 Seniors
Lorraine Zhang (DC)  
Matt Erlebacher (DC) 
David Zhang (DC)
Ru Jia (DC)
Juniors
Harine Choi (DC) 
Jenny Lee (CFA)
Brittany Pierce (TPR) 
Ishita Sinha (COE) 
Sophomores
Fiona Grant (DC) 
Sophia Huang (TPR)
Ethan Rhabb (DC)
Lingrui Fan (DC) 
First-Years
Maanasi Bulusu (DC)  
Allison Cao (DC)
Lucy Spero (COE) 
Olivia Xu (SCS)
Julian Adler (DC) 
Xinyu Wang (CFA) 
"Everyone has something that they love with their whole heart and has impacted their lives here at CMU."
Brittany Pierce
, Class of 2021
Frequently Asked Questions
How can I make my gift today?
Online: Support your favorite CMU fund or check out CMU Crowdfunding to support your classmate's projects!
In person:  You can work with a SGC member or come to annual giving events throughout the year. 
Check: You can make your check payable to "Carnegie Mellon University" and mail to: 
Carnegie Mellon University 
P.O. Box 371525  
Pittsburgh, PA 15251-7525 
I already pay tuition, why should I give more?
Your tuition only covers about 70% of your CMU experience! Charitable support from students, alumni, faculty, staff and friends of the university helps bridge the total cost of attending CMU for students.
By giving back, are helping ensure that Carnegie Mellon can continue providing the exceptional experience you have had!
What can my gift support?
You can designate your gift to any fund on campus! We want you to be able to support what you care about most at CMU.
How much should I give?
Your gift of $5 or more will be counted for the Senior Class Gift.
How is my gift going to make a difference?
When students give back, the collective impact is amazing! Last year over 1,100 undergraduate students gave more than $64,000 across campus.
Together, the Class of 2020 can make a lasting impression on CMU! 
I have additional questions about the Senior Class Gift, who can I contact?