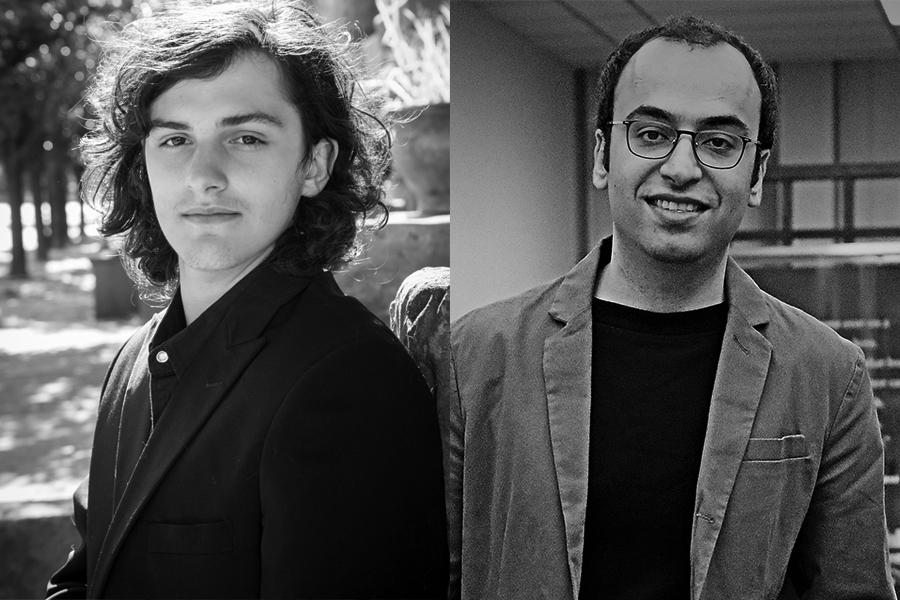 April 07, 2019
Announcing the 2019 Student Composers' Competition Winners
Jordan Speranzo and Ramin Akhavijou
The 2019 CMU Student Composers' Competition has come to a close.  Thank you to our jurors this year, Amy Williams and Patrick Burke. They selected Jordan Speranzo as the winner of the undergraduate category, and Ramin Akhavijou as the winner of the graduate category.

Jordan Speranzo is a senior music composition student at Carnegie Mellon University. He is a native of Pittsburgh, and studies composition with Nancy Galbraith. His pieces have been performed at CMU composer concerts, with the CMU Singers, and at the CMU freshman showcase, which he helped organize and conduct. His first opera, "The Women on the Wall" was performed as part of CMU's Co opera program in 2017. His "String Quartet No. 1" was the winner of CMU's string quartet competition in the undergrad category. In addition to his composing, Jordan is an actor, a singer and a music director. He recently conducted Scotch'N' Soda's production of "Sweeney Todd" as well as acting in "Rosencrantz and Guildenstern are Dead" as Guildenstern, "The Mousetrap" as Sgt Trotter and with the Pittsburgh Savoyards as Ralph Rackstraw in "HMS Pinafore". He has also performed in the ensemble for shows with Resonance Works, CMU School of Music operas, and Undercroft Opera. Jordan would like to thank all the wonderful people in his life, including his family, friends, partner, and teachers.
Iran-born composer Ramin Akhavijou is a graduate composition student of Carnegie Mellon University where he is currently focusing on microtonal and electronic sounds. The dialectic interrelation between sounds has always been one of the main concerns and motives for his compositions and research works, according to which he is investigating, scientifically, the sound of nature in an interdisciplinary project in order to translate some non-musical elements into the music. He is currently working on his opera "languagemachine" which will be produced by Pittsburgh Opera Company and will be performed by CMU New Music Ensemble in April 2019. He has received multiple awards for his compositions, including the Iranian Music Association Prize (Tehran, Iran, 2013), ACIMC Award (Paris, France, 2014), IMHM prize (London, England, 2014), Iranian Music Association Prize (Tehran, Iran, 2015), ConTempora Award, Association of Macedonia (Skopje, Macedonia, 2015), Orient/Occident Award (Lviv, Ukraine, 2015), ABLAZE Records Award (Cincinnati, USA, 2016), Bruno Maderna Award (Lviv, Ukraine, 2016), NAT28 (Pittsburgh, USA, 2017), WZO commission (Toronto, Canada, 2017), Kamraton commission (Pittsburgh, USA, 2018), CMU String Quartet Prize (Pittsburgh, USA, 2018), Gindroz Prize (Pittsburgh, USA, 2018).