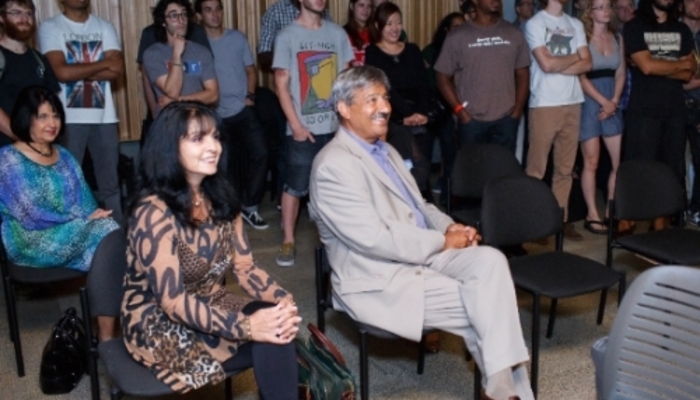 November 18, 2014
RECORDING STUDIO RENAMED IN RECOGNITION OF GENEROUS GIFT FROM NICK AND KIMI VLAHAKIS
PITTSBURGH—The recording studio in Carnegie Mellon University's School of Music has been renamed The Vlahakis Recording Studio in honor of a generous gift from CMU alumnus Nick Vlahakis and his wife, Kimi. Their two-part gift includes a substantial annual gift to support regular studio operations, and a planned gift of $1 million. The planned gift will be used to help ensure the studio's effective operation in perpetuity, and to support undergraduate merit scholarships and operations in the School of Music.
In recognition of the couple's generosity, a plaque will be placed outside of the studio, reading: "The Vlahakis Recording Studio at the Carnegie Mellon School of Music. Realizing Dreams with Music and Technology through the generosity of Nick & Kimi Vlahakis."
"We are deeply humbled by the generosity shown by Nick and Kimi toward our school," said Denis Colwell, head of the School of Music. "Their remarkable kindness helps to ensure that the Vlahakis Recording Studio will remain state-of-the-art into the foreseeable future, and CMU students will reap the benefit of working in it for years to come. The gift also enables us to attract top musical and scholastic talent to the School of Music."
The Vlahakis Recording Studio is a teaching and recording facility located in the university's College of Fine Arts building. The physical layout features a large control room, acoustically isolated from the "live room," but with direct visual access between the two. Within the live room is an isolation booth used for vocals and solo instruments requiring sound isolation.
Nick Vlahakis earned his master's degree in mechanical engineering from CMU — then Carnegie Institute of Technology — in 1974, after having received a bachelor's degree in mechanical engineering from Northwestern University. He also holds an MBA from the University of Utah.
Nick Vlahakis enjoyed a 25-year career with ATK, a leading aerospace/defense contractor, culminating in his appointment as chief operating officer. He was responsible for 60 ATK facilities in 22 states that employed over 14,000 people. His technical, manufacturing, business and marketing background helped ATK experience its greatest growth in company history.
---
Dana Casto | Dir. of Mkting & Communications, School of Music
412-268-4921 | dcasto@cmu.edu
Pam Wigley | Director, Media Relations, College of Fine Arts
412-268-1047 | pwigley@andrew.cmu.edu