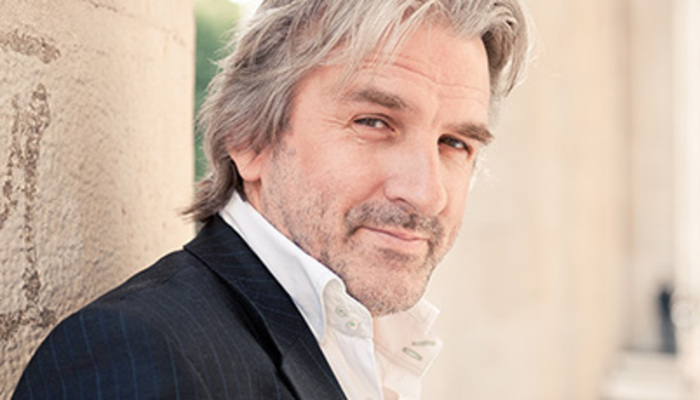 September 30, 2014
BARRY DOUGLAS, INTERNATIONALLY RENOWNED PIANIST & CONDUCTOR, TO GUEST CONDUCT CMU PHILHARMONIC
PITTSBURGH—Carnegie Mellon University School of Music will welcome conductor and pianist Barry Douglas at 7:30 p.m. Sunday, Oct. 12, when he leads the Carnegie Mellon University Philharmonic. Douglas will be the first in a series of guest conductors with the Philharmonic this year. The concert at Carnegie Music Hall will feature Douglas as soloist and conductor on Beethoven's "Piano Concerto No. 2 in B-Flat Major, Op. 19." Also on the program is Joseph Haydn's "Symphony No. 88 in G Major" and Felix Mendelssohn's "Symphony No. 4 in A Major, 'Italian.'"
Douglas has established a major international career since winning the Gold Medal at the 1986 Tchaikovsky International Piano Competition, Moscow. As Artistic Director of Camerata Ireland and the Clandeboye Festival, he continues to celebrate his Irish heritage while also maintaining a busy international touring schedule.
Douglas founded Camerata Ireland in 1999 to celebrate and nurture young Irish talent. The ensemble is made up of musicians from both Northern and the Republic of Ireland and has acquired a reputation for excellence. Camerata Ireland tours regularly throughout Europe, North and South America, and China. In addition to its busy schedule of concerts, the orchestra will perform a new cantata commissioned by The Honorable The Irish Society, "At Sixes and Sevens," alongside the London Symphony Orchestra to celebrate Derry-Londonderry becoming City of Culture 2013; Douglas is joint Artistic Director of this project.
Highlights of this season include returns to the London Symphony Orchestra, RTÉ National Symphony Orchestra, Moscow Philharmonic Orchestra, and the Macau Orchestra among others. Douglas has previously given concerts with the London Symphony, Royal Liverpool Philharmonic, Russian National, Cincinnati Symphony, Seattle Symphony, Berlin Radio Symphony, Melbourne Symphony, Czech National Symphony, Atlanta Symphony, Shanghai Symphony, Baltimore Symphony, Hong Kong Philharmonic, Houston Symphony, and others. Douglas regularly plays in recital throughout the world, with upcoming performances in Switzerland, France, Mexico, the Netherlands, Czech Republic, the USA, and the UK. A full bio is available on Barry Douglas's website.
Tickets for the Oct. 12 concert are $5 general admission and can be purchased in advance online or calling 1.888.71.TICKETS.
---
Dana Casto | Dir. of Mkting & Communications, School of Music
412-268-4921 | dcasto@cmu.edu
Pam Wigley | Director, Media Relations, College of Fine Arts
412-268-1047 | pwigley@andrew.cmu.edu