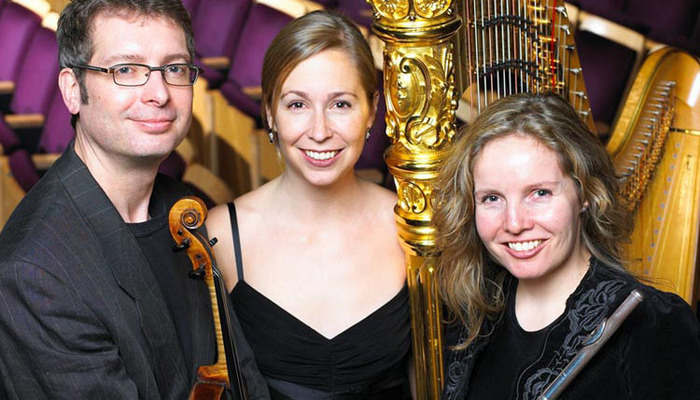 January 30, 2013
TRIO VERLAINE RECITAL FEATURES WORKS OF LIVING COMPOSERS
A vibrant ensemble committed to pushing the boundaries of traditional chamber music, Trio Verlaine is made up of three stellar musicians: violist David Harding, recently appointed to the studio faculty of the School of Music, flutist Lorna McGhee, recently appointed Principal Flutist of the Pittsburgh Symphony, and Heidi Krutzen, Principal Harpist of the Vancouver Opera Orchestra. 
Trio Verlaine's innovative programming is motivated by a desire to expand the repertoire for this unique instrumentation.  Their February recital will feature the works of two living composers: Jeffrey Cotton's "Six Departures" and R. Murray Schafer's Trio for Flute, Viola and Harp, both of which were commissioned by and dedicated to Trio Verlaine.  These works both offset and compliment two more familiar works, Debussy's Sonata for Flute, Harp, and Viola, and Ravel's Le Tombeau de Couperin, arranged for this instrumentation.
This dynamic and engaging ensemble will perform a free recital at 8:00 pm on Thursday, February 21st in the Kresge Theatre.