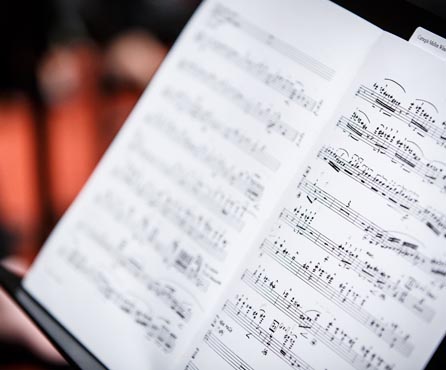 February 10, 2012
"FROM THE TOP" COMES TO PITTSBURGH
From the Top, the preeminent showcase for young musicians heard weekly on Classical WQED-FM 89.3 comes to the Carnegie Music Hall in Pittsburgh, Pennsylvania to tape a radio broadcast on Tuesday, February 14 at 8:00 pm. The popular NPRprogram, hosted by Pittsburgh's own acclaimed pianist Christopher O'Riley, will feature the amazing performances and captivating personal stories of extraordinary young classical musicians from across the country. This episode is presented by the School of Music at Carnegie Mellon University with local media sponsor Classical WQED-FM 89.3. 
Click Here, to purchase tickets, or call 1-888-71-TICKETS. 
From the Top's 2011-12 National Tour is sponsored by U.S. Trust, Bank of America Private Wealth Management. The broadcast taping features local 17-year-old violist Daniel Orsen from Pittsburgh, performing the fourth movement from Sonata in F-minor by Johannes Brahms, accompanied by host Christopher O'Riley on the piano; and 14-year-old pianist and composer Aleksandr Voinov from Sewickley, Pennsylvania performing Polonaise in A-flat major, Op. 53 by Frédéric Chopin.
Also on the broadcast: 17-year-old euphonium player Grant Jameson from Dublin, Ohio performing "Believe Me If All Those Endearing Young Charms" by Simone Mantia, accompanied by Christopher O'Riley; 16-year-old violinist Kelly Talim from Buffalo Grove, Illinois performing Caprice No.6, "D'après l'Étude en forme de Valse", Op.52 by Camille Saint Saëns, accompanied by Christopher O'Riley. A final performer will be chosen in the coming weeks.
This episode will air nationally the week of March 5, 2012 and on Classical WQED-FM 89.3 Saturday, March 10, 2012 at 5pm. From the Top is heard weekly on Classical WQED-FM 89.3, Classical WQEJ-FM 89.7 in Johnstown, and at wqed.org worldwide Saturdays at 5 p.m.
About From the Top What began as a radio experiment in 2000 quickly became one of the fastest growing and most popular weekly classical music programs on public radio. Broadcast on nearly 250 stations nationwide to an audience of more than 700,000 listeners each week, From the Top has been described by the Boston Globe as, "an entertaining, accessible and inspirational mix of outstanding musical performances, informal interviews, skits and games, the show is a celebration of extraordinary musicians who happen to be teenagers leading fairly normal lives."
Annually, From the Top's live tapings reach more than 20,000 live audience members of all ages across the United States. In conjunction with its national tour, through From the Top's Center for the Development of Arts Leaders, the Boston-based non-profit offers leadership training to young artists and conducts classroom and community programs leveraging the power of its performers as role models for younger students. In addition, From the Top and the Jack Kent Cooke Foundation award $10,000 scholarships to high achieving musicians with limited financial means. The program has invested more than $1.4 million in support for pre-college students since 2005. From the Top launched its Emmy Award winning PBS television series From the Top at Carnegie Hall in 2007.
From the Top's radio program is made possible through grants from the National Endowment for the Arts and the Jack Kent Cooke Foundation and support from U.S. Trust. It is also supported through the generous contributions of individuals and institutions as well as public radio stations. From the Top is an independent non-profit organization headquartered in Boston. From the Top's founding partners are New England Conservatory and WGBH. To learn more, click here.
About WQED Pittsburgh WQED Pittsburgh has a proud history of honors, including 128 National and Mid-Atlantic Emmy® Awards, an Academy Award, and many, many others, including two Emmy® Awards for Station Excellence. WQED was founded in 1954 as the nation's first community-supported broadcaster. The people of WQED create, produce and distribute quality programs, products and services to engage, inform, educate and entertain the public within their community and around the world. WQED Pittsburgh is one of the first broadcasters in the country to be fully high-definition (HD) in its studio and field production capabilities. It is the parent company of WQED-TV (PBS); WQED: The Neighborhood Channel; WQED: The Create Channel; WQED Showcase; Classical WQED-FM 89.3/Pittsburgh; Classical WQEJ-FM 89.7/Johnstown; local and national television and radio productions; WQED Interactive and The WQED Education Department.
About Carnegie Mellon University School of Music: Founded in 1912 as one of the five schools of the College of Fine Arts, Carnegie Mellon's School of Music educates outstanding, intellectually gifted musicians through excellence in performance, creativity, scholarship and pedagogy. The School of Music offers a Bachelor of Fine Arts in instrumental and vocal performance, composition and keyboard performance as well as a Bachelor of Science in Music and Technology. A Master of Music degree is offered in performance, composition, conducting, collaborative piano and music education and a Master of Science in Music and Technology. Additionally, the School of Music offers a variety of highly acclaimed non-degree programs, such as the Artist Diploma (Performance, Composition, Conducting), Advanced Music Studies Certificate (Performance, Composition, Piano Pedagogy, Audio Recording and Production, and Piano Maintenance), Dalcroze Eurhythmics Certification, Orff Schulwerk Teacher Training and Music Education Certification. The School of Music presents more than 250 events annually, many of which are free and open to the public. More information can be found at music.cmu.edu.