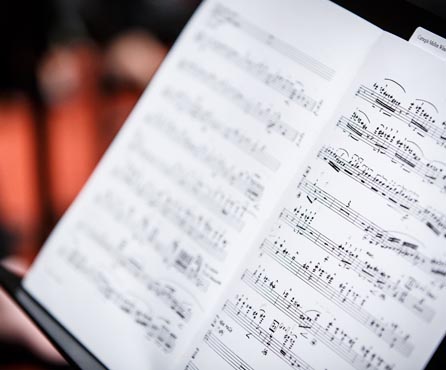 October 02, 2010
COLLAGE CONCERT: ON WITH THE SHOW!
This Friday: School of Music presents eclectic, fast-paced Collage Concert Shake off the snow for a whirlwind event unlike any concert you have ever experienced! This Friday evening, join the School of Music on a 90-minute nonstop journey of theatrical lighting, music and performance spanning six genres. Hundreds of performers will take to the stages, aisles, and balcony in the second annual Collage Concert at 8 p.m. Friday, February 12 in Oakland's Soldiers and Sailors Memorial Hall.
In addition to the main stage, two auxiliary stages will be constructed over part of the lower audience level for additional performance space.
Collage will feature all of the School's ensembles, including baroque, classical, contemporary, vocal, jazz and musical theater showtunes. Featuring world-class stage direction by Gregory Lehane, professor of drama, musicians will be moving seamlessly, appearing and disappearing from various positions around the hall.
CMU President Jared Cohon will be among the performers in a percussion ensemble piece by Steve Reich that requires no instruments – just clapping. The closing piece, "Climb Ev'ry Mountain" from The Sound of Music will feature vocalists converging on stage in a visually spectacular finale.
Selected School of Music faculty members will serve as soloists, including Cyrus Forough, Professor of Violin; Enrique Graf, Artist Lecturer in Piano; PSO Principal Clarinet and Artist Lecturer Michael Rusinek; and Laura Knoop Very, Assistant Professor of Voice.