MyOIE Portal Overview
Welcome to OIE's electronic form submission (e-Forms) portal, which is called "MyOIE Portal." MyOIE is a secure online portal where new students, current students, former students on OPT and others can log in and submit electronic forms and required information. If you have questions, we invite you to view these Frequently Asked Questions, or reach out to us at oie@andrew.cmu.edu.
Select from the options below to view what you can do at this time in MyOIE. More e-Forms will be added in the future and listed here when available. 
Initial (New) Students
Current Students
Students on Post-Completion (12-month) OPT
Students on STEM Extension (24-month) OPT
New and Current Students Log in Under "Current Students, Faculty, or Staff:"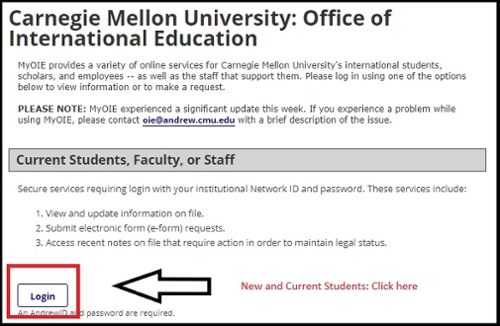 Alumni (Students on OPT/STEM OPT) Log in Under "Limited Services":