MyOIE E-Form Instructions
For Initial (New) F-1/J-1 Students
Follow the steps below to access e-forms in your MyOIE portal. 
These instructions are for initial (new) F-1/J-1 students. Current students should follow these instructions. Graduated F-1 students on OPT and STEM OPT should follow these instructions. 
STEP 1: Log in to MyOIE
Go to myoie.andrew.cmu.edu and click the LOGIN button under "Current Students, Faculty or Staff." You will then log in with your Andrew ID and password.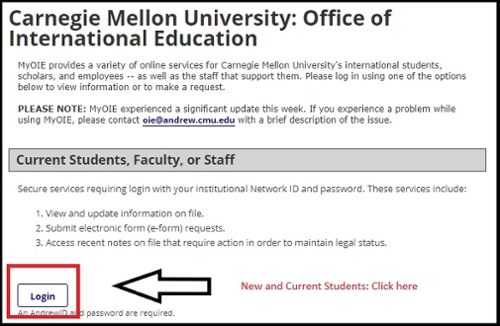 STEP 2: MyOIE Portal Homepage
After logging in, you will view your MyOIE portal homepage. Here, you will be able to view general information about your record and access available e-forms.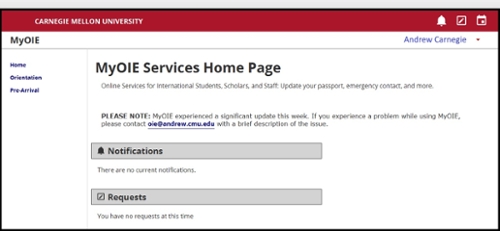 STEP 3: Access e-Forms
If you are a newly admitted student to CMU and requesting your initial Certificate of Eligibility (I-20 for F-1 Students or DS-2019 for J-1 students), select "Pre-Arrival" in the sidebar on your portal homepage. Then, select the "New Student Initial Document Request" form. 

Remember, if you need to update your address or personal email/phone number, you should continue to do so through Student Information Online (SIO). 
Step 4: Complete your e-Form
After selecting the e-form you wish to submit, complete the relevant and required fields. Required fields are marked with an asterisk (*). If you need to attach a document, only PDFs and image files (i.e., JPEG, TIFF, PNG) are accepted. When you're done, click "Submit."
Error & Confirmation Messages
If you made a mistake, the system will show you an error message. Follow the instructions in the error message before trying to submit your e-form again.

If your submission was successful, it will indicate that information at the top of the screen. Note: Different forms may have different confirmation messages.