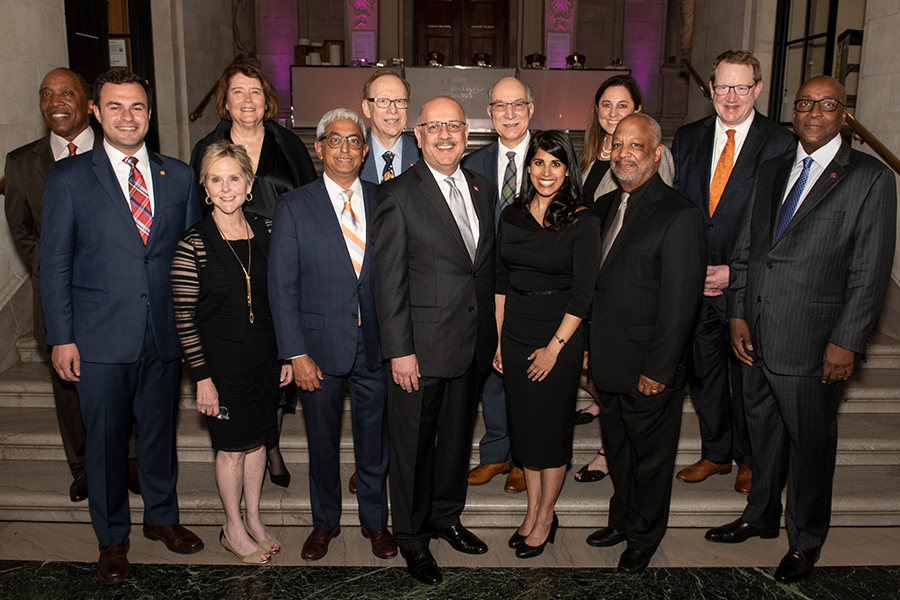 Distinguished Alumni Honored at 69th CMU Alumni Awards
Carnegie Mellon University honored 11 outstanding alumni for their professional achievements and dedicated service to the university in front of a sold-out audience during the 69th annual Alumni Awards ceremony on May 17 in the Kresge Theater.
The honorees represented a variety of colleges and programs and included scientists, artists, business innovators, nonprofit leaders, technologists and visionaries.
Alumni Service Award honoree and Managing Director at Deloitte Consulting Rana Sen (A 1999) supports CMU students and faculty as a mentor, recruiter, advocate and advisor. 
"CMU has a special place in my heart. When I look around at all the achievements, I am just proud and also humbled to be in this company," said Sen. "I really look forward to staying engaged with the school and being part of the Carnegie Mellon community for years to come.
Tod Johnson (TPR 1966, 1967), executive chairman of the NPD Group and longest serving voting member and vice chair of CMU's Board of Trustees received the 2019 Founders Medal. While a CMU student, Johnson met his wife, Cindy (A 1968) and received a fellowship that aided his studies.
Last year, the couple made the largest gift to scholarships in university history to increase student aid and ensure a CMU education remains accessible.
"It was so important to have that opportunity … to repay that (fellowship). My experiences and my career came from the professors and my experiences at the university. It's been beyond my wildest dreams of what's possible," reflected Johnson during his acceptance speech.
His fellow awardees also remained connected to Carnegie Mellon after moving their mortarboard tassels from right to left. Many, like Roseanne Silva (E 1991), often return to campus to mentor the next generation of CMU leaders.
"My heart will always be in the work," said Silva, an Alumni Service Award honoree and senior vice president and business chief technology officer at PNC Financial Services Group.
Others — like Alumni Achievement Award winner Sheldon Epps (A 1973) — spoke about the star-making power of CMU.
"My profession often creates stars, but I believe that we are all stars. Many of the honorees tonight are stars in their own profession. This building, these classrooms and this stage inspired me to be an artist," said Epps. "Thank you Carnegie Mellon for allowing this star to rise."
The other honorees echoed that sentiment throughout the night. For Alumni Achievement Award winner and distinguished particle physicist at Fermi National Accelerator Laboratory Patricia McBride (S 1977), CMU will always be home.
"I started out on this path when I was doing my eighth-grade science project, and my mother brought home a book on particle accelerators. I thought it was the most interesting thing, and I wanted to build one," said McBride. "I came to CMU, and I really feel this school provided the foundation for my (success) and the encouragement to go on to graduate school and my career. It's good to be home."
Outstanding Recent Alumni Award recipient Farah Zaman (DC 2009) shared how her time at the university taught her much more than just facts and figures in books.
"My CMU experience fostered the hard work to learn — not just for grades," she explained. "The work ethic of CMU and the hunger for knowledge keeps us ahead of the curve with a platform to change our industries, our societies and our communities."
Carnegie Mellon alumni are linked by this shared desire to change the world, said Faculty & Staff Impact Award honoree Eric Grotzinger, senior advisor of the University Student Success Collaborative, professor emeritus in biological sciences and the former associate dean of the Mellon College of Science.
"Life is as big or as small as we choose to make it. Tonight's award winners have chosen to live a large life. What is the common bond? Carnegie Mellon. It is a university that instills within you to a live a large, generous and rewarding life. It's part of my being and my life," he said. "I'm so proud to say this is a great day to be a Tartan." 
About the Alumni Awards
First presented in 1950, the Alumni Awards pay tribute to individuals distinguished by their service to the university and outstanding accomplishments in the arts, humanities, sciences, technology and business. To date, nearly 900 alumni, faculty and students have been honored with these awards.