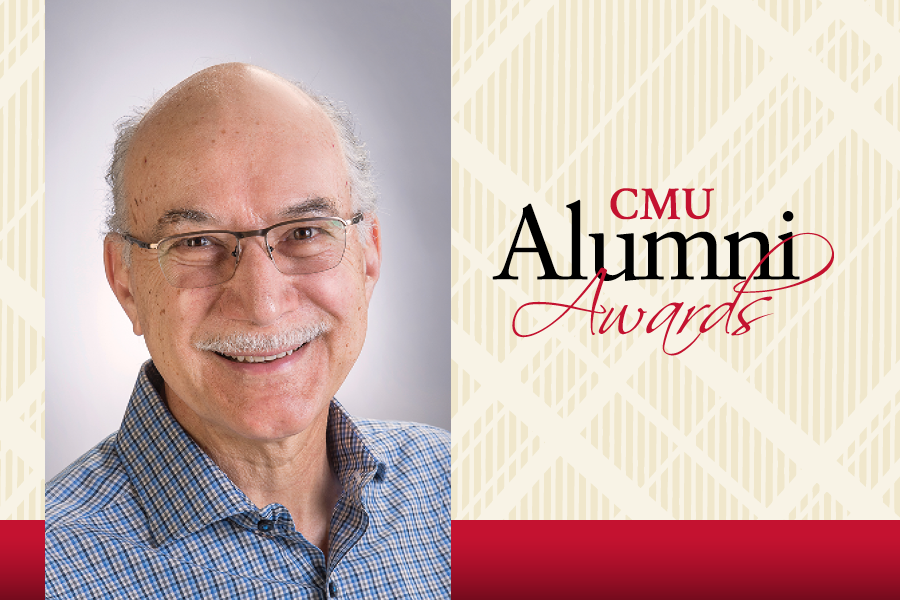 Eric Grotzinger: 2019 Alumni Award Spotlight
Science Professor Helps Students with Barriers become Graduates and Alumni
CMU professors are invaluable resources to students and graduates. But professor Eric W. Grotzinger is most passionate about serving those in the University community who fall in between the "student" and "graduates" categories. Over his 40-year career, he's helped countless students who've stopped their studies before completing their degree become passionate, graduated alumni of Carnegie Mellon University.
"My career has always focused more towards the undergraduates," the professor emeritus in biological sciences says. "And focuses on what I call 'persistence of students to graduate.'  As associate dean of the Mellon College of Science, I gave the first year talk and I would always say, 'four years from now I want to see every one of you graduate.'  I never achieved that goal, but I never stopped trying."
Barriers of all kinds keep students from completing their degrees to become graduates and alumni. CMU has a high rate of students who complete an undergrad degree within six years. But for those who can't, Eric is working university-wide to connect them with resources such as financial aid or a workaround for a personal crisis. But good luck strikes as often as bad: A standout performing arts student who takes the Broadway job of a lifetime before the last credits are completed also needs a hand, which could take the form of transfer credits, or credit for an independent study.
"Here's the key:  A Carnegie Mellon degree must be earned," Eric says definitively. "But we can help  students find alternative flexible pathways to earn their degrees."
This outreach role is part-time, coming after Eric's retirement from the Mellon College of Science (MCS), but continuing the student-focused work that's demonstrably his passion. He's led similar retention efforts within MCS where he has also grown the enrollment of students studying and doing research in the sciences, and also boosted the numbers of women and underrepresented students within that cohort.
Students who get to know Eric tend to stay in touch with him, and his wife Shelley, after graduating. "I have joined alums for political work, the Women's Marches in Pittsburgh and for the March for Science in Washington D.C.  Also when my wife and I travel, we will connect when possible with alumni in the area," he says. "We love hearing about their careers and their families."
Eric's handwritten list of career highlights focus on relationships with students. He's helped to create a statewide summer program to engage high-performing high schoolers in science, worked with students through the Coaching Minority Progress and Success in Science (COMPASS) program, and earned various recognitions for his role as an advisor.
Eric was also instrumental in the creation of interdisciplinary majors, a hallmark of the CMU education.  Today students have more majors and minors crossing more colleges, and the ability to self-design majors that support a specific interest.
"I feel a lot of satisfaction helping students develop a self-defined major," Eric says. "It gives them a chance to pursue their passion and take full advantage of the intellectually stimulating atmosphere at Carnegie Mellon."
Eric W. Grotzinger received the 2019 Faculty & Staff Impact Award on May 17 for his extraordinary dedication and commitment to Carnegie Mellon students and alumni. Read more about CMU's 2019 Alumni Awards and honorees.