Parents Leadership Circle (PLC)
The PLC is a community of engaged parents who provide direct financial support of university programs for the benefit of Carnegie Mellon students. These parents and families commit to a $25,000 gift (may be paid in up to five years). PLC gifts are designated to initiatives and programs that are meaningful to parents and families and their students.
As some of the most engaged supporters and advocates of Carnegie Mellon, PLC parents and families share their own professional and personal life experiences with students by offering to be mentors as well as offering opportunities for internships and jobs. In addition, they can assist with events such as the admissions panel.
"The Parents Leadership Circle enables us to develop meaningful connections in the Carnegie Mellon community, both with CMU leadership and with fellow parents. We value this opportunity to join other PLC members to make an impact on campus with our support."
- Pamela and Ron Mass, parents, Class of 2021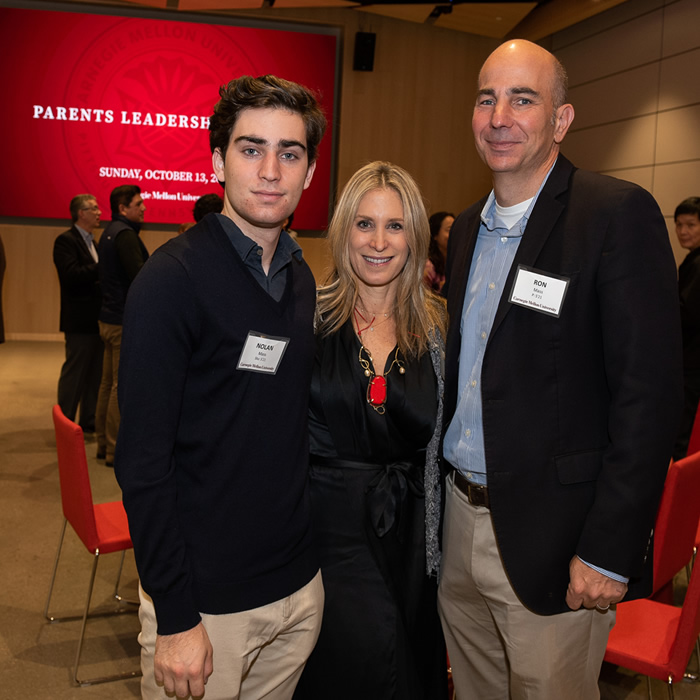 Benefits of Membership
Exclusive access to content-based programs hosted by university leadership
Invitations to exclusive events during campus celebration weekends
Preferred seating at main commencement ceremony
Opportunities for volunteer engagement, such as hosting events
Facilitation of internship and employment opportunities for students through the Career & Professional Development Center
Making an impact through your philanthropy
Member Responsibilities
Make a gift or pledge of $25,000 or more; pledges may be paid over time (up to five years). You may direct your gift to any campus activity, program or initiative.

Current parents or parents of alumni with a minimum of $25,000 in lifetime commitments to Carnegie Mellon may be recognized as members of the Parents Leadership Circle but will be encouraged to continue ongoing support of the university as members of the Andrew Carnegie Society or even higher giving levels.