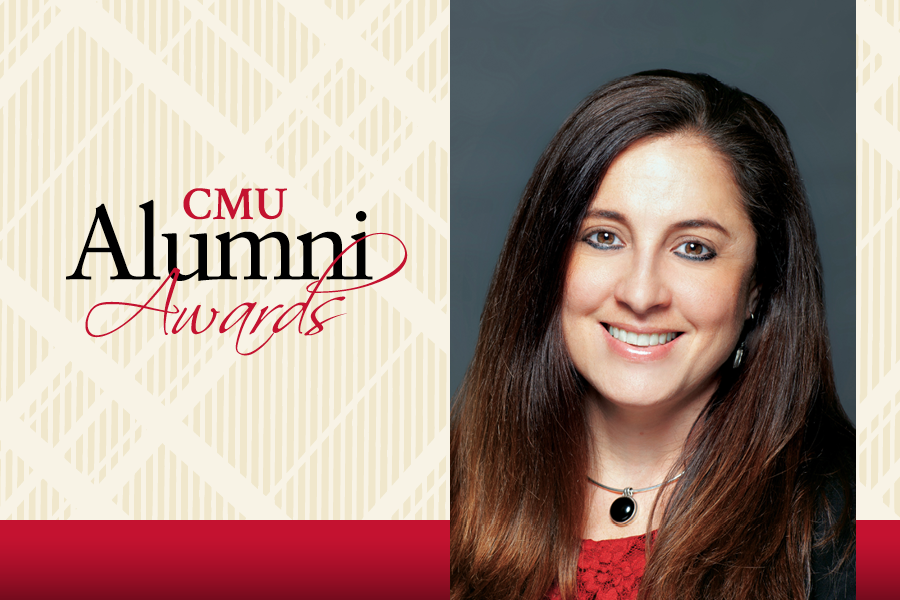 Roseanne Silva: 2019 Alumni Award Spotlight
Champion for talent and mentor to information technology professionals
Roseanne (Rose) K. Silva (E 1991) is a problem solver. She talks about loving puzzles as a kid and facilitating complex mergers and acquisitions as an adult with the same fondness. As a senior vice president and business chief technology officer at PNC Financial Services Group, she has plenty of complex challenges to solve. But the most gratifying are those that involve people. Rose perks up when talking about situations where her mentees have a problem she can coach them through.
"I have the ability to build a pipeline of both male and female talent. That really matters to me, making sure that we get people to meet their potential, and enabling the best possible outcomes for them," she says.
Rose fervently supports one of the programs that launched her success. She was part of an early cohort at Carnegie Mellon University's (CMU) Information Networking Institute (INI), earning a Master of Science in Information Networking during an intensive 14-month program.
Decades later, she's one of the first faces INI students see as she welcomes prospects at Admitted Student Day, and -- this year -- she'll also be one of the last: capping off the INI experience by appearing as the 2019 graduation speaker. Her leadership on the INI Alumni Leadership Council created meaningful connections between alumni and current students, advancing the mission of the council.
She's especially involved in activities on and around the Pittsburgh campus, speaking at university events or hosting a student during Take a Tartan to Work Day. She took her mentoring efforts virtual by helping to launch the online mentoring platform FirstHand, and continues to serve as a volunteer online mentor.
Rose's dedication to CMU and her commitment to student education stems back to her own student experience.
"I got to where I am because of scholarships, and I'm at the point in my career where I can do that for others. It's really what drives me," Rose says, humbly, of another major initiative she supports. In 2013, she established an Andrew Carnegie Society Legacy Scholarship and has developed close relationships with scholarship recipients.
Dr. Dena Haritos Tsamitis, the Barbara Lazarus Professor in Information Networking and director of the INI, points out the scholarship was critical when one of her international students lost funding suddenly. Rose jumped into action and provided support that helped ensure the student was able to remain in the U.S. to complete her INI program. Today, that same student is an extremely successful software security engineer, paying it forward by mentoring and helping other women in tech.
"Rose is a devoted leader of our alumni community," Dr. Haritos Tsamitis says. "She exemplifies not only a strong woman in technology, but what the INI program and curriculum is all about. In her role at PNC, she works cross-functionally and as a global leader. I can't think of a better role model for our students."
And it's not just students who benefit -- Rose supports the greater Pittsburgh community with her leadership talents. She leads biking, hiking and kayak adventures as a volunteer with Venture Outdoors, a Pittsburgh non-profit that promotes outdoor recreation. Through Big Brothers Big Sisters, she's a technology mentor to a teenager at a local city high school. And, she's active with local and national groups that support women working in technology and IT.
"What's important to me is leveraging all the years of experience, and the diverse opportunities I had, to continue to build the technology pipeline. I specifically tend to focus on women in tech, particularly because the numbers are low," she says. "I have the resources and the influence to make a difference, both within the place I work as well the community I contribute to."
Roseanne Silva will receive a 2019 Alumni Service Award for her meritorious service to Carnegie Mellon on May 17 during Commencement Weekend. Read more about CMU's 2019 Alumni Awards and honorees.