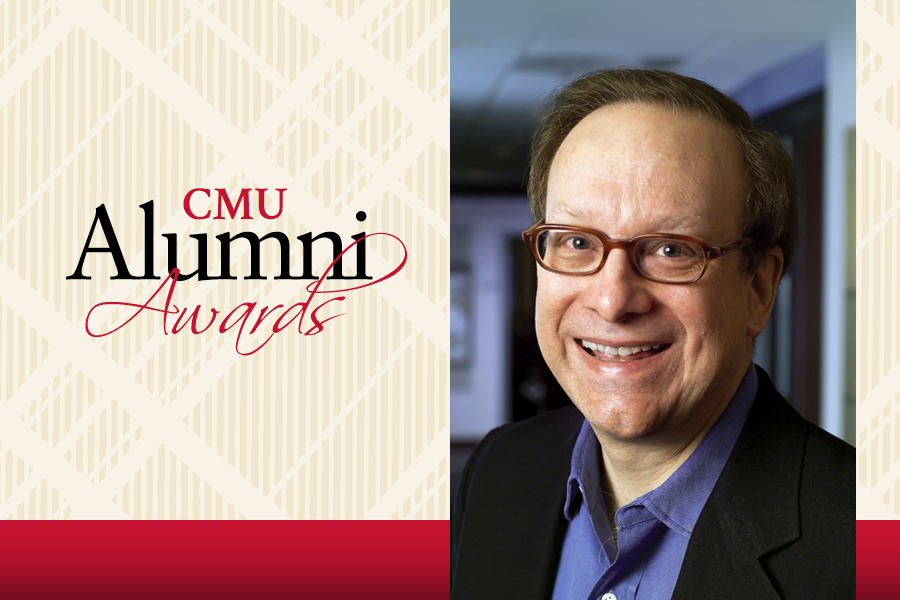 Tod Johnson: 2019 Founders Medal Recipient
Most CMU alumni will say that their time spent studying during their university years influenced their path, but for Tod Johnson (TPR 1966, 1967), CMU radically changed his life. "Everything in my career relates to Carnegie Mellon: my undergraduate and graduate degrees, I taught there for a bit, I met my wife there, my initial job was working for a professor there, and that job got me into my career today," he says.
Tod came to Carnegie Tech as an undergraduate with a practical goal: study graphic arts management and take over the family printing business. He was a campus leader, serving as vice president of the Student Senate, editor of the yearbook, and an officer in his fraternity.
Through exposure to interdisciplinary academic coursework — and to the dismay of the family business he never joined — Tod discovered his passion for mathematically-driven market research. He launched his career under the tutelage of CMU alumnus and professor Al Kuehn (E 1952, TPR 1954, 1958), starting the Chicago office of Management Science Associates, and a few years later assumed a leadership and ownership role at The NPD Group.
"NPD was a very small company at the time," he says. "It was data that I loved working with and was fascinated by, and it was an opportunity to build a very good-sized business. Though I have to say I never dreamt of the scale that I've been able to build this business." Today, The NPD Group has grown globally and stands among the largest market research companies in the world. "The major brands in consumer products buy our data and use it to understand consumer preferences and purchase trends," he says. "It helps them innovate and bring the right products to market."
Tod is quick to point out that CMU has played an ongoing role in NPD's success. This includes professors, such as Randy Pausch (CS 1988) and George Loewenstein, who served as advisors, and students and graduates who bring passion and talent as interns and new hires.
"When you talk to Tod, you can sense his passion for CMU. You can feel how much this university has meant to him."
Tod's personal path was forever altered at CMU as well when he met his wife Cindy (A 1968) at a party. "I was literally her first date when she got to campus, but I wasn't quite her only date," he says with a laugh. Together for more than 50 years, the Johnsons have two children and four grandchildren. They've explored a passion for art, proudly displaying an expansive modern art collection that includes several paintings of Cindy by their friend and fellow CMU alumnus, Andy Warhol (A 1949). Together, they are quiet philanthropists — Cindy pursues her passion for children's health as a supporter of St. Mary's Healthcare System for Children, while Tod is active as a board member of The Metropolitan Opera.
"When you talk to Tod, you can sense his passion for CMU. You can feel how much this university has meant to him. Carnegie Mellon is not only where he built the foundation for his success in business, it's also where he met and fell in love with his wife," Carnegie Mellon University President Farnam Jahanian says. "For him CMU is a part of his family. His service and generosity are driven by a desire to pass on that commitment and devotion to future generations."
Noting the fundamentally formative ways in which CMU transformed his life, Tod's gratitude takes many forms. In 2018, he and Cindy made the university's largest gift to scholarships in its history to increase student aid and ensure that a CMU education is accessible. He is the longest serving voting member and vice chair of the Carnegie Mellon University Board of Trustees. Tod has also volunteered as a Tepper School of Business class agent, served on the board of the Andrew Carnegie Society, chaired the recent presidential search committee and worked on numerous advisory boards and committees. He's most proud of chairing the Centennial Campaign for Carnegie Mellon. "It was a successful campaign that exceeded our targets and highest hopes and helped build the base for subsequent campaigns that have been many times more successful," he says.
Tod's pride in CMU is amplified through his years of engagement. "A few months ago, I was in Doha, Qatar. It was fantastic to see the impact that campus was having on the local culture," he says. "To me it's been very satisfying to see Carnegie Mellon go from what was really a regional university when I was there to a national and global university."
Tod Johnson received the 2019 Founders Medal for his outstanding dedication and service to Carnegie Mellon University and extraordinary achievement in his career, on May 17 during Alumni Awards Ceremony. Read more about CMU's 2019 Alumni Awards and honorees.