Meet the CMU Alumni Association Board
A group of dedicated, hardworking and fun volunteers with a broad range of college and departmental affiliations, class years and locations, the Alumni Association Board (AAB) works closely with the Office of Alumni Relations to develop and strengthen programs that connect alumni to CMU and to each other.
Alumni Association Board President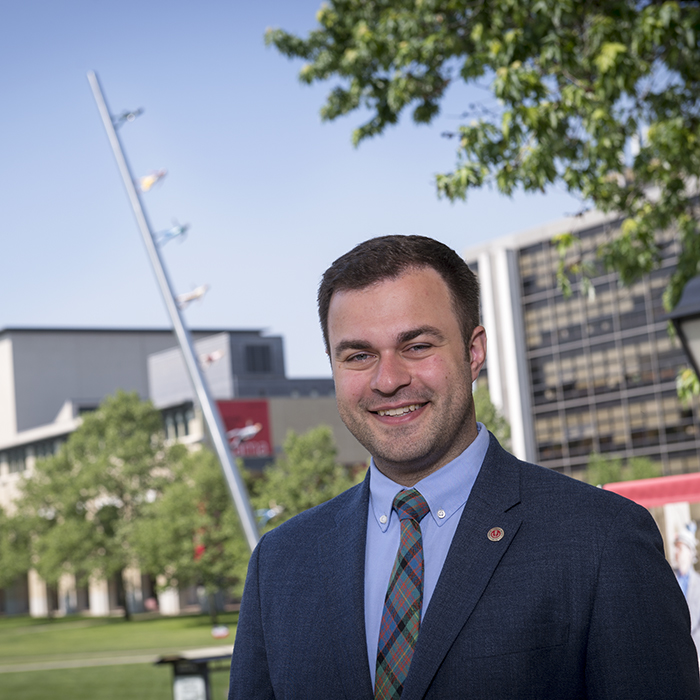 Alex DiClaudio (DC 2009, HNZ 2011)
Pittsburgh, Pennsylvania
Alex is a film, television, and theater producer, freelance project management and pitch consultant, and president & CEO of tech startup HiUp USA, a global app that connects job seekers in the skilled labor market with jobs and training. Alex has a passion for telling new stories well. In addition to leading the U.S. rollout of the global app HiUp, he partners with a number of talented storytellers in multiple media to create, develop and produce content. A former president of Scotch'n'Soda Theatre, Alex earned a bachelor's degree in economics from Dietrich College of Humanities and Social Sciences and a Master of Arts Management from the Heinz College of Information Systems and Public Policy, as well as studying at the London School of Economics.
AAB Members
Juan Acosta (DC 2015)
Washington, D.C.
Joshua Bordin (E 2010, 2011)
Houston, Texas
Vivian Cheng (S 2001)
King of Prussia, Pennsylvania
Doug Cunningham (E 1998)
New York, New York
Christa Downey (TPR 1997)
Lansing, New York
Brit Farmer (DC 2008)
New York, New York
Sharon Foster (HNZ 1998)
Atlanta, Georgia
Jon Hayden (A 1980)
Atlanta, Georgia
David Hilliard (DC 1973)
Los Angeles, California
Rishav Khemka (E 2010)
Pittsburgh, Pennsylvania
Erren Lester (SCS 1999, TPR 2008)
Ft. Washington, Maryland
Marcy Long (TPR 1983)
Shouson Hill, Hong Kong
Benjamin Matzke (E 2011, 2011)
Pittsburgh, Pennsylvania
David Murray (A 2006, SCS 2006)
Mountain View, California
Tricia Nelson (DC 1992)
Burbank, California
Margaret Richards (SCS 2008)
Pittsburgh, Pennsylvania
Chris Stengel (SCS 1993, TPR 2000)
Pittsburgh, Pennsylvania
Michael Stevens (SCS 2007)
Mountain View, California
Colin Taylor (E 2007)
Herndon, Virginia
Steve Wierzbowski (A 1975)
La Grange, Illinois
Marullus Williams (SCS 1995)
Accokeek, Maryland
Debbie Yue (DC 1989)
Avon Lake, Ohio