Meet the ACS Board
The Andrew Carnegie Society is comprised of a board of dedicated, volunteer members who lead ACS initiatives and guide the group's efforts in supporting CMU students and special projects, such as the ACS Legacy Scholarships, Student Experience Enhancement Fund, the ACS Awards and others.
Andrew Carnegie Society Board President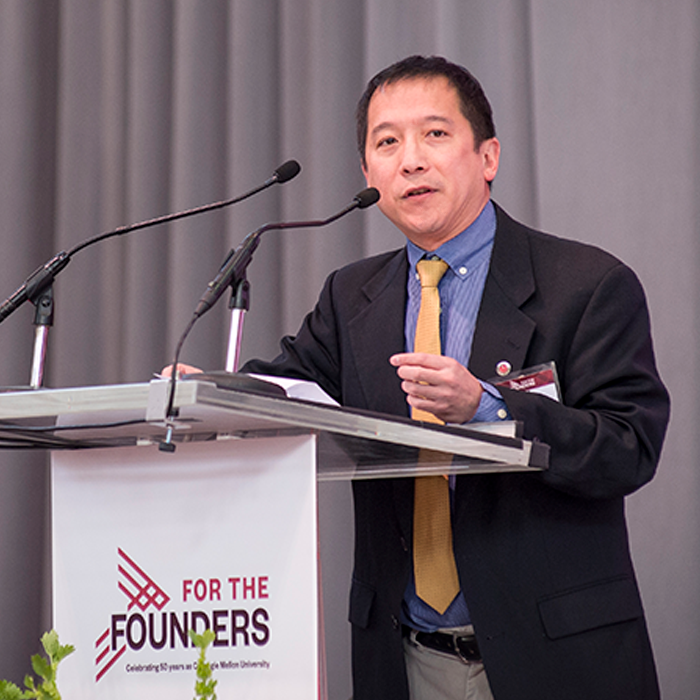 Mr. Timothy S.K. Liu (DC'85, Ex Officio Trustee)
Experience Strategist, HCL America, Inc.
Chicago, IL
CMU Award/Honors:  Alumni Service Award, 2011
Tim is the president of the Andrew Carnegie Society. He started his first year of a two-year term as president on July 1, 2016. Tim graduated from Carnegie Mellon in 1985 with bachelor's degrees in Information Systems and Industrial Management. He was previously president of the alumni networks in Chicago and Washington, DC, and has also served on the university's Alumni Association board.  
ACS Board Members
Cameron Kelly Brown (DC 1995)
Jersey City, New Jersey
Donald Carter (A 1967) 
Pittsburgh, PA
Don Coffelt (E 2008) 
Pittsburgh, Pennsylvania 
Kevin Joseph Dowling (S 1983, CS 1994, 1997) 
Westford, Massachusetts
Ruth Ann Garrett (E 1983) 
Pittsburgh, Pennsylvania
Bill L. James, Jr. (TPR 1978) 
Naperville, Illinois
Bryon Paul Krug (E 1998) 
President-Elect 
Arlington, Virginia
 
Kristen Kurland
Past-President
Swissvale, Pennsylvania
Ariel Levavi (S 2007)
Pittsburgh, PA
Timothy S.K. Liu (DC 1985)
President 
Chicago, Illinois
John Robert Pranzatelli (DC 1980, HNZ 1980) 
Chevy Chase, Maryland
Edward J. Schmitz (HNZ 1975)
Vienna, Virginia
Ann Feng Simon (TPR 1993) 
New York, New York
Karl Sjogren (DC 2007, HNZ 2008)  
San Francisco, California
Audrey Sykes (S 1981) 
Springdale, Maryland
Lynn Yanyo (E 1981) 
Cary, North Carolina