Mental & Emotional Health Resources
Most individuals will experience some psychological hardship that could benefit from professional support. Asking for help can result in a faster and more long-lasting recovery.
Counseling and Psychological Services (CaPS) supports the mental health needs of the CMU community through a variety of services. They assist students who need to connect with mental health resources in the community and support staff, faculty, and family members who have concerns about the well-being of a student. All counseling center services are provided at no cost.
In addition to services provided by CaPS, the community can also utilize pet therapy and other wellness initiatives and mindfulness resources.
Individual Therapy
CaPS offers free, confidential short-term psychotherapy to students enrolled at the Pittsburgh campus. Students seek therapy for a variety of reasons ranging from self-exploration to having a personal difficulty or being in distress. Students interested in services at CaPS will have a consultation as their first encounter with a CaPS therapist. 
Consultation
Consultations typically involve talking with a therapist about a particular issue. Students interested in services at CaPS will have a consultation as their first encounter with a CaPS therapist. 
Group Therapy & Workshops
Groups at CaPS involve a small number of students meeting together, under the guidance of a trained CaPS therapist, to develop greater capacities to support oneself and each other. Groups can provide powerful opportunities for growth, understanding, and connection.
CaPS Outreach Prevention & Education (COPE)
With COPE, CaPS engages the CMU community through holistic and inclusive trainings that increase access to services, reduce barriers and help eliminate the stigma around seeking help.
Referrals
When longer-term care, specialized care, or a higher level of care is needed, CaPS staff will help students consider resources in the community that are accessible and affordable. These might include long-term psychotherapy, psychiatric care, psychological evaluations, or specialized care for things like eating disorders and substance abuse problems.
Psychiatric Care
CaPS offers transitional psychiatric services to enrolled students at CMU.  Students interested in psychiatric services should contact CaPS and ask to schedule a consultation appointment with a Triage, Consultation, and Case Management (TCC) clinician. 
Equity, Inclusion & Mental Health Resources
CaPS recognizes that the fields of psychiatry, psychology, social work and counseling are entrenched in supremacist ideology that has caused significant harm to marginalized communities. CaPS intentionally works toward the undoing of this ideology in their clinical work by engaging in socially-just, anti-racist practices.
Support for Someone Else
Any member of the CMU community, alumni, family member or friend may know or feel a CMU student may be in need of support or assistance due to behavioral, mental health and well-being concerns. CaPS gets a number of calls per year from friends, family members, and staff/faculty concerned for a student. Individuals can also use the CMU Cares Referral Form to share their concerns.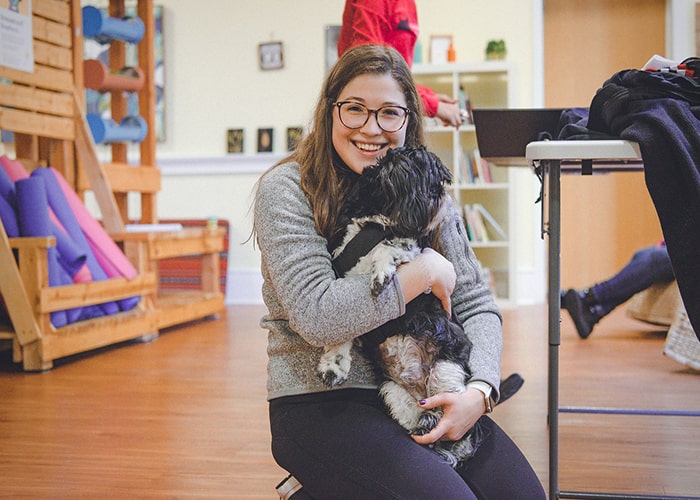 Pet Therapy
Paws to Relax is a weekly program that takes place in the Mindfulness Room. Animal Friends, a local animal shelter, brings therapy animals to campus who provide comfort and support to members of our campus community. Currently, dogs visit each week and we occasionally offer bunny visits, too! Join us on Wednesdays from 7-8 p.m. in the Mindfulness Room.
Wellbeing Tip: Practice mindfulness by bringing awareness to your senses while doing every day tasks, like brushing your teeth. Observe the sensations, noticing fine details. Bring a gentle curiosity to the experience.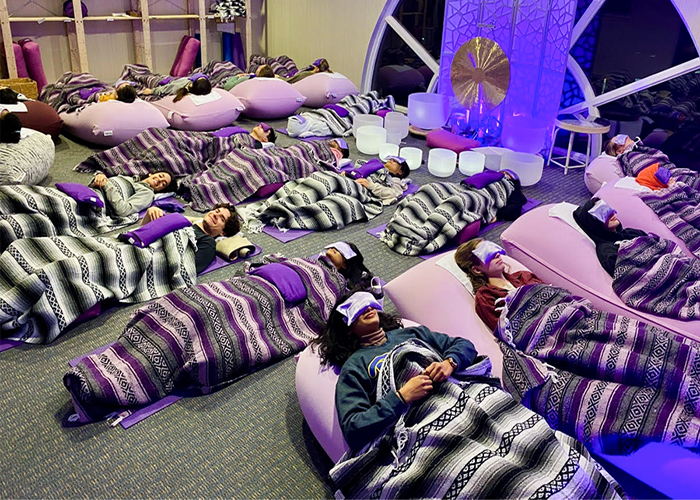 Scottie Sound Bath
Housed on CMU's campus, Scottie Sound Bath is a pioneering endeavor in wellness and innovation, driven by the passionate minds of music entrepreneurship students at the School of Music  in collaboration with Student Affairs and and Athletics, Physical Education and Recreation. Participants can lie down, relax and immerse themselves in sound conducted by trained musicians. Learn more about the Scottie Sound Bath program.
Online Mindfulness Resources