Sam Gutkind
(S 2013)
Math and physics major, published author, world traveler
Bio
Sophomore Sam Gutkind Keeps "Truckin'"
After finishing his first year at Carnegie Mellon, Sam Gutkind, a mathematical sciences and physics major, didn't spend his summer at the beach, or working in the lab, or taking summer courses like most of his classmates. Instead, Sam went on an international book tour, traveling as far as Australia and New Zealand to promote the book he wrote with his father, author Lee Gutkind.
The book, called "Truckin' with Sam," chronicles the father-son duo's travels that began in 2003, when Sam was just 13. Lee, who was 47 when his only child was born, found it tricky to connect with a much younger son. One way, he thought, might be through a road trip across the country.
Inspired by the music of the Grateful Dead and Gary Paulsen's book "The Car," the Gutkinds bought a Red Ranger pickup truck and headed for the Grand Canyon. This became the first of many long adventures that they dubbed "truckin'. " Since then they have driven the Alaska- Canadian highway, and ditched the truck to venture to exotic locales like Tibet and Tanzania.
"Most of our trips were about getting there, stopping in places no one has ever heard of. Truckin' is about exploring and adapting," said Sam.
"You're looking out the window, seeing life go by. You're listening to Mick Jagger, Bob Dylan and Jerry Garcia. And you're having conversations about what you see or what you think. It gave me a good opportunity to think and pontificate to my son. I could talk to him about what I thought was important in life, and hope some of it seeped in," added Lee. "But if he was just listening to Mick Jagger, that was okay too."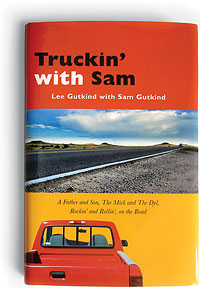 During their travels, Lee kept a journal and encouraged Sam to do the same. The resulting book, part travelogue, part story about a father and son relationship, was published in the spring of 2010. Sam says that he learned a lot while traveling—about himself, his father and life in general. And a good deal of what he learned helped him during his first year in the Mellon College of Science.
"Our trips have made me a more contemplative person. I learned to think about things, I learned to be patient," said Sam. "It taught me not to fear the unfamiliar."
Even so, Sam didn't venture into unfamiliar territory when he chose to attend Carnegie Mellon. Growing up in communities adjacent to campus, Sam spenta lot of time at the university. As a child, he participated in the Carnegie Mellon Institute for Talented Elementary and Secondary Students (C-MITES), and later when he and his father were training for a marathon, they would run through campus. His father, a former faculty member at the University of Pittsburgh, wrote "Almost Human—Making Robots Think," a behind-the-scenes look at the people and projects inside Carnegie Mellon's Robotics Institute.
The two plan to continue "truckin' " as long as they can. And Sam, now a second-year student, hopes to continue writing, but in a way that is more familiar to most MCS students and alumni,
"I hope to publish academic papers one day," he said.
By: Jocelyn Duffy, Science Connection, November 2010, vol. 3 no. 1