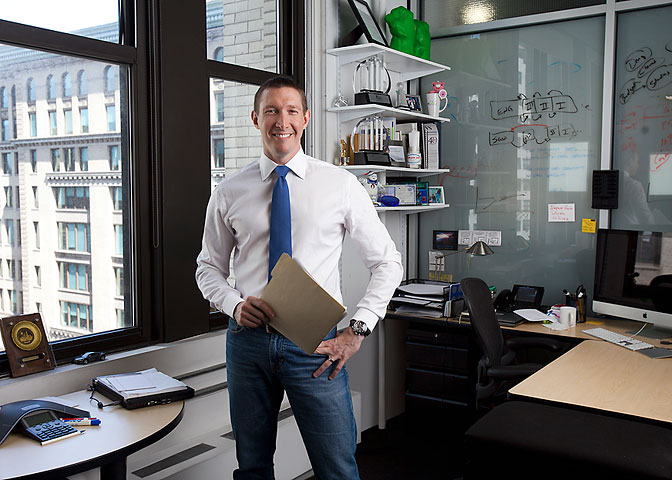 On Cloud Nine
Glen de Vries' Medidata Solutions Is the Leading Global Provider of Cloud-Based Software for Clinical Research
by Jennifer Bails
Being a founding executive of a multinational, multimillion- dollar technology company is a pretty cool gig. Still, Medidata Solutions President Glen de Vries (S'94) isn't afraid to admit to having done what he calls "some super nerdy things."
Like how he learned calculus and quantum physics in his free time in junior high. Or how he later spent his spare hours building computer simulation models. Or how he was so advanced at chemistry in high school, he was asked to teach the class when the teacher was out sick.
"I had my mind set on being a scientist for as long as I can remember having my mind set on something," recalls de Vries, who grew up in Manhattan.
A childhood immersed in science led de Vries to Carnegie Mellon, where he earned his bachelor's degree in biological sciences with a focus on molecular biology and genetics. He also took many computer science classes.
"I remember walking into one of the computer clusters on campus and thinking, 'This is heaven—what could be better?' " he said.
That combination of computer savvy and expertise in the biological sciences—and a serendipitous phone call—put de Vries on the path to creating what would become Medidata Solutions, the leading global provider of cloud-based software for clinical research.
As a Carnegie Mellon senior, de Vries got a job soliciting donations from alumni. One evening he dialed urologist Dr. Aaron Katz (S'82), a fellow biological sciences major. As the two men chatted, Katz invited de Vries to visit his lab at Columbia-Presbyterian Medical Center in New York. That visit led to a job offer.
While helping to develop a blood assay for prostate cancer detection in Katz's lab, de Vries grew frustrated with the inefficiencies of collecting and managing the huge volumes of data generated during clinical trials. "I was low on the totem pole, so I had to deal with a lot of the tedious work," he said.
Indeed, the business of running clinical trials at that time was old-fashioned— researchers either used very basic computer programs or pushed around a lot of paper.
So de Vries set out to use his technology skills to develop more robust software to manage clinical data.
He teamed with Columbia University urology resident and fellow computer hobbyist Edward Ikeguchi. With $10,000 they borrowed from their parents and profits from freelance website design work, they set up shop in de Vries' apartment and developed a prototype Web-based application that could help streamline clinical trials.
"Another colleague said to us, 'You've got a scientist and a doctor and you guys are going to start a company? That's a terrible idea,' " de Vries said. "You need someone involved who understands money."
That person was business school grad Tarek Sherif, who had experience investing in technology and life science start-ups. In 1999, the three partners wheeled their computers and desks down New York City sidewalks into a "real" office, where they launched Medidata Solutions.
Now, a decade later, Medidata is transforming the life sciences industry in a manner analogous to the way Amazon.com has forever changed the retail landscape. Using the Web-based Medidata software platform, researchers and physicians involved in complex, multisite studies around the world can collaborate seamlessly. Pharmaceutical companies can design study protocols and manage their clinical trials—while automatically capturing and analyzing massive amounts of data in real-time.
"Using the Internet allows us to change the context in which people are doing research, making it more efficient and effective—and we think the ultimate product is generating more therapeutic value," de Vries said.
In 2009—at the height of the global recession—Medidata filed for its initial public offering. The New York-based company now employs more than 900 people with locations in the U.K., Japan and China—and is on pace to generate some $275 million in revenue this year. Its biggest competitor is tech giant Oracle Corporation, whose CEO Larry Ellison spoke at de Vries' Carnegie Mellon graduation.
"I'm happily competing with him now," de Vries said. "I've been inspired by his presentation for the past 19 years."
As Medidata president, de Vries is responsible for company strategy and vision and for building the infrastructure needed to support its clients as they bring new therapies to the patients waiting for them. He isn't a scientist in the traditional sense as he once imagined becoming, but his work is giving scientists the tools they need to do better science, which feels even more rewarding.
"I am convinced I have the best job in the world," he said. "What I get to do is not just look at one kind of molecule or pathway or disease. I get to participate in clinical research and think about how people are doing it and work with them to do it better across all therapeutic areas."
Buoyed by his amazing journey, de Vries is also giving back to Carnegie Mellon to support the next generation of biologists who dare to dream. In 2012, he created the de Vries Fellowship, awarded to a graduate student in the Department of Biological Sciences every year for the impact and quality of a recent publication.
"I've been really lucky to do something I love that has come with plenty of financial success," he said. "It is my duty to give back in a way that supports people whose career outcomes can change the world."