Brain Power
An inspiring lab class—and a lot of moxie—spurs one couple to establish a science teacher training workshop in Rwanda.
by Jennifer Bails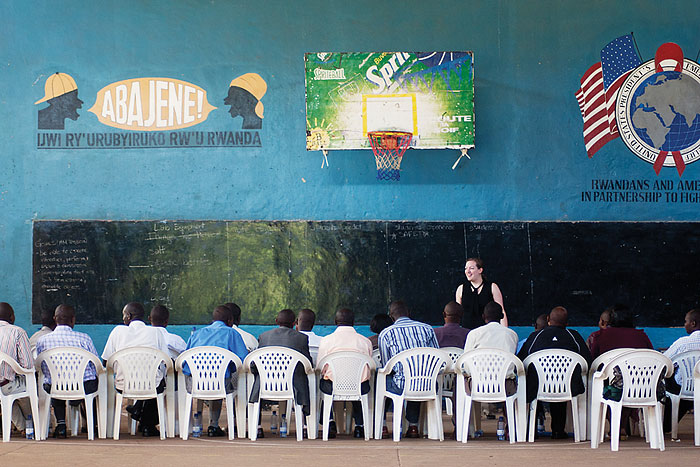 As Bert Ntampaka cut through the cerebral cortex deep into the sheep's brain, it was a revelation. Back home in his Rwandan village, he grew up eating the very kind of animal he was now dissecting in his anatomy and physiology class in Pittsburgh. "We used it for kebabs," he recalled.
But yesterday's dinner had become today's learning tool. With his textbook as a guide, he identified the parts of the mammalian brain and learned their functions.
That's when he began to wonder if other materials from everyday life in his East African homeland might be used to teach science there. It's a question he posed to his wife, Michelle, a special lecturer and lab demonstrator in Carnegie Mellon's Department of Physics. The couple met when Bert served as a translator on Michelle's church mission to Rwanda in 2006, which coincided with the 12-year anniversary of the Rwandan genocide, the mass murder of an estimated 800,000 people over 100 days.
Almost two decades later, Rwanda has embraced a new model of economic development to maintain peace and fight poverty. Without valuable natural resources, the country is depending on technology and innovation to bring about security and prosperity; stunning gains have been made, as the nation's economy grew 11.8 percent in 2008 and another 6 percent in 2009 despite the global recession.
Science and math education are vital pieces of this equation, but many teachers in Rwanda are faced with a lack of equipment and books, large class sizes, and overloaded schedules. Inspired by the sheep's brain, the Ntampakas began to brainstorm low-cost ways that might help address some of these challenges.
Michelle's office in Wean Hall overflows with just about every imaginable piece of equipment one might use to demonstrate the principles of physics, from gyroscopes and Van de Graaff generators to wave machines and marble ramps.
"I do lecture demos for the entire department, so any time one of the faculty wants to show anything at all, they ask me to pull something off the shelf or design something new," she said.
Prior to coming to Carnegie Mellon, though, she learned how to put together lab demos on a shoestring budget as a high school teacher with limited resources, making science come alive for her students without the aid of fancy gear.
"I learned how to improvise—to teach the concepts of physics with everyday stuff you can find in your kitchen or desk," she said.
This past June, at the invitation of the Ministry of Education, the couple traveled to Rwanda with their 1-year-old son, Joseph, to conduct three days of teacher training workshops. Funding for the trip came in part from the Mellon College of Science, the College of Engineering, the Provost's office and donations from physics department members.
At a high school in the capital city of Kigali, Michelle shared her knowledge about how to use commonly available items as instructional tools with 80 science teachers charged with training other teachers throughout Rwanda.
She began each session by using an egg to show how inexpensive, everyday objects could be used to illustrate complex scientific concepts like momentum and osmosis. With Michelle as a facilitator, the teachers developed other lab demos and sharedideas about how to better engage their students and to handle classroom management.
"The discipline issue in Rwanda isn't students acting out in the classroom—it's zoning out," she said. "Teachers there face things I've never had to deal with, like kids coming to school who haven't eaten for the past 48 hours."
The feedback she received from her workshops was overwhelmingly positive, and she views the trip as a pilot to help guide future efforts in Rwanda.
"Whatever we do, I hope it will be really centered around what is needed," she said.
In addition to the teacher workshops, and with help from local high schools and Carnegie Mellon faculty, the Ntampakas and fellow members of the Allison Park Church also collected nearly 5,000 English-language science and math textbooks. Financial support from the Mellon College of Science and the Ntampakas' church made it possible to ship the badly needed textbooks— some four tons worth—to Africa.
As the books make their way into classrooms across Rwanda, Michelle hopes the teachers who attended her workshops will spread her message about how the smallest things can be used to teach the biggest ideas—and in doing so, make a big difference.
"Bert and I are just trying to use the gifts we have to help people," she said. "This was one obvious way to do that."
Photo by Drew Horne.