Summer in the Laboratory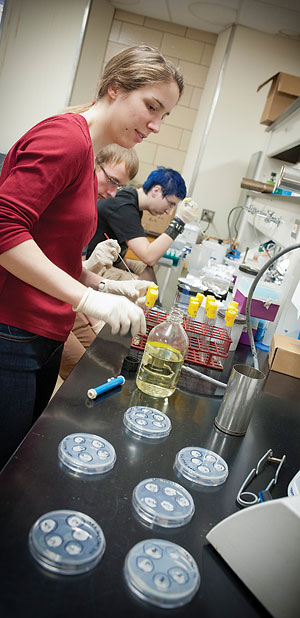 Mike Woolford, Daniel Ringwalt and Rudina Morina inoculate liquid cultures with bacterial colonies that contain a gene for a variation of a fluorogen-activating protein they developed while working in the Bruchez lab.
Rising Sophomores Discover What It Means To Be Research Scientists
by Amy Pavlak
"I thought I was going to be completely bored out of my mind," said now sophomore Stephanie Vereb. A self-described people person, Vereb hesitated to spend her summer in what she thought would be the stereotypical life of a researcher: alone and sitting at a bench all day. But with plans to become a medical doctor, she knew that a research experience would make her a more well-rounded medical school applicant, so she applied to the Summer Research Institute (SRI).
"I was very unsure at first," said Vereb, a biological sciences major. "But the SRI really changed my mind about research. I love it now that I'm here."
Hosted by the Department of Biological Sciences with financial support from the Howard Hughes Medical Institute (HHMI), the SRI offers Carnegie Mellon students the opportunity to do full-time research at an early stage in their college experience—the summer after their first year.
"In general, for most undergraduates who just finished their first year, it's really hard to find a summer internship. Most employers think that they haven't learned much that is applicable to working in a lab," said Maggie Braun, assistant biological sciences department head for undergraduate affairs and SRI co-director. "Here, we really value that."
Now in its tenth year, the SRI immerses students in all aspects of research. They design experiments, carry them out and interpret results. They attend weekly lab group meetings, during which their faculty research mentors ask them questions and talk about next steps. They attend faculty research talks, and prepare their own talks and lab reports. And they do it all in just 10 weeks.
This year's 15 participants, three more than the usual 12 (see "Lifelong Learners" below), started the program with an eight-day crash course in cellular and molecular laboratory techniques— including everything from making a plasmid and purifying a protein to analyzing that protein with gel electrophoresis. The students then broke into teams and spent the rest of the time conducting independent research projects associated with four faculty labs.
"When I came here, I thought our research was going to be a simple reworking of an earlier experiment. But it was actually something that's not been done before," said Mohammed el-Allam, a biological sciences student at Carnegie Mellon Qatar. El-Allam's project, which he worked on with Vereb and biomedical and chemical engineering major Elizabeth Starck, focused on creating a plasmid that contained a red fluorescent protein for visualizing yeast cells. Other research projects involved analyzing how a human colon cancer tumor suppressor protein regulates a cell signaling pathway, optimizing the structural features of a new type of fluorescent molecule and investigating how changes in alternative RNA splicing may correlate with cell aging.
Unlike many laboratory experiments conducted in classes, SRI research projects don't come with a step-by-step guide for producing the desired result. El-Allam, Starck and Vereb faced many challenges with their project and had to collaborate to solve the problem. For Starck, the troubleshooting was unexpected but enjoyable. "Things were going well, but these past couple of weeks we've had to troubleshoot a lot. I almost like that better because we have to think about what went wrong and what we could change." By experiencing the frustrations and rewards of original research, students come away from the SRI with a firm grasp of what research is all about, which enables them to make informed, sound decisions about pursuing a career in the field. They also acquire skills that make them more marketable to faculty.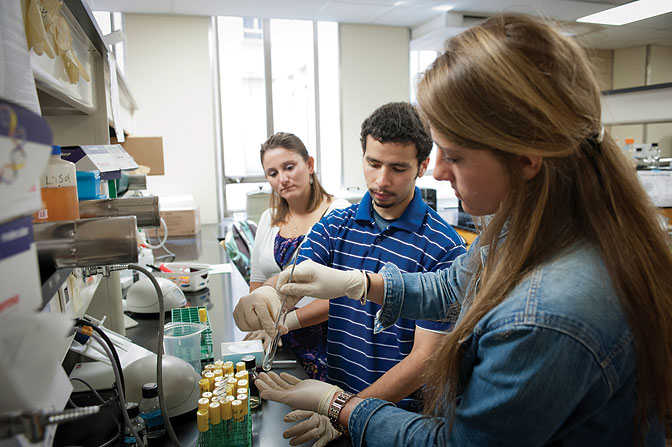 "It's less risky to bring these relatively young students into your lab because they've already had all this training," said Brooke McCartney, associate professor of biological sciences and SRI co-director. "They are more likely to hit the ground running and make a big contribution."
Even if some of the students don't continue with research, the SRI teaches them plenty of important life lessons.
"SRI students learn about teamwork. They learn about problem solving and troubleshooting," McCartney said. "They learn that you have to be persistent in research, that you're going to have more failures than successes. And that's something they can apply to any aspect of their lives."
---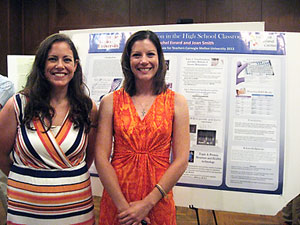 High school teachers Joan Smith (l) and Rachel Evrard present their findings at a poster session.
Lifelong Learners
This year, the SRI invited high school science teachers and teachers-intraining to apply to the program, and two local biology teachers and a student from Carlow University took advantage of the opportunity. Not only did they conduct intensive lab work under the guidance of Teaching Professor Carrie Doonan, but they also developed hands-on, creative teaching strategies to make cutting-edge science accessible to students. Their research project centered on testing food products for genetic modifications—extracting DNA from food, identifying the modified gene, amplifying it using PCR, and running gel electrophoresis. Rachel Evrard, who teaches at Ellwood City High School, plans to break her intense summer research program into mini-lessons for her students. Joan Smith, a teacher at McKeesport Area High School, became a pro at running PCRs and is looking forward to adapting the technology for her students. The teachers and teacher-in-training were financially supported by CMU's Leonard Gelfand Center for Service Learning and Outreach.
---
SRI at a Glance
Open to Carnegie Mellon students studying in a STEM field.
The 2013 SRI students hail from MCS, CIT, SCS and CMUQ.
More than 120 students have gone through the program since its inception in 2003.
Students receive a stipend and housing allowance with support from HHMI.
Faculty research mentors this year included Marcel Bruchez, Javier Lopez, Brooke McCartney and Aaron Mitchell.