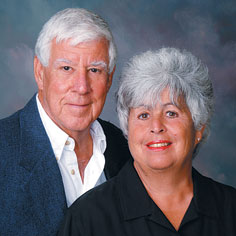 Alumnus John Harrison Uses Chemistry to Help Others
Mellon College of Science alumnus John Harrison received a Ph.D. in Chemistry in 1962. Ever since, he has integrated chemistry into his life, whether in his role as a career chemist with Exxon, his work to assess potential water pollutants in his community, or his philanthropic outreach to young chemists.
Harrison, who began college later in life because he served in the Korean War, says the delay allowed him to appreciate the learning opportunities afforded by college. He remembers his professors being always approachable and available to help him in his research.
He carried an intellectual curiosity with him throughout his career with Exxon, which began in 1962, starting as a research chemist experimenting with polymers and elastomers. By the early 1980s, he had risen to the rank of Vice President of Exxon Biomedical Research, Exxon's branch of Environmental Health Research. In 1991 he retired to the Grand Strand community of North Myrtle Beach, South Carolina, with his wife Nancy, who has a Ph.D. in cancer epidemiology from the University of Western Ontario.
In one sense, the Harrisons retired, yet they have combined their corporate and academic talents to benefit their community. John worked for six months in 1991 and 1992 with the Horry County School District to enhance the K–12 science curriculum. In the late 90s, he and Nancy used their expertise to help a group of families examine a possible link between toxins in the local water supply and cases of childhood leukemia.
"When parents of children with leukemia first noticed an unusually high number of childhood leukemia cases in 1996 and 1997 compared with previous years, they came to us to help determine the cause," says Nancy.
They examined factors linked to childhood leukemia before narrowing the possibilities to high concentrations of several known carcinogens in the water supply. They were instrumental in requiring a nearby Air Force base, closed in 1996, to clean up spills of trichloroethylene, benzyne, jet fuel and trace amounts of radioactive materials, all linked in published epidemiological studies to childhood leukemia.
A preliminary water test initiated by the Harrisons to measure the toxin levels was inconclusive, and the rate of childhood leukemia has not increased since 1997 when the parent group initially noticed the rise. Nonetheless, the South Carolina Department of Health and Environmental Control continues to monitor the number of cases each year, and the Harrisons are happy that community officials have a deeper appreciation of issues involving water quality monitoring and health.
"Our water quality has grown increasingly better over the years, and we feel that we had some influence in making our County representatives more aware of the need for safe drinking water," adds Nancy.
Their willingness to work to help others does not end at the borders of their community. The Harrisons donated $10,000 to create a Legacy Dissertation Fellowship to help MCS graduate students pursue their research goals in chemistry. Exxon Mobil has added matching funds to the fellowship.
"Nancy and I are practical people, and we remember what it's like to struggle with funding in graduate school, particularly during the last few years of dissertation work," explains John.
The Harrisons see this fellowship as an opportunity to help people who make a tangible contribution to the world around them.
"When we watch these students succeed in their fields of study, we can really see the difference our contribution makes. It is truly rewarding," Nancy adds.
Three students have benefited from the fellowship since its inception. The current recipient, Bhaskar Datta, is a member of a team that bridges Chemistry and Biological Sciences. This interdisciplinary team, led by Bruce Armitage, has combined peptide nucleic acids (PNA) with strands of DNA to make a new structure with the potential to act as a biosensor or with potential practical applications in cancer research and drug development. Datta focuses on the way PNAs recognize and bind with a DNA strand.
The first recipient of the fellowship, Jeffrey Pyun, helped develop revolutionary nanoscale polymer brushes that have potential applications in a number of fields, including medicine, computers, and environmental engineering. The second recipient, Tomislav Pintauer, studied the structural and mechanistic aspects of atom transfer radical polymerization, as well as developed efficient methods for removing residual catalysts used in polymer production. Pyun and Pintauer both worked under Kris Matyjaszewski.
After funding the fellowship, the Harrisons visited MCS in October 2002. While not surprised by the innovative changes they found, they could not help noticing them. Chief among them was a multidisciplinary approach to problem-solving. They also saw a marked demographic change in the makeup of the Chemistry Department. In John's day, there were few women entering the field, while in 2002 the number of female undergraduates nearly equaled the number of male counterparts.
John is encouraged by these trends, and he looks back fondly on his own experience at MCS.
"My entire career is based on it. It continues to have a major impact on my life."