Education Without Boundaries
MCS Students Bring Health Care to Those in Need
by Amy Pavlak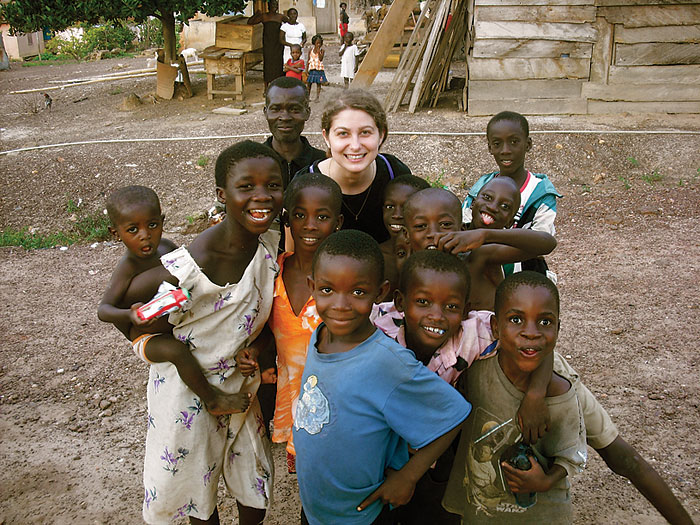 When Ashley Kilp walked through the small mountain village of Korbo Odumasi, Ghana, a familiar refrain followed her: "Obroni! Obroni!"
Loosely translated as "foreigner," or more accurately, a white person, obronis stand out in the West African nation, especially in remote villages like Korbo Odumasi. Earlier that day, Kilp traveled three hours from the capital city of Accra to the village, where she found a line of people waiting for her and the rest of the team from the Crystal Eye Clinic. The small entourage of ophthalmologists, optometrists, nurses, local volunteers and Kilp—a volunteer Global Impact Fellow with the nonprofit organization Unite for Sight—spent the day seeing dozens of patients, evaluating their vision, and checking for eye diseases.
Kilp conducted visual acuity screenings from her station outside the village's tiny church, which had been converted into a mobile clinic for the day. With her halting Twi, a local dialect of the Akan language, she instructed her patients to "Sit here and look at the chart," "Cover your eye," and "Read from the top down."
"Some people's vision was so poor that they couldn't even see the chart. Some patients could only see my hand moving or just light shined in their eyes. Some couldn't even see the light at all," explained Kilp, a 2010 graduate from the Department of Chemistry and a Science and Humanities Scholar. "There were dozens of cataracts that I could identify just at a quick glance without even examining them with a light. It was really sad, because you know how much these things are affecting people's lives and you know how easily they could be fixed or could have been prevented if only they had the ability to get care."
Making an Impact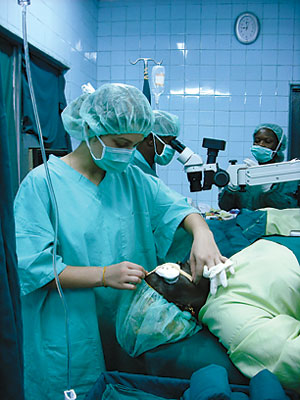 Kilp helps bandage a patient's eye after cataract surgery.
According to the World Health Organization, three-quarters of all blindness can be prevented or treated. But in the poverty-stricken, rural regions of Ghana, significant roadblocks keep many from getting medical treatment.
"If the patient is in the village and is blind from cataracts, which are treatable, but has no money to go to the hospital for an operation, he is left in the village there to suffer until he dies. I think this is not right," said ophthalmologist Dr. Thomas Tontie Baah, who works with Unite for Sight.
The situation is even more dire when you consider that Dr. Baah is one of only 45 ophthalmologists serving all of Ghana, which has a population of 23 million people—many of whom don't have the means to travel to a hospital. To help villagers overcome these obstacles, Unite for Sight partners with local eye clinics, traveling to remote villages to provide care free of charge. Kilp worked with the Crystal Eye Clinic, the Tema Christian Eye Center and the Save the Nation's Sight clinic.
"With Save the Nation's Sight, we did outreaches six days a week, so it was kind of grueling. Just the traveling—often two or three hours each way—took a lot out of you," Kilp said.
During her two-month stay in Ghana, Kilp visited more than 35 communities, bringing much-needed medical care to hundreds of people. And she shouldered a lot of responsibility—she was the one making sure that people received the correct glasses and proper medications and that they understood how to use both. She also contributed to efforts to accurately maintain both medical and financial records. "It was two months of crazy and awesome and wonderful," she said.
Kilp is no stranger to giving back to the community. As a child, she and her family volunteered with their church and local community organizations. As a teenager, Kilp worked as counselor at a summer camp for kids with asthma. During her college years, she volunteered at a summer program for blind and low-vision teenagers as well as at Children's Hospital of Pittsburgh. Her first experience volunteering abroad was in 2008 when she spent two weeks in India with Unite for Sight. "It was amazing. It was my first time in a culture completely different from my own. And it was my first time traveling alone." She returned to Pittsburgh with an inspired sense of determination to continue her work and became the campus representative for Unite for Sight, providing advice and information for students interested in volunteering with the global organization, which works with local eye clinic partners to create and implement effective, sustainable, year-long eye care programs.
"During the last few years, I've seen a substantial increase in student interest in global volunteer experiences, particularly among the pre-health students. Many of our students have a genuine desire to use their education to make an impact in both local and global communities," said Amy Burkert, vice provost for education and former director of the health professions program. "It can be contagious. When a dynamic student leader like Ashley shares her experiences with others, even those students who initially weren't so service-oriented start to explore how they can tap into these opportunities for themselves."
Bring on the Brigade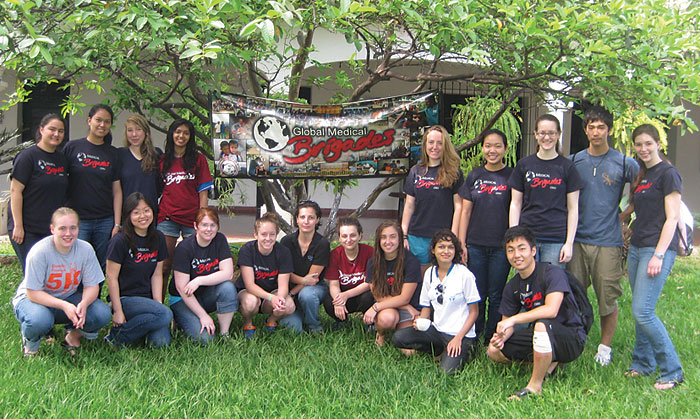 Volunteer opportunities abound for MCS students seeking to make an impact in the world, whether it's in Pittsburgh or in South Africa. And if there isn't a program that matches their interests, they have the freedom to start their own. Take Eda Akyar, for example. Now a senior biological sciences major, she worked with several of her peers to establish a chapter of Global Medical Brigades at Carnegie Mellon in 2008 after being inspired by her sister, who traveled with the New York University Global Medical Brigades chapter earlier that year.
"When I heard about it, I was really excited and I thought it was something that Carnegie Mellon could really benefit from having a trip that is completely student run, where we go and help set up medical clinics to serve people in developing communities."
Global Medical Brigades, an international student-led global health organization, defines a brigade as a group of passionate volunteers mobilizing toward positive social change. Akyar organized her first brigade in 2009. She and Devleen Ronomit Baksi, a senior biological sciences and psychology major, led 10 students to Panama to conduct mobile clinics in under-resourced communities. Similar to the situation in Ghana, where only a few doctors serve a predominantly rural population, nearly half of the people living in the Central American countries of Panama and Honduras, for example, live in remote areas more than 20 miles from the nearest doctor. And since many of these families live on less than one dollar a day, traveling for health care is out of the question. Global Medical Brigades brings in thousands of student volunteers and health professionals to travel to these areas and establish mobile medical clinics. Each community is visited every three to four months. Akyar and her Global Medical Brigades team brought care to people living in impoverished communities in Panama in 2009, enjoying the work so much that they planned another trip, this time to Honduras, in 2010.
Akyar worked with her team of 16 students, ranging from first-year students to juniors, to solicit donations of money and medications to take with them to Honduras and to raise funds to hire two doctors to join them. The team arrived in Honduras with 20 suitcases full of medications—antibiotics, allergy and cold medicines, vitamins and medications for treating parasite infections—as well as supplies for the clinics and toys for the local children.
450 Patients in One Day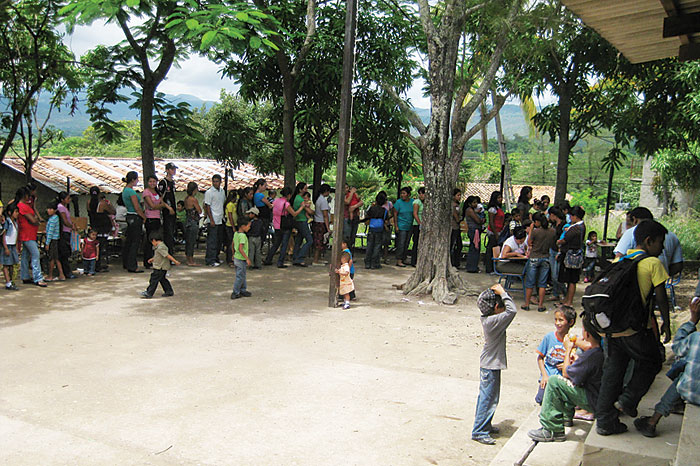 During their 7-day medical mission in Honduras, the Carnegie Mellon team, which was joined by two doctors, one dentist and a Global Medical Brigades coordinator upon arriving in Honduras, conducted daylong clinics in three communities with limited access to health care. All three days of brigading were completely orchestrated by the Carnegie Mellon students.
"On the second day, we saw 450 patients—just the 17 of us and our team of doctors," said Akyar. "It was tremendous. We gave quality medical care with the supplies and manpower that we had, in only eight hours. I'm really proud of our group." The students rotated duties in the mobile clinics' various stations. The Spanishspeaking students spent most of their time at the intake and triage stations, where they recorded patient information and collected primary complaints and vitals. For brigader Beth Aguila, a senior biological sciences major, this was an opportunity to interact directly with patients, something she has not experienced as a volunteer in U.S. hospitals.
"I mostly shadowed doctors in the United States, or I just talked with patients, not really knowing their medical history. But this is the most interaction with patients that I've ever had," she said.
Akyar also volunteered extensively in American hospitals, but she typically helped patients by comforting them, talking with them and making sure they were at ease. Her experience in Honduras was that and much more.
"In triage, we were trained to be able to work directly with patients, taking vitals, getting a medical history and finding out what their primary complaints were. We filled out forms, and the doctors relied a lot on that without having to ask the patients the same questions again. They had trust in us that we were competent and could handle the patients' information," she said.
Once they were evaluated by the doctor, the patients then went to the pharmacy, which was staffed by Carnegie Mellon students under the supervision of Mirelle Fontecha, a pharmacist and the brigade coordinator. It was here that Aguila spent most of her time.
"It was always very hectic in the pharmacy and stressful too. It was important to make sure that you were giving out the right medications."
All of the medications were already bagged and carefully labeled, a tall order that the students took care of their first night in Honduras. They bagged medicines deep into the night, because, as Aguila put it, "We were there to work."
And the students haven't stopped working. Akyar already has some ideas about how the students can make a difference locally.
"The trip to Honduras was a reminder that there isn't just a need abroad, that there's also a need in Pittsburgh," she said. "And we're hoping to address that as a club as we come back. I think everyone in the group is excited to see what they can do locally."
Getting More Than You Give
"Taking part in global service programs like Global Medical Brigades and Unite for Sight can teach students many valuable lessons," said Burkert. "It allows students to step outside of their comfort zone and to push the boundaries of their worldview. They can fully appreciate that not everyone is going to look or act or think or feel like they do. And I also think that seeing the medical need, whether it's in Pittsburgh or Honduras or Ghana, impresses upon them that there are more similarities than they may think and shows them that they have a role to play in making a difference."
For Aguila, Akyar and Kilp, their experiences abroad affected them in ways that they couldn't have imagined.
"I went there thinking I was going to give all this to these people—I was going to volunteer and help them. And then you realize when you come back that you take so much from the experience," said Aguila.
Kilp couldn't agree more: "There are all of these little things that pop up that they can't possibly put in a description of what your trip will be. Everyone was so wonderful and so welcoming. They took any opportunity that they could to teach me about their culture, to teach me the language, to show me things. And now, I love Africa. I want to go back so badly."
Perhaps Kilp isn't such an obroni after all.