Phage Hunters
First-year students use sophisticated research tools to unearth a virus's secrets

It was hiding near The Fence. A mere 200 nanometers long, the virus wasn't easy to find. Analyzing its genome to unlock its secrets was an even bigger task, but the students in the Phage Genomics Research course were not only up to the challenge-they loved every minute of it.
"This was my favorite class of the year," said Lianne Cohen. "I loved this class."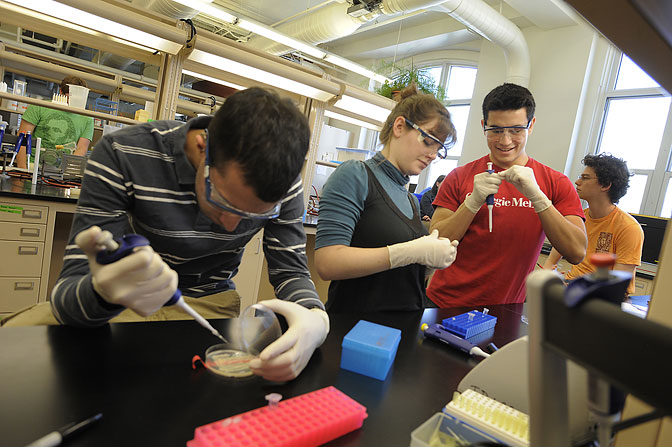 When parents send their children off to college, they probably don't expect them to be playing in the dirt during the first week of classes. But that's just what students in the Phage Genomics Research course did as they hunted for bacteriophages, viruses that infect bacteria. Bacteriophages-or phages, for short-can be found naturally anywhere bacteria live, including water and soil, so the students collected soil samples from across campus and brought them back to the lab to isolate the phages contained in the soil. The next step was to mix the suspected phage with its bacterial host Mycobacterium smegmatis, a common non-pathogenic soil organism, and wait for signs of infection. Once each student identified an infected bacterium and isolated the phage from within, they spent the next several months characterizing the phage's structure by electron microscopy, cloning and sequencing its DNA, and using computational methods to analyze its genome. Most importantly, the students experienced the process of doing real science.
"The whole point of the course is for them to learn how science works, how the process of investigation works," said Javier Lopez, associate professor of biological sciences, who taught the course with Associate Professor Jonathan Jarvik and lecturer Kathryn Sheldon.
This is exactly what the Howard Hughes Medical Institute's Science Education Alliance had in mind when it developed The Phage Genomics Research Initiative. Carnegie Mellon was one of twelve schools chosen to participate in the program during its inaugural year. Turi Alcoser, who chose to attend Carnegie Mellon because of the Phage Genomics Research course, wasn't disappointed.
"As opposed to other colleges where I would only be taking intro courses, here I got to do real research," he said. "I feel like I'm really learning in this class. I'm using my head and putting it all together."
Since the course centers around a real research problem that has no established answer a far cry from cookbook-style experiments where the answers are already known-students were required to use their heads every day.
"We would ask our professors questions, and they wouldn't know the answers. So we would do an experiment to figure it out," said Cohen.
According to Tuajuanda Jordan, director of HHMI's Science Education Alliance, students in the Phage Genomics class "will truly be contributing to the scientific knowledge about this phage, more and more questions will arise in their minds, and hopefully it will capture their scientific curiosity enough that they will want to pursue research as soon as they leave this class."
This was certainly the case for Carnegie Mellon's phage hunters. They were clamoring to come to the lab outside of class hours to check out their bacterial plates, to see how their experiment was coming along, and to anxiously look for results. And their appetite for research didn't stop when the Phage Genomics course ended. Many of the students have conducted summer research and joined faculty labs this fall.
"I feel much more confident because of this class," said Alcoser, whose newfound confidence and skill in the lab came in handy this summer as he conducted research at the Summer Research Institute at Carnegie Mellon.  
And because there is still much to learn about their phage, some of the students are continuing as TAs for the Phage Genomics course. And Lopez will be at the lab bench with them.
"I love the course for the same reasons that the students love it-you're actually doing real research, finding new things and experiencing the thrill of discovery."