Getting to the Point
Alumna Joyce Rudick Helps Scientists, Students Navigate Their Career Paths

by Jocelyn Duffy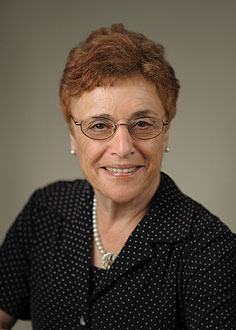 Joyce Rudick (MM'61) knows that life rarely turns out like you plan. It's something that the she emphasizes when she returns to Carnegie Mellon to talk with undergraduate science majors.
"Everyone seems to be zeroed in on getting to point A. We talk about how you end up at point A sometimes, and sometimes you end up at point R," Rudick said. "Which is where I am. I never got to where I thought I would be."
Rudick, who has been the Director of Programs and Management in the National Institutes of Health's Office of Research on Women's Health for more than 15 years, had no intention of going into research when she enrolled in Margaret Morrison in 1957.
Growing up during the 1950s in Mount Vernon, N.Y. as the daughter of a New York City lawyer, Rudick hoped to follow in her father's footsteps. In high school she became interested in science, so she thought that she could combine both of her interests by becoming a patent attorney.
"I had the right idea, but it didn't work," she said with a laugh.
After graduating with a bachelor's degree in biological sciences, she and her new husband Joel Rudick (A'61), who had just completed his architecture degree at Carnegie Tech, moved to New York in order for Joel to complete an apprenticeship.
Joyce took a job as a research assistant at Memorial Sloan-Kettering Cancer Institute. Two years later she enrolled in law school at New York's Pace University. She was one of only three women in her class of more than 100 students. After her first year, she was the only woman to make law review, a position afforded only to the top members of the class.
About to start her second year of law school, Rudick gave birth to their first son, Brian. Shortly thereafter, she found out she was pregnant again—this time with twins, Paul and Johnathan.
"I still thought I'd go back [to law school], naively. We had three boys in two years. There wasn't daycare—the same type of help that there is now," said Rudick. "I realized I might have to put a hold on law school."
The young family moved to Northern California. Joyce reapplied to law schools, but discovered that since she studied New York state law, she'd need to start from scratch to learn California state law.
"That was another step toward 'forget it,' " she said.
After several years in California, the Rudicks headed back east to Washington, D.C.It was then that Joyce's career began to take off. Within one month of arriving in D.C., she secured a job doing research at the National Institutes of Health, working on a study identifying biomarkers for ovarian cancer.
"That's what started it," Rudick said. "I didn't even have a chance to unpack."
Over the next 10 years, Rudick worked on a number of clinical trials through the NIH. At that time it was standard practice for clinical trials to be done only in men.
"They took the data from the aspirin study, for example, done solely in men and translated it for 'little men,' which is what they considered women," Rudick said.
In 1990, a group of congresswomen led by Maryland Senator Barbara Mikulski introduced legislation that made this practice illegal, requiring that women be included in all large-scale clinical trials supported by the NIH. The bill also established the Office of Research on Women's Health (ORWH).
Rudick was asked to join the office as the Director of Programs and Management, a position she still holds today, to create funding opportunities that promote women's participation in clinical trials and in research and to support career development at NIH.
"Joyce knows science, what it means and how it works," said Janyce Hedetniemi (MM'61) retired Director of the Office of Community Liaisons at NIH, and a friend and former classmate of Rudick's. "Given her talents, Joyce has really helped the Office of Research on Women's Health jumpstart programs for women at NIH."
Rudick also oversees all of ORWH's career development and outreach programs. This has allowed her to help people who have found themselves delayed in their careers—a situation Rudick is extremely familiar with.
She instituted a program that provides supplemental funding to NIH-funded research projects enabling study investigators to hire and support scientists who are returning to work after leaving the field for a few years. The program is aimed at young parents who want to take time off to raise their children, or people who need to care for sick or aging relatives.
Since Rudick introduced the program in 1996, 134 women and three men have taken advantage of the grants. Ninety-five percent are still working in the sciences.
"It's not retraining; it's reentry," said Rudick. "We let people take a hiatus, be comfortable in their lives and come back. There are issues in society today that prevent people from taking time off, so either they don't take time off or they end up leaving research."
She says that, besides her children and seven grandchildren, nothing has made her more proud than this program.
"My life went from a place where I had a goal and a vision, to a situation where I was forced to take advantage of the opportunities that were available," said Rudick. "Now I'm the one making the opportunities available for others who are exactly where I was as a young woman."
Rudick is also helping to make opportunities available for undergraduate women at MCS. This fall, she funded the Joyce Rudick Scholarship, a one-year scholarship that will support female biology students in need as they study to become scientists.