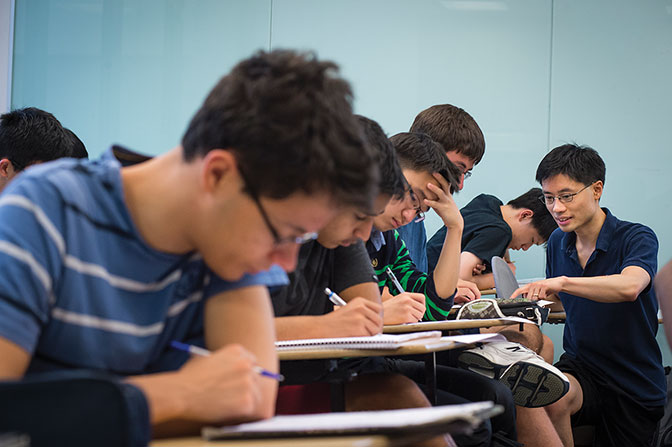 Coaching More than Math
by Jocelyn Duffy

Po-Shen Loh is a coach who doesn't care if his team wins the game. What matters to him is that each team member wins…in life.
"My philosophy is to focus on the 20- to 30-year trajectory of the students that I work with. Doing this is just part of my DNA," said Loh.
Loh is an associate professor of mathematical sciences at the Mellon College of Science and is a guru in the realm of competitive math. At CMU, he leads the Putnam Seminar, which prepares students for the Mathematical Association of America's (MAA's) Putnam Competition, the premier undergraduate mathematics competition in North America. He is also the coach of the U.S. International Mathematical Olympiad (IMO) Team. While Loh is happy if his students have a 4.0 G.P.A. or win a gold medal, working to achieve those short-term goals isn't what Loh teaches in his classroom.
"I'm often asked why mathematics is relevant. The answer isn't 'to get an A in math class.' Focusing on that makes people fail to see the power of mathematics," Loh said. "The role of mathematics in today's society isn't basic computation, it's to provide a framework for thinking."
Loh provides this framework to his students by focusing less on solving problems and more on problem-solving. He believes that teaching students that there is one "right" answer or leading them to believe that acing a test is their ultimate goal is too high-stakes and too focused on the individual. He says that students really need to learn to work collaboratively and try to find answers to problems using trial-and-error. This shows students that it's okay to make mistakes and that the best way to solve problems is to work in teams—all lessons that can be applied not only to math but to life.
"Dr. Loh gives us students the internal motivation to try, try and try some more when we encounter hard problems," wrote a former Putnam Seminar student. "Wherever life takes us, we will encounter hard problems and it will matter a lot more that we have the strength to try to take them on than it will be for us to know the answers to specific problems."
Loh's students, from the CMU undergraduates in his seminar to the 70 high school students he brings to Pittsburgh for the Mathematical Olympiad Summer Program, have fully embraced his methods. His students can often be found huddling around notebooks, actively debating how to solve a problem.
While his emphasis is on teamwork, Loh also takes time to encourage each student individually, inside and outside class. He regularly eats lunch in Newell Simon Hall, where students are always welcome to join his table and talk about math.
Loh acknowledges that his method of teaching could be seen as unorthodox since it doesn't focus on immediately quantifiable results. In fact, when Loh agreed to take on leadership of the U.S. Mathematical Olympiad team, he told the MAA that he was going to focus on the students' long-term success, and that by doing so, the team would be unlikely to win.
Happily, Loh was wrong. After a 21-year drought, the U.S. IMO team placed first in 2015 and 2016. And for Loh, the wins keep coming. For five years running, Carnegie Mellon has placed in the top 5 in the Putnam Competition. For the last three years, Carnegie Mellon has had the second most number of students scoring in the top ten percent in the Putnam.
Loh looks forward to seeing the real results when his students return to campus for their 20-year reunions. When they return successful and happy, that will be Loh's biggest win.