All services are being delivered by appointment only. Please call us at 412-268-2157 to discuss your needs.
Health Education & Resources
The Health Promotion team supports the health and well-being of the Carnegie Mellon community. Join us in creating a safe campus environment for our whole community by participating in our health education programs.
Did you know that Health Promotion offers free wellness supplies like safer sex barriers, cold care kits, and health education literature? They do! Learn more.
Peer Health Advocates (PHAs)
Peer Health Advocates are a group of student employees engaged in health education at Carnegie Mellon University. They offer programming around:
alcohol and other substance use
stress management
sexual health and healthy relationships
sleep health, nutrition and more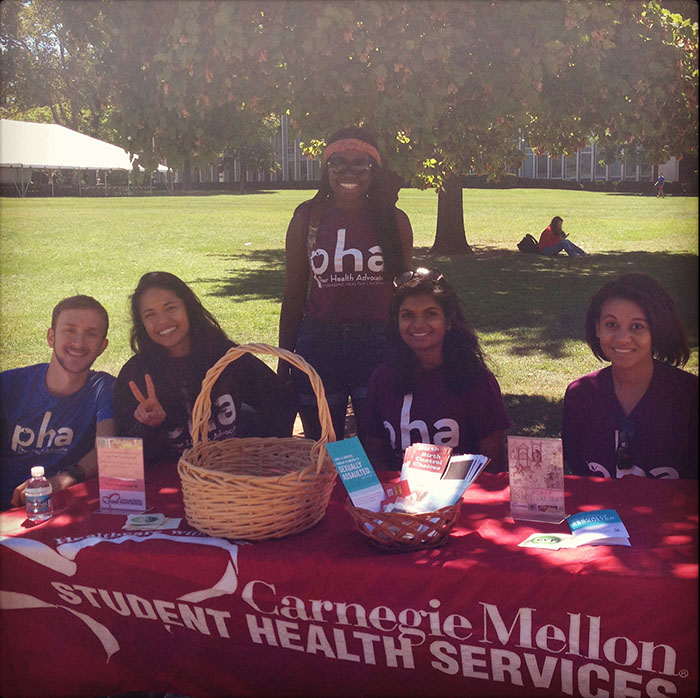 CMU Collegiate Recovery Community (CRC) & Harm Reduction
Whether you are in recovery from substance use, considering recovery, taking a break, or seeking resources for safer use, the CMU Collegiate Recovery Community (CRC) can provide you with affirming supports that help promote a healthy, balanced, and meaningful life on campus.
Community Initiatives
Healthy U Student Wellness Project
Every three years, many Student Affairs departments partner with Institutional Research and Analysis to conduct a community health assessment on the Pittsburgh campus to examine students' health-related experiences and behaviors, including sleep habits, physical activity, alcohol use, drug use, nicotine use, nutrition and weight management, sexual health, stress and stress management, and mental health and relationships.
Health Promotion Products
Health Promotion offers free wellness supplies like safer sex barriers, cold care kits, health education literature, etc. for student leaders to supply to their communities. Request supplies below.
Additional Community Initiatives
Individual Clinical Services
Health Promotion appointments include alcohol and substance use assessments, quit smoking support, sleep assessments, stress consultations, and sexual health testing and education. To schedule an appointment login to HealthConnect or call UHS at 412-268-2157. 
Health & Wellness Calendar