Spherical Particles
The functionalization of the surfaces of many solids; including silica (SiO2), gold, silver, germanium, PbS, carbon black, iron oxides and other metal oxide systems has been achieved, (many references are provided in reference 1 below) allowing for subsequent attachment of initiators for the ATRP of many monomers forming organic/inorganic hybrid nanoparticles containing an inorganic core and tethered glassy or rubbery homopolymers or copolymers.  The consequence of radical-radical termination is more serious during the preparation of colloidal particles than in a normal ATRP.  In traditional ATRP reactions termination leads to coupling whereas with a particle with 1000's of initiation sites this leads to crosslinking; as a result:

So gelation is predicted at 0.1% intermolecular coupling.

 Gelation was initially avoided by running the reaction under high dilution conditions to low conversion, i.e. under conditions where there is a low concentration of active radicals and consequently slow propagation.(1)
However the first example of the successful synthesis of hybrid nanoparticles using multifunctional silica initiators in a miniemulsion ATRP was recently disclosed. The reaction was driven to higher conversion in a shorter time.(2)
SiO2-g-pSt hybrid nanoparticles with tethered polystyrene possessing molar masses in the range of Mn = 5,000 to 33,000 g/mol were prepared using commercially available silica nanoparticles as colloidal initiators, which greatly facilitated scale-up synthesis. The hybrid particles were characterized both in the solid state and in solution using transmission electron microscopy (TEM) and dynamic light scattering (DLS) respectively.  TEM images of the SiO2-g-pSt colloids revealed the formation of (sub)monolayer patches with interparticle spacing that increased with an increase in the molar mass of the tethered polystyrene.   Comparison of the hydrodynamic radii (Rh)of hybrid nanoparticles of varying size determined by DLS in toluene, versus the molar mass (Mn) of the polystyrene chains cleaved from colloids, determined by SEC, revealed a linear relationship.  Such a linear dependence of Rh vs. Mn is a strong indication that when the particles are dispersed in toluene, the tethered chains adopt highly chain extended conformations, presumably due to steric interactions caused by the high grafting density.(3)
AFM examination of spherical brushes formed by grafting n-butyl acrylate from silica particles deposited on mica surfaces show that the swollen brush has collapsed and that the hard silica core is surrounded by the soft grafted chains.

Since the polymerization from the particle surface was being conducted by ATRP, it is simple task to isolate the particles and add them to a fresh monomer solution and form tethered block copolymers.
Tri-phasic separation was clearly observed by AFM examination of a particle with tethered poly(St-b-nBA) block copolymer chains.  A hard polystyrene core surrounding the silica particle and the soft acrylate shell strongly adsorbed on the mica substrate are observed forming three distinct observable phases.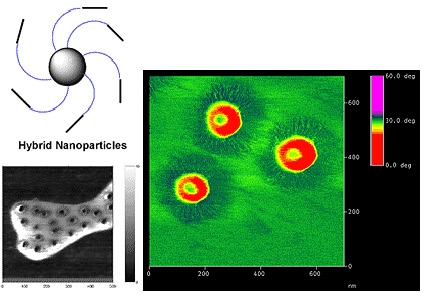 As noted above, conducting the "grafting from" reaction in miniemulsion systems provide some additional benefits.  The reactions follow first order kinetics and can be driven at a higher rate to higher conversion without excessive production of coupled particles. Equivalent polymerization rates were observed for miniemulsion reactions initiated by alkyl halides, regardless of whether the initiators were attached to particle surfaces or free in solution. Therefore, the procedure provides a viable commercial approach to novel, functionally-designable materials with properties that can be pre-selected to target many specific applications.(4)
This success with miniemulsion relies on the compartmentalization of the reaction media which segregates the reaction medium and therefore minimizes the effect of radical termination and macroscopic gelation.  Since termination reactions should be limited to individual droplets the proportion of terminated chains should be relatively small and the degree of crosslinking is less than in bulk conditions. The confinement effect increases the deactivation rate and termination rate so control is better but reaction rate is also decreased.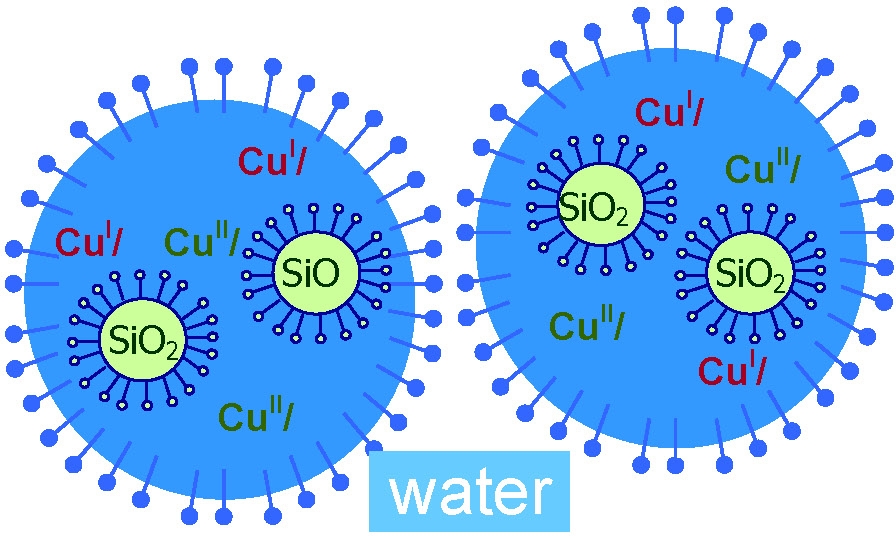 As shown in the AFM image below each silica particle is evenly coated with polymer and the individual particles are not crosslinked even though conversion was driven to greater than 60%.  The particles were prepared with a 200:1 monomer to initiator ratio and each n-BA tethered chain has an average Mn=15,900 g/mol.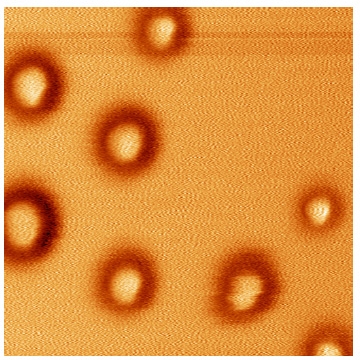 This approach is currently being applied to other multifunctional initiators, including multi-arm star molecules, molecular brushes, and other well-defined polymers with complex architectures.  Indeed molecular brushes were successfully synthesized in a miniemulsion system via AGET ATRP.(5)  Macroscopic gelation was observed for bulk ATRP but was not detected in miniemulsion.  The side-chain polymers grew from backbones rapidly in miniemulsion droplets and high monomer conversion was reached in relatively short time. Molecular visualization by AFM proved that some cross-linking did occur in miniemulsion droplets when the conversion was high (84%). However, this cross-linking showed no effect to the miniemulsion stability and fluidity, and therefore, the synthesized materials can be easily processed for further uses/applications.
The miniemulsion procedure has also been extended to functionalizing CdS quantum dots with poly(n-butyl acrylate) using activators generated by electron transfer (AGET) ATRP.(6)  The quantum dots were first modified by complexation with a phosphorous-containing ligand, which was then further modified to contain an ATRP initiating group. Bromine-containing functionalities degraded the QDs, but a chlorine-functionalized initiating group slowed the degradation enough that 3-4 nm QDs were obtained post-modification. The polymerization of n-butyl acrylate further protected the QDs from degradation via chemical reaction, and the resulting materials were both well-distributed on the nanoscale and possessed the optical properties expected from quantum dots of their size.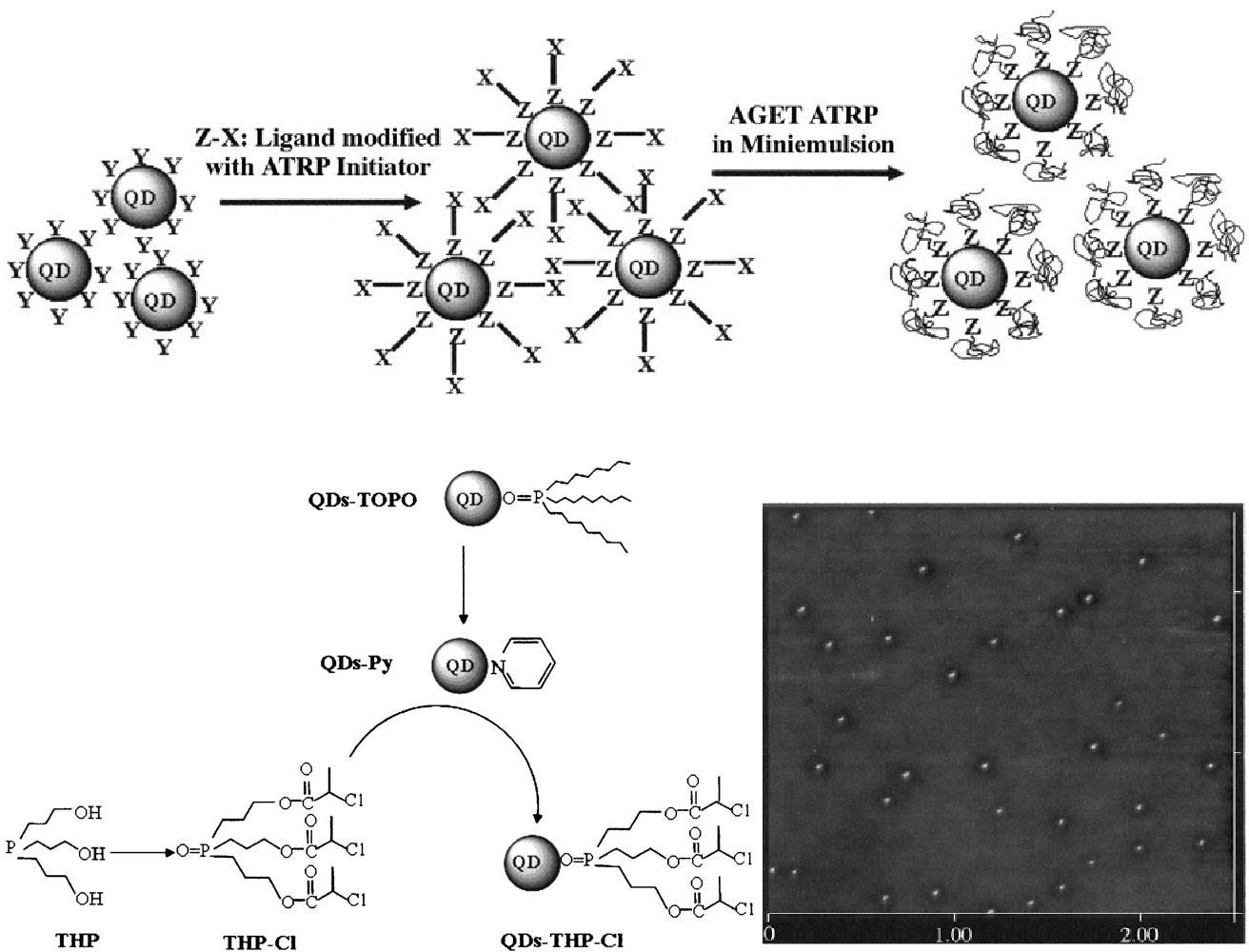 A one-pot synthesis of thermally stable core/shell gold nanoparticles (Au-NPs) was developed via surface-initiated atom transfer radical polymn. (ATRP) of Bu acrylate (BA) and a dimethacrylate-based cross-linker.(7)

The higher reactivity of the cross-linker enabled the formation of a thin cross-linked polymer shell around the surface of the Au-NP before the growth of linear polymer chains from the shell. The cross-linked polymer shell served as a robust protective layer that prevented the dissociation of linear polymer brushes from the surfaces of Au-NPs, and provided excellent thermal stability to the Au-NPs at elevated temp. (e.g., 110 DegC for 24 h).
This synthetic method could be easily expanded for preparation of other types of inorganic/polymer nanocomposites with significantly improved stability.
REFERENCES
(1)       Pyun, J.;  Jia, S.;  Kowalewski, T.;  Patterson, G. D.; Matyjaszewski, K. Macromolecules 2003, 36, 5094-5104.
(2)       Bombalski, L.;  Min, K.;  Dong, H.;  Tang, C.; Matyjaszewski, K. Macromolecules 2007, 40, 7429-7432.
(3)       Pyun, J.;  Jia, S.;  Kowalewski, T.; Matyjaszewski, K. Macromolecular Chemistry and Physics 2004, 205, 411-417.
(4)       Matyjaszewski, K.;  Bombalski, L.;  Jakubowski, W.;  Min, K.;  Spanswick, J.; Tsarevsky, N. In PCT Int. Appl.; (Carnegie Mellon University, USA). WO 2005087819, 2005; p 96 pp.
(5)       Min, K.;  Yu, S.;  Lee, H.-i.;  Mueller, L.;  Sheiko, S. S.; Matyjaszewski, K. Macromolecules 2007, 40, 6557-6563.
(6)       Esteves, A. C. C.;  Bombalski, L.;  Trindade, T.;  Matyjaszewski, K.; Barros-Timmons, A. Small 2007, 3, 1230-1236.
(7)       Dong, H.;  Zhu, M.;  Yoon, J. A.;  Gao, H.;  Jin, R.; Matyjaszewski, K. J. Am. Chem. Soc. 2008, 130, 12852-12853.