Carbon Nanostructures

The field of carbon structures was reenergized by the discovery of fullerenes in 1985(1) and carbon nanotubes in 1991.(2) In addition to generating tremendous interest in the fundamental properties of discrete carbon molecules and nano-objects these nano-structured carbons have found, or are expected to have, numerous commercial applications such as advanced fillers, materials for energy and gas storage, sensors and elements for molecular electronics devices. Two different strategies have been developed for the preparation of engineering carbon materials; one includes pyrolysis of organic precursors (mostly polymeric) under an inert atmosphere to yield large-scale engineering carbons and the other involves physical/chemical vapor deposition techniques that produce well-defined nanostructured carbons. Whereas techniques from the first group are applicable to large scale production, they offer very limited control over the carbon (nano)structure, techniques from the second group do allow atomic scale precision in control of the nanostructure but they are relatively expensive, have limited yield and require complex equipment. 
Recently, a novel, low-cost route to well-defined nanostructured carbon materials based on the pyrolysis of polyacrylonitrile (PAN) block copolymer precursors containing a sacrificial block (e.g., poly(n-butyl acrylate) was developed.(3,4) The structure of the final carbon nanostructure is templated by the initial structure of the PAN domains in the phase separated block copolymer.  The PAN domains are stabilized by heating to 280 °C in the presence of air and subsequent pyrolyized by heating to 600-900°C in an inert environment.  This converts the PAN domains into partially graphitic carbon, whereas the sacrificial phase is volatilized. Stabilization therefore allows the PAN domains to retain their phase separated nanostructure throughout the subsequent thermal treatment.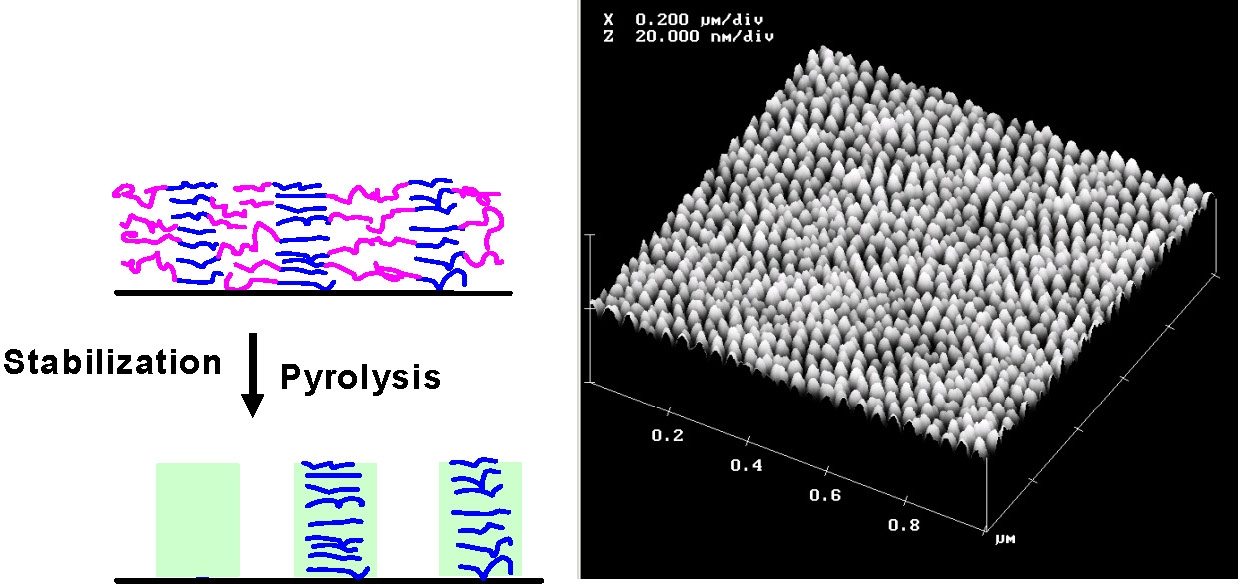 The image of carbon nanostructures shown above (similar to the images in reference 3) is a result of the self-assembly of phase separated PAN-b-PBA block copolymer with spherical PAN domains that was prepared by ATRP and was then converted into discrete carbon nanoclusters (D~30 nm) by fixing the PAN domains through crosslinking in air and then pyrolyzing under nitrogen. The carbon structures exhibited high surface area, high thermal conductivity and have potential for catalytic activity.
When the mole fraction of the PAN is increased and a poly(BA)251-b-poly(AN)320 block copolymer is prepared and the block copolymer is cast from solution it forms cylinders or lamellae as shown below in the image on the left. When a similar block copolymer was stabilized and pyrolyzed it provided the carbon nanowires shown in the image on the right.  The structures are similar to those seen in multiwalled carbon nanotubes. The carbon nanostructures are expected to find application in photovoltaics, field emitters and supercapacitors.(4)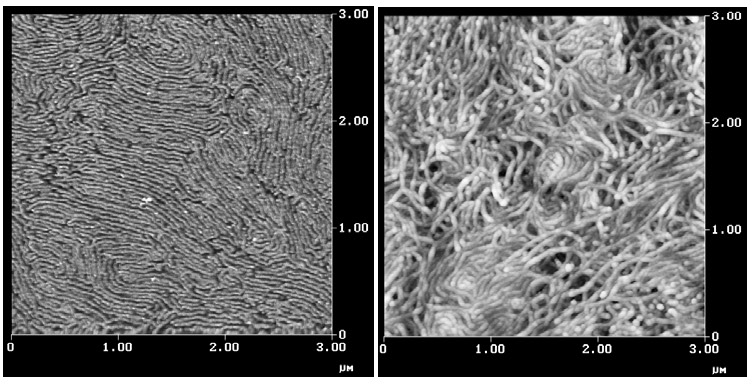 The spectrum of carbon structures that can be prepared from PAN segmented copolymers can span the continuum from carbon nanoparticles, prepared from water soluble shell crosslinked micelles with a PAN core,(5) through lamellar structures(6) to porous carbon structures.(7-10) The later materials were prepared by using PEO-b-PAN diblock copolymers as templates for the synthesis of mesoporous silicas, since PEO is known to promote the condensation of silica under acidic conditions.  The templated PAN was stabilized then pyrolyzed prior to dissolution of the silica in aqueous sodium hydroxide forming porous carbons with high surface areas, ~900 m2 g-1.
Carbon nanostructures from other block copolymer precursors
Since carbon nanostructures derived from PAN precursors can contain up to 7% nitrogen, which results in defect sites that affect electronic properties we additionally determined if carbon materials can be prepared from non-PAN-containing polymers. Poly(vinyl acetylene) is a polymer that structurally resembles PAN without an inherent nitrogen group and could possess the potential to form similar nanostructured carbon materials without the presence of preformed n-type dopants,  Therefore poly(vinylacetylene) block copolymers were prepared and evaluated as carbon precursors.(11)  The active acetylenic hydrogen atom in vinylacetylene was substituted with the trimethylsilyl group in order to prevent 1,4-polymerization and Cu(I)-catalyzed coupling reactions and provided a well controlled homopolymerization using ATRP.  Block copolymers were prepared using PMMA macroinitiators and it was determined that ARGET ATRP also provided additional control over the chain extension reactions.
Polystyrene crosslinked under UV-irradiation will also pyrolyze at elevated temperatures and result in semi-graphitic carbon materials. Both amphiphilic block copolymers that micellize in water (PEO-b-PS) and brushes with PMMA backbones and PS-b-PAA side chains were used to template these nanocarbon structures.(12) (13) Well-defined nanostructured carbon were prepared by pyrolysis of core cross-linked micelles formed from block copolymers containing polystyrene segments. These micelles were obtained by self-assembly of poly(ethylene oxide)-block-polystyrene diblock copolymer or brush macromolecules containing a polymethacrylate backbone and side chains with PS and poly(acrylic acid) block segments in selective solvents. UV irradiation was used to induce crosslinking of the PS core in the micelles. After pyrolysis, the crosslinked PS cores were converted to a partially graphitic carbon, while the shells were sacrificed, resulting in the formation of discrete carbon nano-objects. The formation of carbon material was confirmed by Raman scattering spectroscopy while the morphology of the precursor and the resulting pyrolyzed product was studied by atomic force microscope (AFM).
In the images shown above, the block copolymers were drop cast onto the substrate and the phase separated domains did not exhibit any long range order. However when precursor films were prepared by zone-casting(14) they can display long-range order. The motivation was the preparation of macroscopically aligned anisotropic carbon structures suitable for electron transport or magnetic data storage.(15)

Zone-casting of PBA-b-PAN block copolymers and subsequently thermal conversion into anisotropic carbon.
Zone casting involves deposition of a polymer solution at a controlled temperature on a moving substrate whose temperature is also controlled.  The task was performed using a custom-built apparatus, equipped with two computer controlled linear stages and independently-controlled solution and substrate heaters.  The upper image above shows the morphology attained when a diblock copolymer, PBA-b-PAN block copolymer, is cast from dimethylformamide solution at 90 oC.  The lower images show the morphology attained when a triblock copolymer with a crystallizable segment, such a poly(t-butyl acrylate)-b-poly(octadecyl methacrylate-b-poly(t-butyl acrylate) PtBA-b-PODMA-b-PtBA) is cast onto the moving substrate at two different temperatures, one below the Tm and the other above the Tm.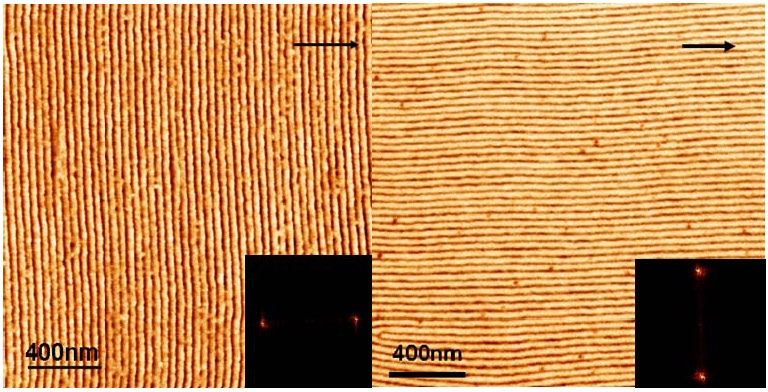 Zone-casting a PtBA-b-PODMA-b-PtBA block copolymers with crystalline segments at different casting temperature (Left: T>Tm; Right: T<Tm)
In the first case, a block copolymer with a number molecular weight of 37,500 g/mol (with the structural formula (BA)240(AN)124) and polydispersity index of 1.22 (from gel permeation chromatography (GPC)) was prepared and subjected to zone casting. The long-range ordered lamellae were perpendicular to the substrate and casting direction. Upon thermal stabilization and carbonization, the precursors were converted into anisotropic carbon with long-range order.(6) In the second case, the orientation of the nano-morphology is governed by the process of nucleation and crystallization of the crystallizable phase.  The lamellar structure is aligned along the casting direction through the crystallization of the pODMA domains if the casting temperature is below melting point (Tm) of crystallizable segments.(14) 
Other materials containing PAN with different architectures can be used as the sacrificial phase to prepare nano-structured carbon.  Nano-porous carbon with high surface area was prepared by conducting a grafting from polymerization of acrylonitrile from the surface of silica nanoparticles by ATRP. The (PAN)-grafted silica nanoparticles were cast into a film, stabilized, carbonized and then etched to form highly nanoporous carbon films.  The motivation was the preparation of a carbon membrane suitable for gas adsorption, filtration and separation or use in photovoltaic cells. The TEM image clearly shows that a well structured material was prepared.(6-9)  The structure had the capacity to adsorb a significant volume of nitrogen.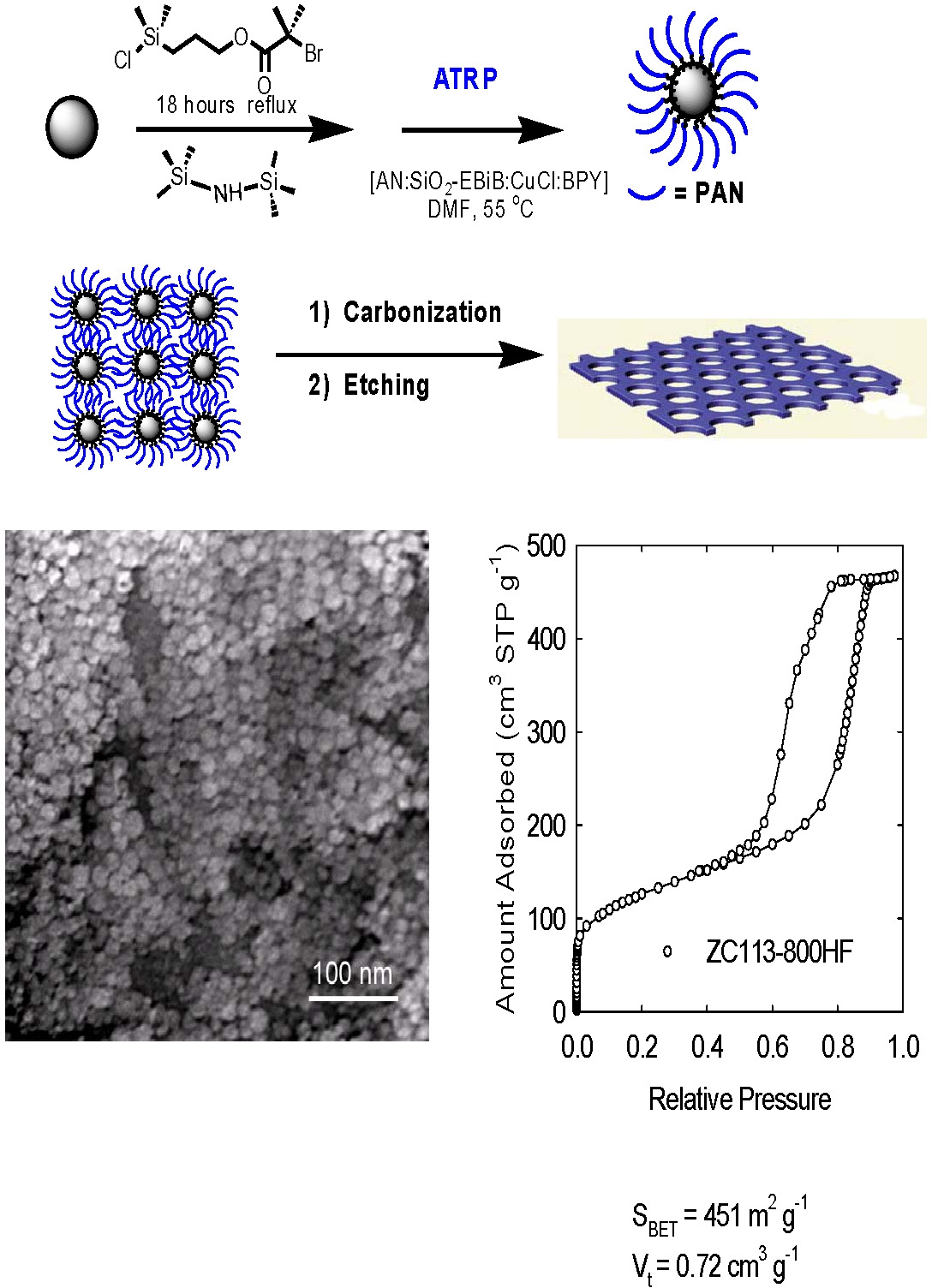 Well defined carbon structures were also prepared by preparing densely grafted brushes molecules with polyacrylonitrile (PAN) di-(AB) and triblock-(ABC) copolymer side chains.(15)  Thin films of the SC brushes were prepared by drop casting aqueous solutions onto clean silicon wafer substrates. The samples were then subjected to annealing at 250 °C in the presence of air in order to stabilize PAN domains, and subsequently pyrolyzed at 600 °C under N2 flow. After thermal treatment, SC brush precursors were converted into nanostructured carbon. AFM images of such films revealed a surface with characteristic round protrusions and rms roughness of 4.0 nm. Such morphology was consistent with the film composed of well-defined, discrete nano-objects.
REFERENCES
(1)       Kroto, H. W.;  Heath, J. R.;  O'Brien, S. C.;  Curl, R. F.; Smalley, R. E. Nature 1985, 318, 162-163.
(2)       Iijima, S. Nature 1991, 354, 56-58.
(3)       Kowalewski, T.;  Tsarevsky, N. V.; Matyjaszewski, K. J. Am. Chem. Soc. 2002, 124, 10632-10633.
(4)       Kowalewski, T.;  McCullough, R. D.; Matyjaszewski, K. European Physical Journal E: Soft Matter 2003, 10, 5-16.
(5)       Tang, C.;  Qi, K.;  Wooley, K. L.;  Matyjaszewski, K.; Kowalewski, T. Angewandte Chemie, International Edition 2004, 43, 2783-2787.
(6)       Tang, C.;  Tracz, A.;  Kruk, M.;  Zhang, R.;  Smilgies, D.-M.;  Matyjaszewski, K.; Kowalewski, T. Journal of the American Chemical Society 2005, 127, 6918-6919.
(7)       Kruk, M.;  Dufour, B.;  Celer, E. B.;  Kowalewski, T.;  Jaroniec, M.; Matyjaszewski, K. Chemistry of Materials 2006, 18, 1417-1424.
(8)       Kruk, M.;  Dufour, B.;  Celer, E. B.;  Kowalewski, T.;  Jaroniec, M.; Matyjaszewski, K. Journal of Physical Chemistry B 2005, 109, 9216-9225.
(9)       Kruk, M.;  Kohlhaas, K. M.;  Dufour, B.;  Celer, E. B.;  Jaroniec, M.;  Matyjaszewski, K.;  Ruoff, R. S.; Kowalewski, T. Microporous Mesoporous Mater. 2007, 102, 178-187.
(10)     Kowalewski, T.;  Tang, C.;  Kruk, M.;  Dufour, B.; Matyjaszewski, K. ACS Symposium Series 2006, 944, 295-310.
(11)     Aimi, J.;  McCullough, L. A.; Matyjaszewski, K. Macromolecules 2008, 41, 9522-9524.
(12)     Burda, L.;  Tracz, A.;  Pakula, T.;  Ulanski, J.; Kryszewski, M. Journal of Physics D: Applied Physics 1983, 16, 1737-1740.
(13)    Huang, J.;  Tang, C.;  Lee, H.;  Kowalewski, T.; Matyjaszewski, K. Macromol. Chem. Phys. 2007, 208, 2312-2320.
(14)     Wu, W.;  Matyjaszewski, K.; Kowalewski, T. Langmuir 2005, 21, 1143-1148.
(15)     Tang, C.;  Dufour, B.;  Kowalewski, T.; Matyjaszewski, K. Macromolecules 2007, 40, 6199-6205.