2017-2018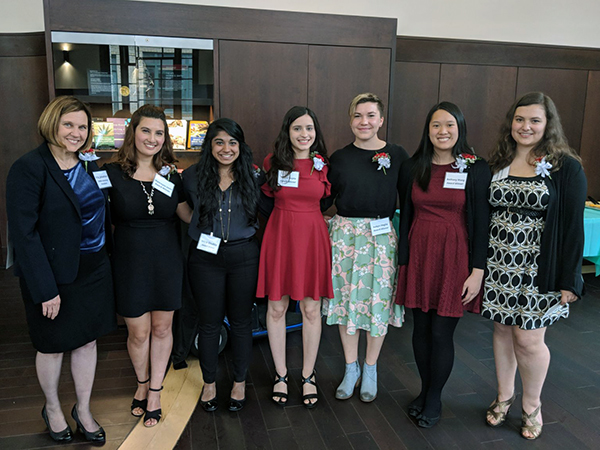 The Carnegie Mellon Women's Association (CMWA) honored seven outstanding women from each of the university's seven colleges at the CMWA Spring Awards Reception on April 25, 2018.
Congratulations to the 2018 award recipients!
Mira Shukla, H. John Heinz III College
Mira Shukla was admitted to Heinz College as an Accelerated Master program student, which involves taking several more courses each semester than the typical master degree student. In his first meeting with Mira during her pursuit of admission to the Master of Science in Health Care Policy and Management program (MSHCPM), her advisor discovered Mira's strong motivation and unique knowledge of the medical field, analytics and operations research.
Mira is scheduled to graduate in May 2019. She is an exceptional student and sets a high standard for time management, balancing work as demonstrated by her various volunteer, extra curricula activities and strong academic performance. She is an ACHE and HIMSS student associate and an active member of the Heinz Health Care Club.
Mira was one of the few first year students who participated in our semester long apprenticeship program with the Pittsburgh Life Sciences Greenhouse (PLSG). Her research, focused on helping to build sustainable business models and assisting entrepreneurs by working as an apprentice on projects and weekly deliverables. She was always well prepared. Mira has an excellent vision of where she would like to go, academically and professionally, over the next few years.
The MSHCPM program sponsored 23 students this year to attend the Healthcare Information Management Systems Society (HIMSS) conference in Las Vegas, NV in March. Mira was one of the few undergraduate students chosen to present a poster. This is quite an honor for an undergraduate student.
These experiences have formed a background for Mira that has shaped her passions into an eagerness to learn more about the health care environment and find methods to improve it. Mira has proven to be eager to immerse herself in her chosen field. She has demonstrated virtually every positive quality her advisor looks for in a student, and because of her superior qualifications she is an ideal candidate for a CMWA scholarship. 
Kimberly Hochstedler, Dietrich College of Humanities & Social Sciences
Kimberly Hochstedler is a senior statistics major with an additional major in psychology (concentration in health psychology) graduating in May 2018. She is also a member of the Science and Humanities Scholar program.
Academically, Kim is simply phenomenal and talented across multiple disciplines. Her coursework is challenging but quite honestly, her nominator does not think she's seen a student more naturally gifted in interdisciplinary research in 10 years. To top all that off, she's a championship caliber Academic All-American collegiate swimmer who holds multiple varsity records. It's stunning.
I believe that Kim is a deserving recipient of the CMWA Award, regardless of her breathtaking list of accomplishments. In particular, I would like to highlight Kim's research on the effect of adverse health outcomes on social relationships and her volunteerism both on campus and in the community.
Kim was initially motivated by her own personal experience with Hodgkin's Lymphoma and pursued opportunities to study how social interactions might change or impact children and adults experiencing adverse health outcomes or illnesses. She started working in Vicki Helgeson's lab in 2015 and, by all accounts, has developed into a very talented researcher. Her projects have mostly concentrated on social interactions and health outcomes but have included a very wide range of methodologies and approaches.
Of special note is her recent National Institutes of Health internship (Epidemiology branch in the National Institute of Child Health and Human Development), her experience at the University of Wisconsin Summer Institute for Training in Biostatistics, and her multiple grants to attend and present work at academic conferences.
This year, her Dietrich Senior Honors Thesis is on "Self-Disclosure among Emerging Adults with Depression and/or Anxiety," an incredibly important topic related to the stigmas associated with mental health in young women (and men). Kim's work to improve communication about health problems is very timely and directly ties in to CMU's current efforts to improve the student experience. She serves as a role model for other young women on this campus, improving awareness and promoting strategies for more sustainable friendships and relationships in the presence of stressful circumstances, health or otherwise.
Kim is also very engaged in service and leadership in the broader CMU community. Somehow, she manages to train and compete at a very high level of collegiate swimming, a sport that requires that you do more before 9 a.m. than some people do all day. She recently became the first UAA women's swimming champion from Carnegie Mellon since 2012 (in the 200 breaststroke) and is currently nationally ranked in multiple events. But besides her talent in the pool (and managing a beyond intense workload-training balance), Kim serves on the Student Athlete Advisory Committee at both the local and national level, volunteering at events like the 2016 Special Olympics Sectional Competition (CMU was the host that year; Kim organized the aquatics events) and Camp Kesem (a camp for children whose parents have been diagnosed with cancer).
Kim is a role model in all aspects, providing leadership and inspiration for other young women at Carnegie Mellon, the larger national athletic community, and to those living with disabilities or serious health challenges. Honestly, I don't know if I've met someone so mature and thoughtful at this age. She is looked up to by everyone who knows her, including her swim team, her classmates, and her professors. Her focus is on improving the general well-being and comfort level of others through research and personal interactions. 
I can't think of a single woman who possesses her rare combination of intellectual creativity, passion, determination, philanthropy, and compassion for others. She has our utmost support for the CMWA award; we truthfully couldn't think of anyone who deserves this scholarship more or who would maximize its impact on others. 
Maitreyee Joshi, School of Computer Science
Maitreyee Joshi has worked hard over the last four years as an advocate for student well-being and working to help those in need. She is completing a major in computer science this year, with minors in drama and international relations and politics.
On behalf of students, Maitreyee has been active in student government, both in Carnegie Mellon and also in Pittsburgh more broadly. She is active as the Senate Chair for Undergraduate Student Senate. Additionally, she serves on the Pittsburgh Student Government Council as Vice President for External Affairs since March 2017. This council serves to "stand up for the students of Pittsburgh, and take action in order to uphold their rights, vitality and well-being." (PSGC Press Statement, November 21, 2017)
In addition to her student advocacy work, she is also dedicated to improving lives through her research and industrial involvement. She interned at Microsoft, where she helped to design and develop new accessible data visualizations to help the blind understand their personal finances, and she created a toolkit used by 20 Power BI (Business Intelligence) members to help identify best practices to make future data visualizations more accessible for those with impairments.
Maitreyee spent last summer in Washington DC, rather than going to Silicon Valley or the Seattle region, so she could work with Talent Beyond Boundaries as a Technology and Policy Analyst Intern. Talent Beyond Boundaries is a nonprofit organization founded through the Advanced Leadership Initiative at Harvard University. She built data visualizations and an analysis toolchain for an SQL database to connect employers to more than 9,600 refugees. Maitreyee also worked as a research policy intern, since she has an interest in protecting human rights using her knowledge of computing and technology.
Her work trying to improve the lives of the blind continues in several ways. She developed an iOS app while still in high school that helps the blind navigate through buildings using sound cues on their phones. She was featured online in Femgineer in 2013. Currently, she is working on a senior thesis with Profs. Martial Hebert and Shawn Kelly to use computer vision techniques to assist people with retinal degenerative diseases. She is working on algorithms that could be used to improve retinal prosthetics which have low resolution by adding object recognition and increased resolution for specific objects. Maitreyee plans to present her work at Meeting of the Minds in May.
Besides all of this work, she has also interned at Medium One and Walt Disney Imagineering, and she has been a teaching assistant for the Introduction to Computer Systems course, leading recitations and contributing questions toward the exam database for the course. She has also presented at TEDxPittsburghWomen, where she talked about her various projects to help the blind. Maitreyee also serves on the SCS Undergraduate Student Advisory Council and Alumni Advisory Board, and has been featured in the SCS Magazine, The Link. She is expecting to start as a program manager at Microsoft  this summer.
The School of Computer Science is proud to nominate Maitreyee Joshi for the CMWA Scholarship. She is a role model for not just women but for all students, showing how one can use computing and technology skills to help make the world a better place for those who need our support.
Yasmene Elhady, Mellon College of Science
Yasmene Elhady possesses infectious positivity and the abiity to bring people together across the campus to make productive change. She has had tremendous impacts on all of the students and faculty in Mellon College of Science (MCS), and we are very proud to have her represent our college at the CMWA Awards Ceremony!
Yasmene will graduate in May 2018 with a BS in Physics with a Biological Physics Track and a minor in Computer Science. She has performed undergraduate research with Dr. Stephanie Tristam-Nagle in Physics and studied independently with Dr. DJ Brasier in Biological Sciences. In addition to completing a long list of technical experience, Yasmene has had a continuous effort to use her incredible natural ability to remain calm under pressure to lead by example for her peers and faculty alike.
In the fall of 2016, Yasmene worked with 2 other students to create a student organization for spirituality called INSPIRE (Interfaith Spirituality Embassy). The club meets weekly and holds discussions on deep questions in spirituality, belief systems, morality and ethics, and "what to do" scenarios. Students and faculty participate in these amazing discussions with a goal of understanding and a vision to work together to create a better community. Under the Student Affairs spirituality initiative, Yasmene and the INSPIRE club were instrumental in organizing interfaith public meetings with large student attendance.
In the fall of 2017, MCS hosted families at an event on the Saturday of Family Weekend. We invited several students to present posters describing how they are "four dimensional," relative to our MCS Core Education which aspires to educate our students as scholars, professionals, persons, and citizens. Yasmene was one of the first students I though of when deciding who to invite to present at the event as she is the embodiment of success in these four dimensions. Her presentation was very well received by current students and their families, and motivated some students to participate in the campus community more.
In addition to her amazing work in the spirituality domain, Yasmene has a number of other experiences at CMU that allowed her to positively influence all students in MCS. She was a leader in reinventing the MCS Women in Science organization—taking the programming from a faculty-organized initiative to a student-organized one. She and three other students created a constitution and budget proposal for the club and coordinated biweekly meetings since the fall of 2016. Most recently, Yasmene is currently serving as a role model to third-year students in the Physics Department as a teaching assistant for the new PROPEL seminar course (required as part of our MCS Core Education). The spring 2018 semester is the inaugural offering of the course – most people might think would be difficult to TA for a course that you've never actually taken. Yasmene's experiences in and out of the classroom make her a natural leader in the course. Her instructor, Dr. Kunal Ghosh, notes:
"Yasmene is very conscientious and thorough. At the same time, she thinks deeply about the course and the students enrolled in it…She raises deep issues she has discovered reading (student) homework assignments and also through their discussion (in class). This is quite rare for a teaching assistant."
In summary, Yasmene is an incredibly inspirational student who strives to bring her peers to a deeper understanding of themselves and their connections with the world. Given her success in her undergraduate career she is planning to pursue a career in public policy and service. 
Bethany Wang, College of Engineering
Bethany Wang is a very accomplished mechanical engineering student with an interest in environmental engineering and sustainability. She will complete requirements for both the BS and MS in Mechanical Engineering in four years.
Bethany has shown a sincere commitment to the support and advancement of women in engineering at Carnegie Mellon. She is one of the co-founders and is currently the president of the Women in Mechanical Engineering group, WoMEn@CMU. Under Bethany's direction the WoMEn@CMU group received a ProSEED Crosswalk grant to start a mentoring program that includes graduate and undergraduate students. They will also send a few women to the Grace Hopper Conference in the fall of 2018.
Bethany's capstone design group re-designed the auto-injector mechanism for a two dose "EpiPen" so that the medication and needle portion can easily be replaced to reduce waste.
Bethany's professional experience includes internships with GE Transportation in Grove City, PA and the GETCOT(Green Engineering Technologies for Community of Tomorrow) Lab in Buffalo, NY. She also served as a grader for Statics and Stress Analysis courses in Mechanical Engineering.
Nikita Gupta, Tepper School of Business
The Business Administration (BA) undergraduate program is proud to nominate Nikita Gupta for the 2018 CMWA scholarship. In addition to her BA studies, Nikita is also pursuing an additional major in statistics and data science. Nikita is actively engaged with the Tepper and CMU communities, and is a thoughtful, mature, and conscientious leader on campus. She is an excellent student who achieves success in and out of the classroom.
Nikita has achieved academic excellence within two demanding curriculums and has received Dean's Honors each semester. In Fall 2017, Nikita was selected for membership in the Beta Gamma Sigma Honor Society. Early in her undergraduate studies, Nikita studied abroad at the London School of Economics, taking advantage of a high impact experience that distinguished her among her peers. She is comfortable in challenging environments and sought internships and research experiences that demanded her full attention.
Nikita has served as a teaching assistant for Business Presentations and Statistical Graphics and Visualization, a research assistant in Corporate Finance, and a section leader in Statistical Reasoning and Practice. These positions are competitive opportunities and reflect her academic commitment. She selected the finance concentration and has sought co-curricular and external experiences to expand her expertise and education. Nikita worked as actuarial intern in the Hartford Insurance Group in summer 2017.
Now serving as the Chief Executive Officer (president) of the Smart Women Securities (SWS) student organization, Nikita smoothly manages the strategic and operational aspects of the club. In this position, Nikita has gained critical leadership experience while managing the eight-member executive board. Further, Nikita has developed multiple initiatives to strengthen the experience for all women in the organization by providing mentoring opportunities and new events, in addition to creating an investment committee which consistently ranks among the highest of investment portfolios managed by other SWS chapters. Her leadership is not limited to the Tepper School; Nikita has served as a site leader for Strong Women Strong Girls at Carnegie Mellon, mentoring elementary girls to improve confidence and encourage healthy behaviors. Nikita carries herself with poise and is prepared for every situation – from working with new organization members to representing the student perspective to senior administrators in Tepper.
Nikita is an excellent student who thinks critically and leads by example. She embodies the best qualities of a CMU student: intellectually curious and committed to engaging deeply in the Tepper and CMU communities. 
Aubyn Heglie, College of Fine Arts
Aubyn Heglie has been an exemplary student in the School of Drama throughout her four year tenure. She will receive both College and University honors in graduation ceremonies in the spring of 2018.

This senior actor has been a model for her classmates and for the younger students in the program in many ways. Not only has she proven herself to be an excellent young artist who consistently exhibits a professional way of working and collaborating with her peers and with guests, but Aubyn's voluntary humanitarian efforts have impressed her teachers and staff members while aiding the first, second and third-year students who are following in her path. She is a vital part of the Wellness Committee here and as such has brought an important awareness to a healthy way of surviving a concentrated education program in a smart and useful way. Her talks regarding healthy body image in the entertainment field were vital to the fuller educational aspects of our young artists.

Aubyn will bring her many talents to the world in a way which will bring light to difficult social issues in our country. She has a heart for justice and fairness in a divisive and disturbing environment.

As an actor, Aubyn has already achieved a high level of excellence. She was cast in a leading role on our mainstage series in a new production of Love's Labors Won, a contemporary treatment of a Shakespeare play. She was alive and clever in a very difficult role in a production which entertained hundreds of our subscribers and an audience of high school students in a special matinee.

Aubyn can handle comedy as well as very dark material; she can also hold her ground in theatrical conflict with her training in stage combat and sword work!

She has already garnered national notoriety with an award from the YOUNG ARTS festival based in Florida.

Aubyn heads the student leaders in our morning warm-up/yoga class for the first year actors. This is a position which requires maturity, skill and enormous responsibility. She's held this job for two years and has been 100& reliable and helpful in a demanding position.

Aubyn Heglie deserves consideration and recognition for consistent excellent work in a rigorous top-rated acting program.