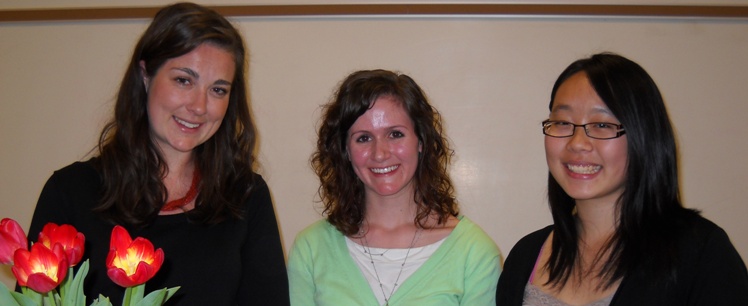 2009-2010 Award Winners
Julie Ng
B.S. in Mechanical Engineering & Biomedical Engineering
CARNEGIE INSTITUTE OF TECHNOLOGY
Presenter: Philip LeDuc
Associate Professor of Mechanical Engineering
Julie will graduate from the Carnegie Institute of Technology with a degree in mechanical and biomedical engineering. She is an active member of the SAC in both the mechanical and biomedical department. She is a member of the Carnegie Mellon Women's Volleyball Team and loves to play a variety of sports.  Always excited to be involved in the campus community, she is a pusher for the SDC Women's Buggy team and a member of Carnegie Mellon EMS and the Judicial Board.  Likewise she has worked as a undergraduate grader and as an undergraduate research assistant for the ICES.
In her free time, Julie likes to hang out with her friends, read fantasy books, and attempt to learn how to play the guitar.  She is always up for a game of Bananagrams or the Settlers of Catan.ii At present, she has yet to fill more than 10 words in the New York Times' Monday crossword puzzle, but she is determined that one day she will succeed in finishing an entire crossword puzzle on her own.  This is one of many other random goals including going sky diving, seeing the aurora borealis, becoming fluent in french and learning how to marinate meat.  Having grown up in an international environment, Julie loves to travel.  Hoping to see more of the world she will go backpacking in Europe and travel to India this summer before settling down in Canada to pursue a Masters in Clinical Engineering at the University of Toronto. Eventually, she hopes to obtain a medical degree.
Megan Larcom
B.S. in Business Administration & International Relations and Politics
TEPPER SCHOOL OF BUSINESS
Presenter: Lauren Silverstein
Megan Larcom will receive a double-major in Business Administration and International Relations & Politics. She is the second oldest of six children in a military family, an aspiring tie-dye artist, and an adequate whistler. She rows on the varsity crew team and is a Resident Assistant on campus, aside from having roles in student government and a student-consulting group, CMU Solutions. While she will certainly miss the spontaneous opportunities for new relationships, skills, and interests at Carnegie Mellon, she looks forward to traveling to the Middle East upon graduation to continue Arabic studies and will thereafter work at IBM in Washington, D.C.
Erin Honcharuk
B.S. in Psychology
COLLEGE OF HUMANITIES & SOCIAL SCIENCES
Presenter: Brooke Feeney
Associate Professor of Psychology