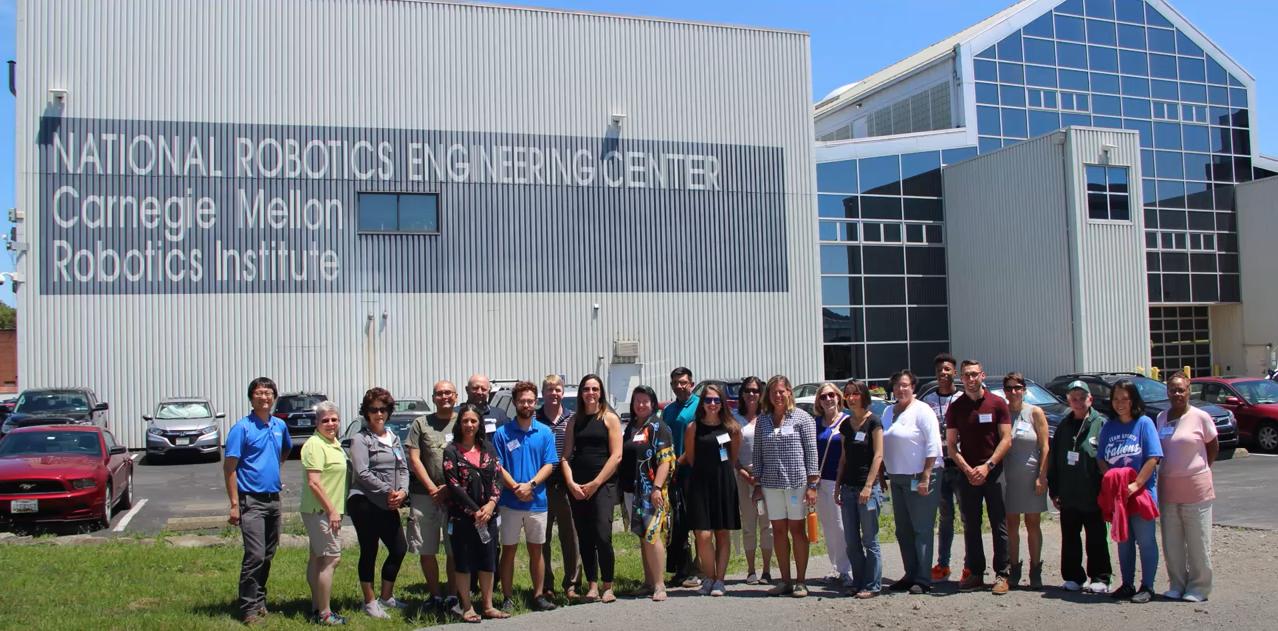 April 10, 2023
Join Us for an Unforgettable Robotics Training Experience in Pittsburgh this Summer!
By Jesse Flot cmra(through)nrec.ri.cmu.edu
Are you a teacher or coach looking to support your students and level up in robotics? Look no further than the Carnegie Mellon Robotics Academy's Onsite Training in Pittsburgh, PA!
Our immersive training experience is located in the heart of "Robotics Row" at the National Robotics Engineering Center, part of the world-renowned Carnegie Mellon Robotics Institute. Here, you'll have the opportunity to work with some of the best-in-class robotics platforms, including LEGO SPIKE Prime, Arduino with Parallax Shieldbot, VEX IQ, VEX V5, and Virtual Solutions.
During our week-long training program, you'll be guided by experienced trainers to dive deeper into research-based best-practices, coding, computer science, troubleshooting, and pedagogy with robots. You'll also use our state-of-the-art facility to work through lessons from a student's perspective before discussing how those lessons might play out in your own classroom.
We provide delicious lunches Monday through Thursday, a tour of the National Robotics Engineering Center, and a certificate for 36 professional development hours. And after class, you can explore the best of Pittsburgh, from catching a Pirates game to enjoying a riverboat tour on the Gateway Clipper fleet, shopping in the Strip District, visiting world-class museums, and catching the view from atop the incline.
Whether you're a robotics classroom veteran or just starting out, we welcome and encourage you to join us for this unforgettable training experience. No prior experience in coding or robotics is required. 
Full course descriptions and schedules are available through the links on the right, and registrations are accepted through the CMU University Store or Purchase Order. Contact us today by phone or email with any questions and start planning your trip to Pittsburgh this summer. We can't wait to work with you!
Have you already been trained by the Carnegie Mellon Robotics Academy? Do you know a colleage who would benefit from our training? You can refer them to our training to earn licenses for our Virtual Robot Curriculum and Student Certifications. Learn how.