RD-AIM-HIRE: Rapid Dissemination of AI Microcredentials through Hands-on Industrial Robotics Education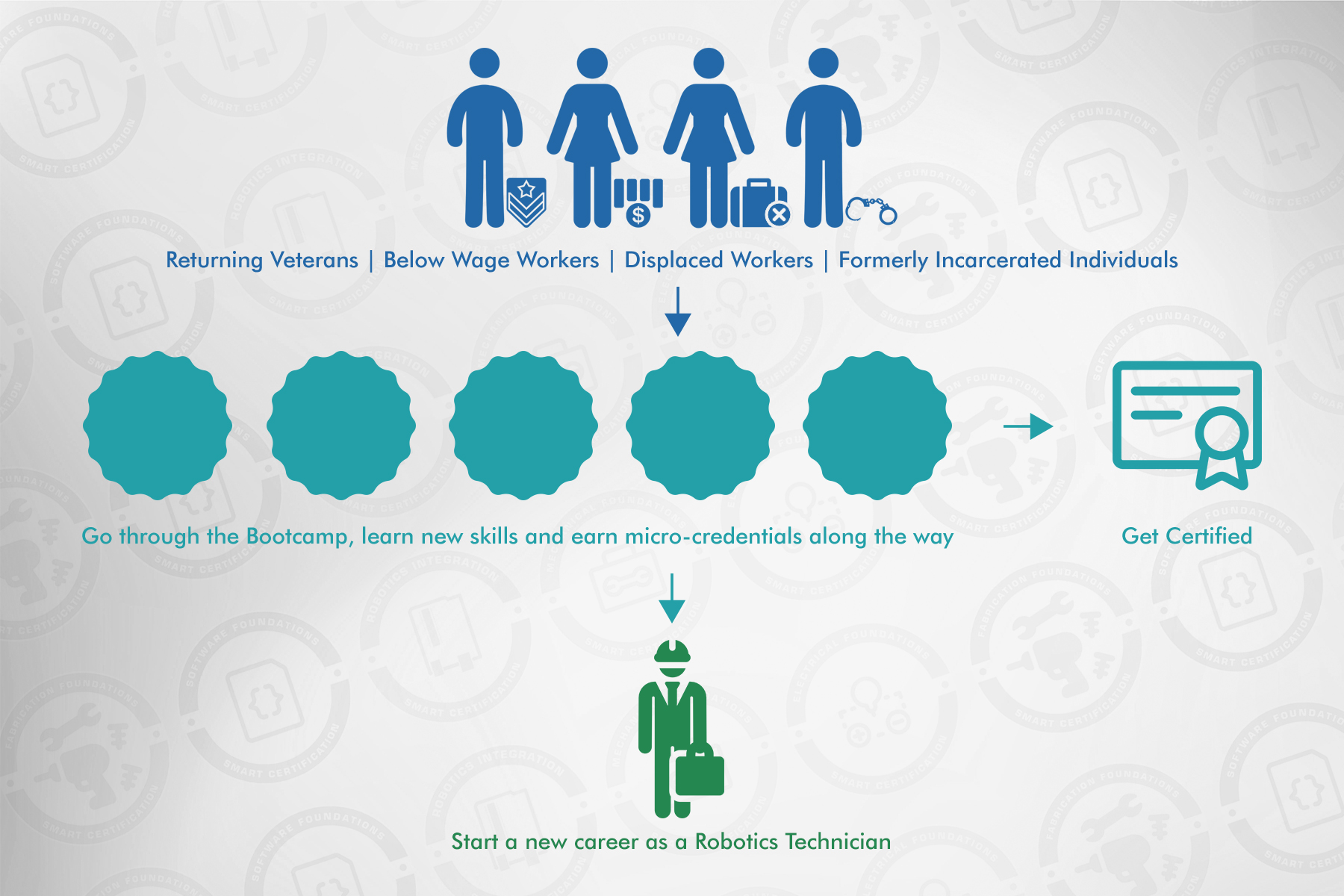 Overview
Robotic systems have become ubiquitous within US industries, and US workforce retraining programs are beginning to respond to rapidly increasing need for skilled robotics technicians – positions that do not require a four-year degree. Employers in industries such as advanced robotics manufacturing rely on institutions such as community colleges to provide workers with training in relevant skills. However, the field of robotics itself is undergoing a major disruption led by recent leaps in AI technology, particularly Machine Learning (ML). This creates a risk that training programs are "tooling up" with curriculum that is already obsolete. Such situations will become more common as the pace of technological innovation continues to increase. The pace of training creation and deployment must be accelerated to match.
Carnegie Mellon Robotics Academy (CMRA) and the RAND Corporation (RAND) will lead a multi-disciplinary team to develop a more responsive model for curriculum development, deployment, PD, and credentialing that can both address the immediate ML training need and catalyze future development. The project emphasizes development of an efficient and responsive training production and delivery system that can maintain parity with the rapidly evolving state of ML in technician work. We start with an experienced STEM education research and development team, capable community partners, and a "shovel ready" curriculum concept tailored to the hypothesized needs of the learner population. We then engage in Design-Based Implementation Research (DBIR) to improve the production system itself through a transdisciplinary coordination of high-level interorganizational logic (e.g. stakeholder representation, efficient collaboration routines, alignment to regional technician ecology) with micro-level production processes (e.g. user-centered design, agile software development). The resulting system should be exceptionally capable at adapting emerging insights about ML and AI's relationship with technician work into relevant training that connects future workers to technical careers. DBIR coordinates this work, and codifies and validates underlying principles as research findings. As the goal is to develop responsiveness to rapidly evolving views on the relationship between ML/AI and work, this National Talent Ecosystem (Track B2) project is well positioned to amplify the effects of research on the Future of Work at the Human-Technology Frontier, and integrate tools developed under Track B1 (AI and Future Jobs) through collaborations with those teams.
Intellectual Merit
This project stands to advance knowledge at the interface of two perspectives that traditionally consider the same systems through different units of analysis – organizational perspectives model stakeholders engaged in joint work, while product-oriented perspectives emphasize contextualized micro-level design decisions. Each has an accounting for phenomena central to the other and thus may achieve similar results over time, but separately do not keep pace with rapidly advancing knowledge domains like ML and AI.
The best results may be achieved by "burning the candle at both ends" – conducting design research on means by which to fuse the "organizations-inward" and "product-outward" approaches into a single efficient enterprise. This approach furthers convergence of literatures, methodologies, and action. It integrates theories and practices from boundary theory (sociology), user-centered design (human-computer interaction), microcredentialing (assessment), and agile software development (software engineering). Work is coordinated by connecting collaboration-focused Design-Based Implementation Research methodology (organizational and policy research) with product-focused Design-Based Research (learning sciences and instructional design). The workflow merges two initially separate lines of work into a single joint enterprise with intertwined goals.
Broader Impacts
In addition to compounding effects of dissemination of findings around convergence and the acceleration of production, the collaboration itself builds long-term social capital among participants. Developed curriculum will be available for free online. Innovative simulations and user interfaces will be open sourced for future designers to build upon. Participants receive useful training, career counseling, and are connected to multiple opportunities for continued training or positions with regional employers (who also benefit). A successful pilot informs a competitive Phase 2 proposal. NSF trainings enable project personnel to carry an enhanced understanding of convergence, the future of work, and other topics forward.