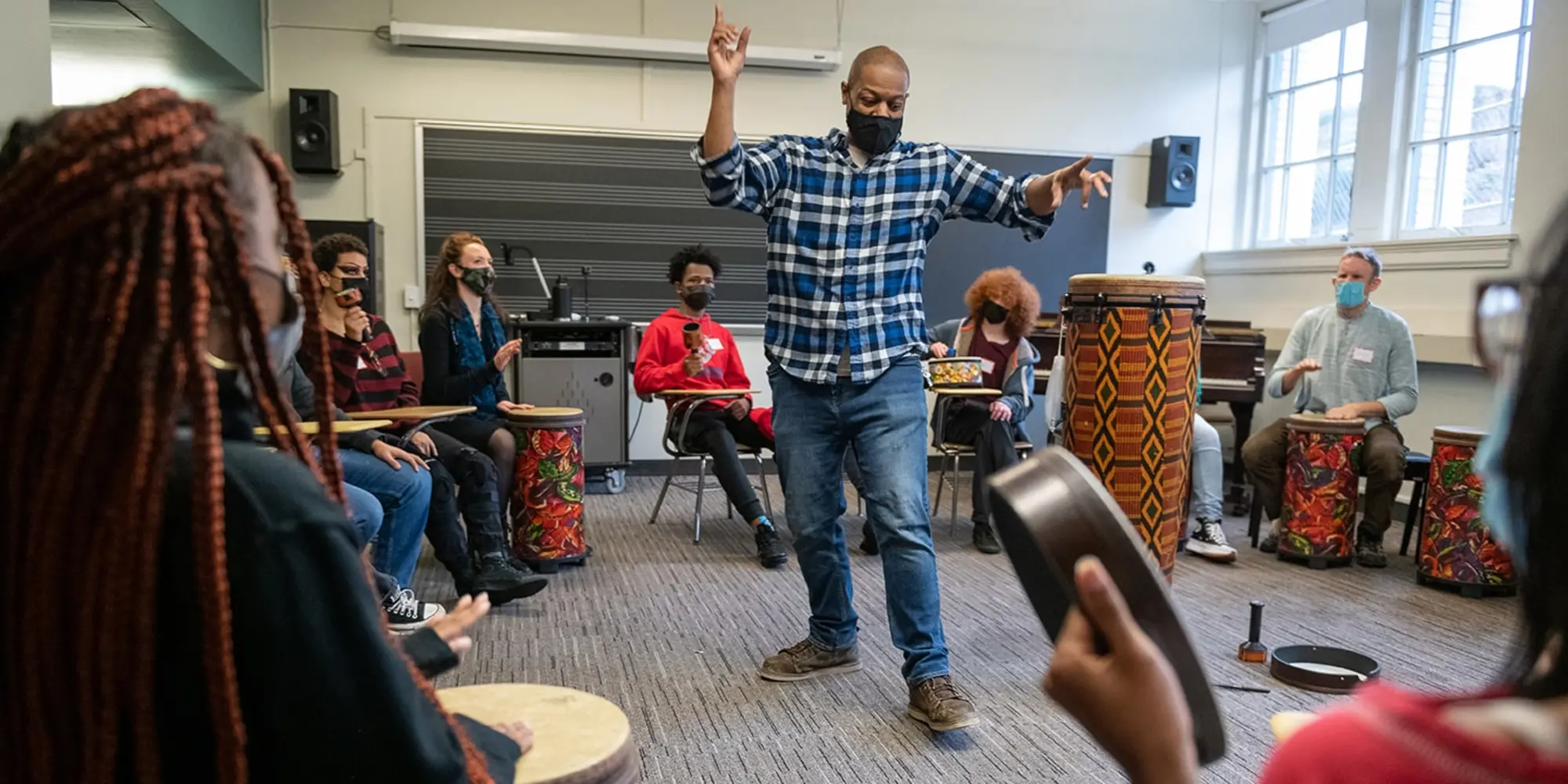 February 11, 2022
LEAP Gives High Schoolers Deep Dive into Arts, Humanities
Through a new pilot program, Pittsburgh students learn from CMU faculty and community artists and activists
Media Inquiries

Name

Ryan Scarpino

Title

University Communications & Marketing

Name

Abby Simmons

Title

Dietrich College of Humanities and Social Sciences
Ian Oliver grew up a few miles from Carnegie Mellon University.
"I've driven past CMU's campus a few times," said Oliver, a senior at City Charter High School in Pittsburgh. "But the first time I had ever been on campus was in December."
Oliver is a participant in the pilot program LEAP, which stands for Leadership, Excellence, Access and Persistence. A collaboration between Carnegie Mellon's Dietrich College of Humanities and Social Sciences(opens in new window), its College of Fine Arts(opens in new window), and City High, LEAP broadens access to the university's world-class resources in the humanities, social sciences and arts.
Nico Slate(opens in new window), head of CMU's Department of History(opens in new window) and LEAP faculty director, said that as the program evolves he and others hope to broaden participation to other city high schools.
"While we hope some of the LEAP students come to CMU, our goal is to help empower these young people as students, artists, creators and leaders in our city," Slate said.
LEAP grew out of a collaboration between Slate and Mark Barga, a City High social studies teacher. For the past four years the two have co-taught a course on education and democracy that both high school and college students attend.
Pulling inspiration from CMU's Summer Academy for Math and Science(opens in new window) and Arts Greenhouse(opens in new window), LEAP aims to create an environment where students from lower-resourced backgrounds are exposed to higher education, as well as opportunities to express themselves artistically in ways that can be directed toward social justice and social change.
Local drummer Clarence Grant II leads high school students and others in a drum circle during a LEAP workshop on CMU's campus.
LEAP Board of Directors
Ayana Ledford (chair)
CMU associate dean of Diversity, Equity and Inclusion for the Dietrich College of Humanities and Social Sciences
Nico Slate
CMU professor and Department of History head
Mark Barga
City Charter High School faculty member
Dara Ware Allen
City Charter High School CEO and principal
Rich Purcell
CMU associate professor of English
Mike Mayer
COPD Foundation board member
Marlene Williams
CMU operations director for the Center for Shared Prosperity
William Alba
CMU faculty member and director of the Science and Humanities Scholars Program
Miguel Alvarez
CMU associate director of admission for Undergraduate Admission
From left to right, City High seniors Jori Collins, Jahil Pollard, Nina Moss, Thandi Weaver and Ian Oliver create their own books.
City High senior Anaysia Mitchell works on a sculpture.
Jahlil Pollard records in CMU's Vlahakis Recording Studio.
"Carnegie Mellon has so many incredible experts in these disciplines," Barga said. "Theoretically, this is about putting City High students in close contact with the brilliant people at CMU, and to help my students reach their highest potential."
The program also provides a stipend for the students who might otherwise use the time working at an afterschool job.
Rai Venturino, one of Oliver's classmates, said the stipend offered an extra incentive. It allowed her to take off from a part-time job to participate.
"This is basically another job. I would still have been interested in participating, but it would have been a little harder to make the decision without it," Venturino said.
During City High's winter trimester break, Oliver and 18 other students spent an intensive week interacting with nearly two dozen faculty, students, alumni and community members who shared how they approached art and activism. Students participated in hands-on activities such as drumming, painting and recording music while having thoughtful conversations about social justice and advocacy.
Oliver said experiences like sculpting with Isla Hansen(opens in new window), an assistant professor of art(opens in new window), reawakened dormant interests.
"In middle school, I was very passionate about art. But in high school I've pushed myself intensively in the sciences," said Oliver, who is planning to major in biological sciences in college. "I felt like I was reconnecting with visual arts, and that was exciting."
He added that the experience allowed for him to make connections with others that might otherwise not have been possible. Venturino agreed.
"LEAP opened doors and my horizons. I learned how building networks and having a community in art is very important," said Venturino, who wants to study art history and art education in college. "They showed me how it is possible to have a successful career in art, history and the humanities."

City High senior Rai Venturino takes notes as Pollard and Weaver look on during a LEAP program workshop.
City High senior Annabelle Pyles peers through a device next to classmate Chyonna Blango.
City High senior Brandon Mason reads an implicit bias test question in CMU's Askwith Kenner Global Languages and Cultures Room.
Jahzia Ely, another senior at City High, said getting to meet Art Professor Jon Rubin(opens in new window) and learn about Conflict Kitchen(opens in new window), a culinary art project that served food from countries that the U.S. is in conflict with, was her favorite part. She said it was a creative way to help people come together in one community to learn from each other.
She also loved meeting Ariana Brazier, the vice president of products and storytelling at Daymaker, which helps companies and their employees empower kids in their local communities. Brazier taught the students about community organizing and how games can be a part of that.
"Play can help us learn, and seeing how those simple things can help us all learn together was a really fun project," said Ely, who is considering studying acting, psychology or speech/hearing pathology. "The most amazing thing about LEAP is it helps you see what you might be missing right before your eyes."
In other workshops, Jane McCafferty(opens in new window), a professor of English(opens in new window) and director of CMU's Creative Writing Program(opens in new window), had students working on poetry; while Kody Manke(opens in new window), an assistant professor of psychology(opens in new window), and Kevin Jarbo(opens in new window), an assistant professor in social and decision sciences(opens in new window), helped the students understand how psychology can play a role in community work, change and social justice.
"All of the students did the workshops together. We wanted them not only to lean into passions and talents they already have, but also stretch into new ways of thinking," said Sarah Ceurvorst, LEAP's inaugural director.
From now until graduation, she added that students will meet once a month to work on creative projects centered around themes of equity and social justice. In May, they are planning to exhibit their work at The Frame, a CMU student-run gallery space located at the intersection of Forbes Avenue and Margaret Morrison Street.
Ceurvorst, a 2013 alumna with a bachelor's degree of humanities and arts(opens in new window) with concentrations in art and psychology, is a practicing artist and art teacher at The Ellis School. She traveled to Thailand as a Fulbright scholar(opens in new window) after graduation before returning to Pittsburgh where she has worked with community partners to create youth programming.
"When I saw this opportunity pop up, it was tailored to my experiences that I loved at CMU," she said. "I firmly believe in the transformational power of the arts, humanities and social sciences to create positive change in our lives and our communities. Young people are looking for ways to create that change and have a foothold in the world around them."