May 31, 2013
Press Release: Six Recent Carnegie Mellon Graduates, Rising Sophomore Earn Fulbright Awards to Asia, Europe and South America
Contact:
Abby Simmons / 412-268-4290 /
abbysimmons@cmu.edu
PITTSBURGH-Six recent Carnegie Mellon University graduates have received grants to research, study and teach across three continents through the
Fulbright U.S. Student Program
.
In addition, a rising sophomore has been selected to participate in the U.S.-U.K. Fulbright Commission's Queens University Belfast Summer Institute.
"We are so proud of our finalists and awardees and the Herculean effort each student invested in cultivating a compelling proposal. The Fulbright application process requires tenacity, confidence, drive and a person who is both internally and externally organized," said Helen Wang, 2012-2013 Fulbright adviser for CMU's
Fellowships and Scholarships Office
and associate director of Student Life for First-Year Houses.
The U.S. Department of State, Bureau of Educational and Cultural Affairs, sponsors the U.S. Student Fulbright Program to "increase mutual understanding between the people of the United States and the people of other countries."
This year marks the highest number of Fulbright English Teaching Assistantships applicants from CMU have won in a single year.
"It's pretty extraordinary that we have three ETAs, particularly given that our university doesn't have a school of education. Our students are competing against peers who are majoring in teaching," Wang said.
Carnegie Mellon has been home to
42 Fulbright student scholars
since 1994. The following are profiles of this year's recipients:
Christian Aponte, Class of 2013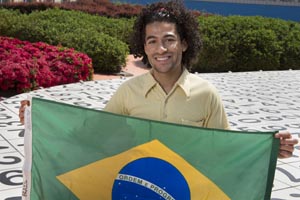 Fulbright grant:
English Teaching Assistantship in Brazil
Aponte on his award:
"While teaching English to Brazilians preparing to host the 2014 World Cup and the 2016 Summer Olympics, I plan to connect with 'Coleção Bicicleta Brasil' to promote health and nutrition, mentoring and sustainable city access through urban cycling. I also will conduct an ethnographic research project on affirmative action and the construction of racial identity among young adults. I was inspired to apply for the Fulbright program because of my 2011 study abroad experience in Buenos Aires, Argentina, and my time teaching ESL with the Greater Pittsburgh Literacy Council."
Major:
Global studies, concentrations in education and Latin America
Hometown:
Kingston, Pa.
Sarah Ceurvorst, Class of 2013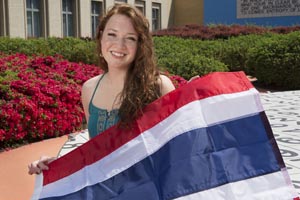 Fulbright grant:
English Teaching Assistantship in the Maha Sarakham Province of Thailand
Ceurvorst on her award:
"I will be teaching English using art-making as a central aspect to my pedagogy, and I hope to create community arts programs outside of the classroom. I fell in love with Thailand when I studied there earlier this year and am thrilled to get to return to the 'Land of Smiles' with all of the opportunities that the Fulbright program provides."  
Major:
Bachelor of Humanities and Arts, concentrations in art and psychology
Hometown:
Wexford, Pa.
Missy Dunaway, Class of 2010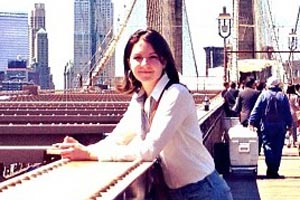 Fulbright grant:
Study/research in Istanbul and Konya, Turkey
Dunaway on her award:
"For the past year, I have been studying textile design with a focus on rare carpets from the Seljuk Empire, which ruled Anatolia from the 11th to 14th centuries. When the empire fell to the Ottomans, all but 18 of these carpets were destroyed. I intend to study these rugs in person, as well as design principles exhibited in Seljuk architecture, art and artifacts, to make paintings of what the lost Seljuk carpets may have looked like."
Major:
Bachelor of Humanities and Arts, concentrations in painting, material and visual culture
Hometown:
Annapolis, Md.
Kimberly Josephson, Class of 2013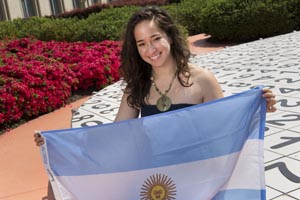 Fulbright grant:
English Teaching Assistantship in Argentina
Josephson on her award:
"I first traveled to Argentina with the help of CMU's Jennings Family Brave Companions Fund in the summer of 2011, and I'm excited to return to the country to strengthen my experience with global education. I've worked closely with a refugee family in Pittsburgh for the past four years; taught English in Seville, Spain, last spring; and led a spring break trip to the Dominican Republic where we ran an English-language day camp for children. This summer I'll be an intern at a nonprofit in Washington, D.C., researching education programs and policy in low- and middle-income countries."
Majors:
International relations and politics, Hispanic studies
Hometown:
Columbia, Md.
Carolyn Supinka, Class of 2013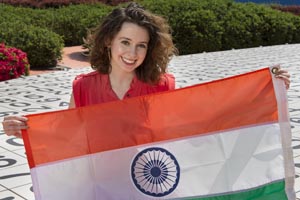 Fulbright grant:
Study/research in Pondicherry, India
Supinka on her award:
"I will be conducting a poetry and art project titled 'Dreaming of Worship,' taken from a stanza from Allen Ginsberg's 'India Journals.' I'll be interviewing spiritual tourists at Sri Aurobindo's Ashram and the residents of Auroville, a 'universal city' in the area to create a book exploring the nature of a modern day 'spiritual journey' and how this journey affects both parties."
Major:
Bachelor of Humanities and Arts, concentrations in creative writing and fine art
Hometown:
Indiana, Pa.
Minghui Zhang, Class of 2013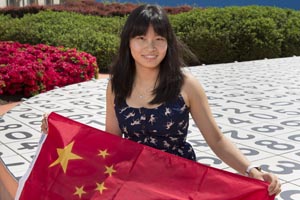 Fulbright grant:
Study/research in Beijing, China
Zhang on her award:
"I'm working out of Peking University, and I'm interested in looking at the evolution of atmospheric peroxides and their effect on Beijing residents, as well as learning about air pollution policy in China."
Major:
Chemical engineering
Hometown:
Columbia, Md.
Kaytie Nielsen, Class of 2016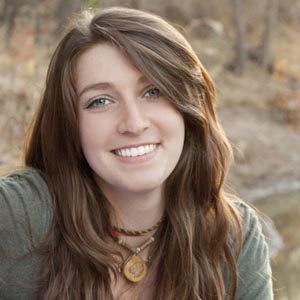 Fulbright award:
Queens University Belfast Summer Institute in Northern Ireland
Nielsen on her award:
"Rachel Oppenheimer, a graduate student and one of my favorite teachers, taught an Irish History class last semester and inspired me to learn more about Northern Ireland and its conflicts. I will be participating in a four-week program focused on understanding the differing perspectives in Northern Ireland."
Major:
Bachelor of Humanities and Arts, concentrations in creative writing and directing, member of the Humanities Scholars Program
Hometown:
Flower Mound, Texas
###